The Royal Academy's latest exhibition entitled Manet: Portraying Life is the first major UK exhibition celebrating Édouard Manet's extensive portraiture. Curated by MaryAnne Stephens and in collaboration with the Toledo Museum of Arts, Ohio, 50 portraits, on loan from both public and private collections, span the artist's entire career and include some of his most famous works such as Mademoiselle Claus (1868) and The Railway (1873). This retrospective provides a fascinating insight into the relationship between Manet's work as a portraitist and those of his realistic scenes of modern life. Sitters included his wife, family, and friends, many of whom were notable figures of 19th century Parisian society, such as Monet and Émile Zola who often came to Manet's defence in the press.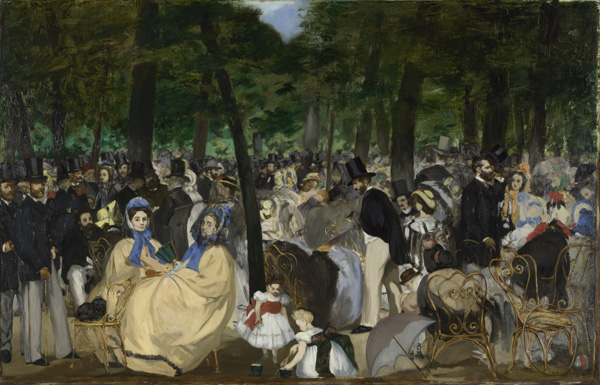 Portraits account for almost half of Manet's work. He once said "you would hardly believe how difficult it is to place a figure alone on the canvas, and to concentrate all the interest on this single and universal figure and still keep it living and real." Unlike many of his contemporaries, he never accepted portraiture commissions and however much he sometimes bemoaned the genre – Manet had a unique intuition for it and loved nothing more than attempting to capture the essence and likeness of a person.
Manet's life was as colourful as his art; born in Paris in 1832, unlike the typical impoverished artist, his family were upper class; his mother the daughter of a diplomat and his father a French judge who expected his son to pursue an equally respectable occupation such as the law or navy. Twice failing his naval exams however, his father eventually abandoned all hope and supported his son in his desire to pursue a career in art. In 1856, aged 24, Manet opened his first studio. Manet said "there are no lines in nature, only areas of colour, one against another" and had a confident style that was to prove both groundbreaking and controversial.
In 1862 Music at the Tuilieries caught the attention of the public and the following year saw some of Manet's greatest works such as The Luncheon on the Grass,  rejected by the esteemed Paris Salon for containing a naked woman picnicking with two gentlemen. Olympia followed, depicting an unashamedly nude woman in a parody of Titian's Venus of Urbino (1538), replacing the little dog (a symbol of fidelity) with a black cat to symbolize prostitution and causing outcry with the public and press when it was exhibited at the Paris Salon in 1865. This did not detract from the painting being considered a masterpiece by many artists of the day, including Paul Gauguin and Paul Cézanne.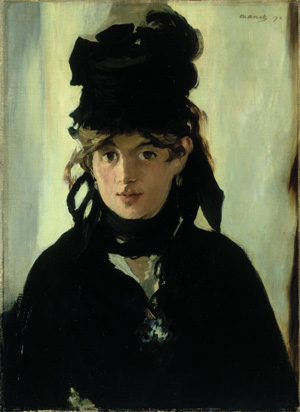 They admired the fact that Manet was unafraid of using his art to challenge modern European society and politics of the day and is now recognised as having established a much needed bridge between Realism and Impressionism.
He married Suzanne Leenhoff following the death of his father in 1863. Dutch-born, Suzanne was a few years older than Manet and had joined the Manet household as a piano instructor for Édouard and his younger brother several years earlier. Suzanne undoubtedly became Manet's mistress long before their marriage and gave birth to a son, Leon Leenhoff, in 1852. The child was always publicly presented as Suzanne's younger brother and Manet can only be conjectured as being his father as it is also possible that Suzanne was the mistress of both Manet and his father Auguste – in which case the child would have been Manet's half brother. Suzanne can be found in many of his best known works such as The Startled Nymph for which she posed naked, and Leon was featured in several of Manet's works including the enigmatic The Luncheon (1868) – a highlight of this exhibition. The teenageLeon is pictured wearing a boater hat, behind him, on either side, we see a man seated at a dining table, and a maid standing with a jug. The maid looks to the boy as the man looks into the middle distance. 
Manet continued to produce and submit work for the Salon in Paris until his health seriously declined on contracting syphilis – a disease which cut short his career and caused him considerable pain. In the summer of 1880 his doctor recommended he take a cure at Bellevue, a suburb of Paris, where he rented a villa and painted his last portrait of his wife. Left untreated, his condition deteriorated dramatically and he developed gangrene in his left foot. He also suffered from spinal atrophy which led to partial paralysis and muscle coordination. His left foot was finally amputated eleven days before his death in 1883 aged fifty-one. Despite his untimely end, he remains one of the most highly respected artists of the 19th century.
Manet: Portraying Life at Royal Academy of Arts, Burlington House, Piccadilly, London, WJ 0BD, from 26th January 2013 – 14th April 2013. Tickets £15, prior booking recommended. For more information visit the website.