My little sister 'does the brain'. This is what a lot of people will tell you. In reality she is not particularly little (she is in fact a fully grown 23 years of age) and what they really mean by 'the brain' is that she studied Neuroscience at university. These days all things inter- and extra-cranial are still a focus of her interests, so you'll likely find her reading things like 'inside animal minds – how other creatures see our world', 'mind over matter' and 'what it is that causes us to make a decision'. It's an interesting thing, our pink piece of mush.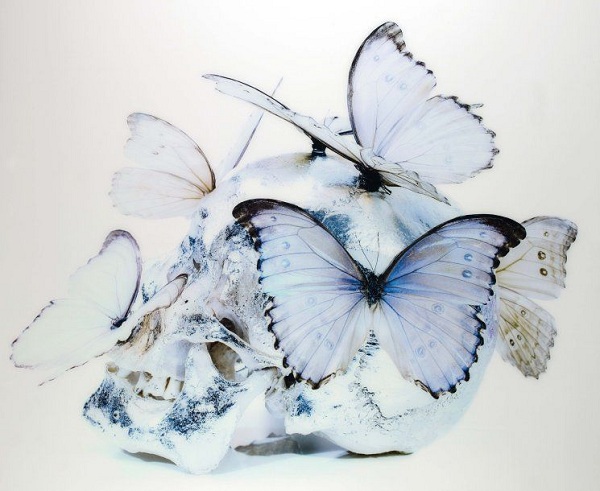 Last week I was party to the responses from a different sort of brain. An artist's one. A creator of many a masterpiece and sculpture. That artist was Philippe Pasqua, whose inaugural London exhibition at the Opera Gallery on New Bond Street opened to a cool crowd of Pommery-sipping invitees. But this artist, enigmatic with his long, matted hair and Vans trainers (in contrast the sharply suited admirers of his work) is clearly someone else who finds our thought processes fascinating. On the walls of the gallery hang huge portraits, each one depicting a face, drenched in floods of colour – bloody reds and bruised blues, all bearing a different expression. These lie in contrast to the more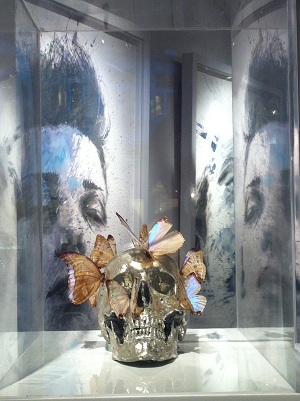 polished showpieces of the evening – a large white, tattooed skull displayed in the gallery's main window pane, along with other smaller skulls, too, doused in silver and gold.
Self taught, and from the town of Grasse in the South of France, Pasqua comes from an area that is renowned for its attention and reaction to the senses: it's here that Fragonard, the well-known perfumer, was born. Pasqua is now based in Paris, where he's been for the past 20 years, creating his signature large palimpsets and provocative nudes, but I wonder if it is the Grasse scent that first drew Pasqua's attention into this element of the carnal that is so clearly explored in his work, and if it is the same perfume that causes him to carve and paint the more delicate objects that surround them – butterflies and flowers, most notably. The intrinsic turmoil of his portrait subjects resonates in the space that he summons with the display of his work – each person taking a deliberate step back to peer further into the human exterior that he uses as a shell, to explore what lies beneath. When it comes to the skulls, Pasqua says, "The weight of the bone contrasting with the butterflies suddenly seemed obvious. I find the result resolutely touching." It is a beautiful oxymoron, and gives meaning to the artistry that some of us do indeed have tattooed on our brains – visible or not, underneath our skin and hair. The portraits too go much deeper than a simple stare – they exude tenderness, anguish, "suffering of the flesh and the force of human expression". The multi-textural elements of these paintings help convey this feeling further. They are certainly far from being simply 2D.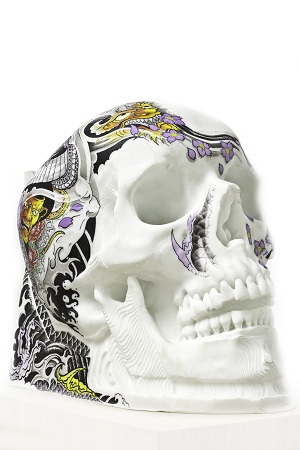 Phillipe comments: "The brush can capture in a single stroke the entire tragedy of a life." I ask him how he chooses his subjects: "They're my friends," he says, "people in my house" a translated through a young hipster-DJ who lives with the artist lui-même. "I only paint subjects that will be strong and magical on canvas. Marginalised, over-sensitised people who wear their heart on their sleeve."
Pasqua has been dubbed "The French Francis Bacon', and likened to Lucien Freud and Jenny Saville, probably because of his fascination with the carnal universe, something that takes you beyond the skin of humanity and closer to your own soul. His exhibition at the Opera Gallery runs until February 15th. A chance to enter into someone else's brain. And possibly also see reflections of your own.
The Opera Gallery, 134 New Bond Street, London W1S 2TF. Tel. 020 7491 2999. Website.