Battered by the time they were passed down to me, my mum's hard-backed ballet annuals from the Sixties depicted ballet as a glamorous world full of artists as sought-after as today's celebrities – most of whom had the temperaments to match – and there was no star as beguiling as Rudolf Nureyev. Those cheek bones, smile, and the forceful Russian spirit had audiences falling in love with him the second he stepped onstage, originally with the Kirov. After his defection from the Soviet Union in 1961, his career in the West saw him partner the prima ballerinas of the day, collaborate with every major company and push boundaries with his commitment to both modern and classical repertoire. Twenty years after his death, the English National Ballet is staging their homage to the dancer, director and choreographer by performing three works that delve intimately and comprehensively into his artistic life.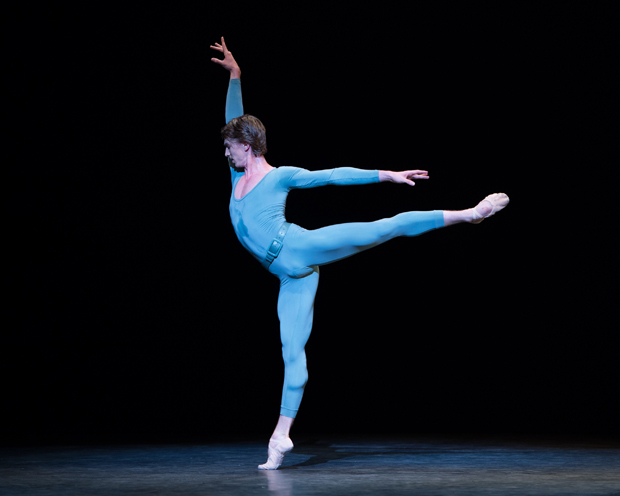 But before the pointe shoes are dipped into their rosin at London's Coliseum, we are treated to a short documentary that shows the legend himself on a big screen, with clips of rehearsals and performances mixed with interviews from Nureyev's contemporaries. One thing strikes you: just how fervently he affected everyone around him. Every person talks with fondness (if a little light banter for his obsessive attention to detail) and you are reminded – should you ever need it – that this was a consummate professional and an artist in the truest sense of the word, who thoroughly deserves his place in history.
On to the action and the pantomime-like Petrushka opens the dancing, a ballet that Nureyev loved performing throughout his career. It requires full character acting, as villagers revel in the town square taking delight in the Showman's puppets. Petrushka is the sad-faced one with mittened hands and knock-knees, devastatingly portrayed here by Fabian Reimair. Nancy Osbaldeston plays the Ballerina, with whom Petrushka is in love but who is girlishly smitten with the macho Moor, an African king who tends to get what he wants. Playing a puppet is no easy task, although the make-up assists facial expressions. It is curious to see all three dancers look quite so inhuman – their legs, lifted up from the ground by their arms, move as if entirely mechanical and their lightness of foot makes the steps look more like tap dancing than ballet.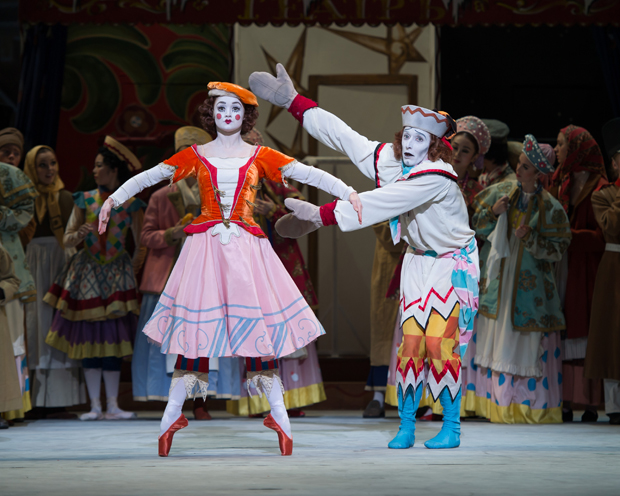 Behind the scenes, we learn of the puppets' emotions and, in throwing himself at his beloved Ballerina, Petrushka learns of her feelings for the Moor. The Moor, angry at Petrushka for trying to steal his girl, pursues him with his sword and strikes him in front of the whole crowd, who have to witness the death of what they had thought a toy. Petrushka's soul visibly ascends, leaving an uneasy feeling in the air. Osbaldeston is perfect yet snappy in technique, and watching her court with Shevelle Dynott's maladroit (yet strangely regal) Moor is giggle-worthy: two mechanical toys do not Fred and Ginger make, and their comic timing mixed with undisputed balletic ability makes for wonderfully easy watching.
The final part of the evening is Act III of Petipa's Raymonda, the ballet which Nureyev introduced, reviving its choreography from memory and then re-staging this act for the Royal Ballet in 1964. Full of Russian splendour, the set is glittering and the white costumes are trimmed with fur and feathers. In a lesson of technique and including variations of every combination, Daria Klimentová dances the title role with fluidity and old Imperialist pomp. She languorously bats her lids and moves effortlessly across the stage with an upper body ready to cast a spell, yet these are countered by her brusque claps and relevées, which simmer with calculation and strongly echo Sylvie Guillem (a pupil of Nureyev). Partnered by Vadim Muntegirov, who is light and agile, with the appearance of effortless strength in his majestic solos. Were it not for his boyishness, he could well be considered somewhere alongside Nureyev himself, but perhaps that will come with age; he certainly proves his proficiency in the second act.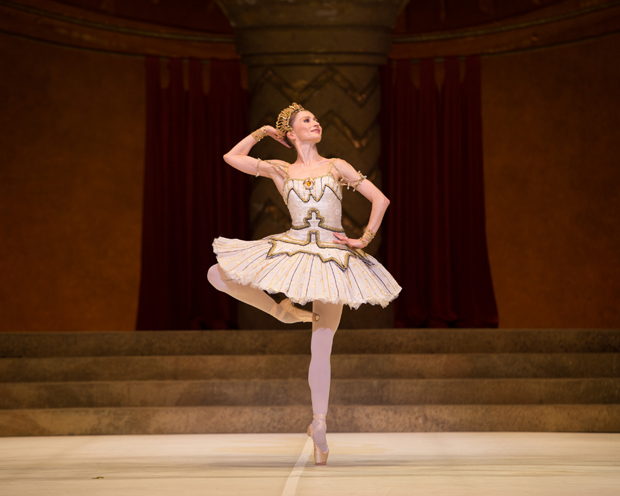 Starkly sandwiched between these two sparkly gems is a soulful reverie that stands in contrast to the evening's otherwise festive air. Song of a Wayfarer is set to Mahler's first song cycle and was originally choreographed for Nureyev by Maurice Béjart. It follows a traveller and his constant shadow – his destiny – as he experiences life, loss and love, never to return to his homeland and fated to end up alone. There is nowhere to hide in this male duet, which is an example of shape, form, line and control. Muntegirov is striking in the lead and, despite lacking the charisma of Nureyev, he does monumentally well. The ENB have put on a joyous evening of tremendous dancing that displays the two things for which Nureyev should be remembered: excellence and spirit. With Dame Monica Mason, director of the ENB, sitting in the front row on the opening night, you know this is the show you should be seeing.
For forthcoming English National Ballet productions please visit the website.