If Anna Pavlova was dainty enough to lend her name to a meringue dessert, then the English National Ballet dancers of this Sleeping Beauty, in delicious pastel costumes by Nicholas Georgiadis, remind one of a selection box of Ladurée macaroons.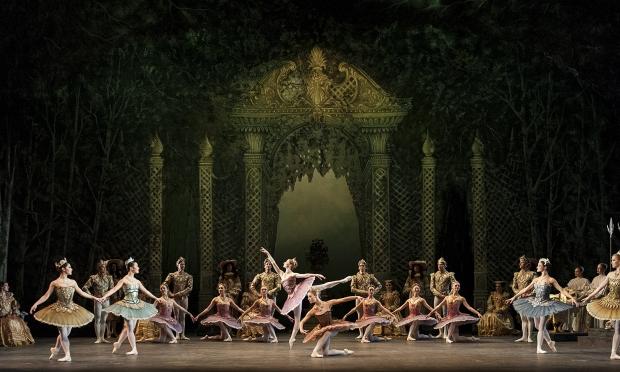 Opening with King Florestan XXIV and the Queen celebrating the christening of their beautiful daughter Princess Aurora, the guests comprise of countless fairy godmothers, each eager to bestow magical gifts on the infant. However, the Fairy Carabosse, whose invitation has been overlooked by the Palace,  storms in, determined to wreak her revenge. Played by the terrific James Streeter, this red-headed Carabosse strongly resembles Elizabeth I. She issues a curse of death on Princess Aurora's 16th birthday, but the Lilac Fairy, played by Daria Klimentová, intervenes and explains through mime that the Princess will not die but sleep for 100 years from which she can only be awakened by the kiss of a prince.
First performed in 1890, this is classical ballet at its best, and couldn't be more different from my last experience of Sleeping Beauty – Matthew Bourne's gothic version at Sadler's Wells. A lavish three-acts complete with castles, forests and spells, with waist-coated male dancers done up like dandies against Peter Farmer's tapestry-like scenery, tights a blinding shade of white, petticoats standing to attention, the entire cast do full justice to Sir Kenneth MacMillan's world famous production (after Marius Petipa) first staged in 1987, and make one proud to be British.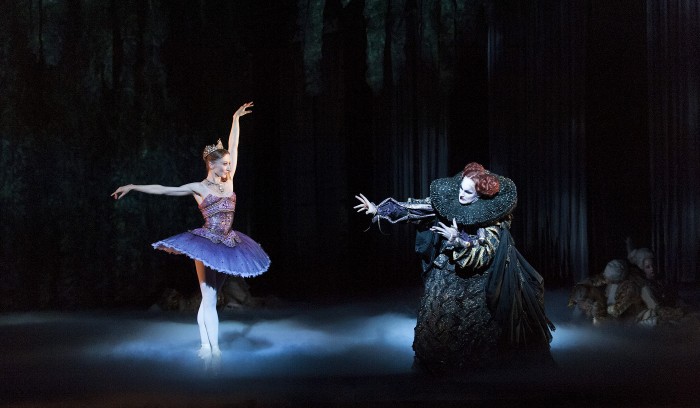 The only thing that could top this and does is seeing Tamara Rojo perform, and I think it's fair to say Rojo, formerly the Principal Dancer of the Royal Ballet and now the English National Ballet's Artistic Director, has taken over where Darcey Bussell left off, giving a truly mesmerizing performance of Princess Aurora. It may be difficult to view such an experienced dancer as an innocent and rosy young girl, but Rojo's Beauty is confident and no less romantic as a result, with every gesture and movement just as it should be – considered and precise, even if the strain and concentration of the tricky balances in the Rose Adagio sometimes showed on her face. Although I initially questioned the chemistry between Rojo and Prince Désiré, played by 22-year-old Vadim Muntagirov (already a ENB Lead Principal Dancer), they made a handsome partnership, never dreamier than in Act Three's famous pas de deux.
In the glorious setting of the London Colisuem, the Orchestra of the English National Ballet, conducted by Gavin Sutherland, and cast worked harmoniously. It was exciting to see Nancy Osbaldeston, nominated for this year's Emerging Dancer Award, as both Fairy of the Golden Vine and Red Riding Hood. Japanese Shiori Kase also caught my eye, starring as both the Songbird Fairy and Princess Florine in a charming routine with The Bluebird played by Yonah Acosta, the nephew of the great Carlos Acosta, and whose jumps show promise of one day rivalling his uncle's.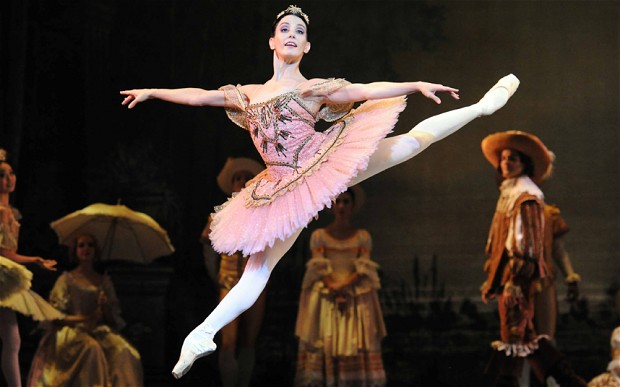 The Sleeping Beauty, with its ravishing Tchaikovsky score, was a ballet dear to MacMillan's heart due to it being the one in which he first appeared on the stage of the Royal Opera House in 1946, before later establishing a reputation as the greatest choreographer of a generation. Most at home reviving sumptuous and technically challenging ballets, MacMillan produced several acclaimed versions of Sleeping Beauty, always conscious of making ballet accessible to not just the few but the many, and his legacy is wonderfully apparent in this production. Whilst it may not be the most riveting plot for a modern audience, a finer production would be hard to find.
The English National Ballet – Sleeping Beauty at the London Coliseum, Saint Martin's Lane, Charing Cross, London, WC2N 4E, until Saturday 19th January 2013. Tickets £10-£45. Running time approx 3 hours including two intervals. For more information visit the website.