Whilst it may hark back to those dazzlingly glamorous, heady days of the Belle Époque, the moral of Massenet's 1884 opera, Manon, is as relevant today as it was to the nineteenth century Parisian society that so heartily lapped it up when it first opened. It became Massenet's most popular operatic work, and the exploration of the pitfalls of a hedonistic lifestyle ring some alarming bells in our modern world of excess and celebrity.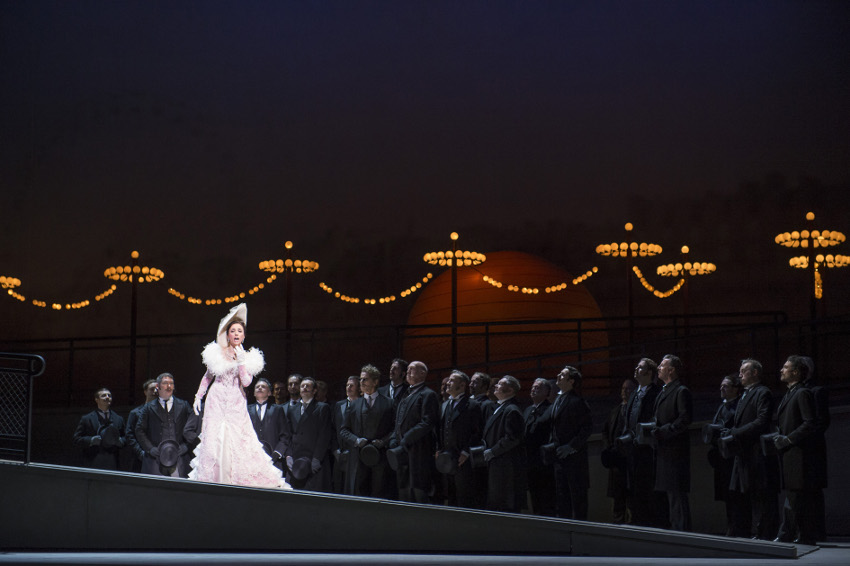 Based on Prevost's 1731 novel, the story of Manon Lescaut follows a naïve girl dazzled by the prospect of wealth, who sacrifices her true love in order to satisfy her overwhelming desire for a life of luxury. Ultimately destroyed by her own greed, it can either be taken as a cautionary tale against the wiles of a rapacious gold digger, or as the tragic downfall of a woman blinded and manipulated by a suffocatingly male-dominated society that makes her feel worthless.
Performing as this complex anti-heroine, Albanian soprano Ermonela Jaho glistens; evolving from a gawky, stumbling girl headed for the convent into the doyenne of fashionable society who is able to manipulate those around her, but ends up a convict, an outlaw, and a broken woman whose past catches up with her as she uses her dying breaths to beg forgiveness from the man she has so hurtfully wronged. Jaho illustrates how multi-talented today's opera singers need to be; her acting is impeccable, with a flair for both nuance and comedic timing highlighting every colour in Manon's endless emotional spectrum. Her tone is sublime, with emotive and powerful top notes full of warmth which she is even able to belt out whilst running up a full flight of stairs. Though she lacks a bit of weight in her midrange, which sometimes means her voice gets lost in the general volume of the ensemble, Jaho's high notes place the audience firmly under her spell and her heartfelt goodbye to her life with her lover, 'Adieu, notre petite table,' portrays Manon's internal battle between pursuing passion or wealth.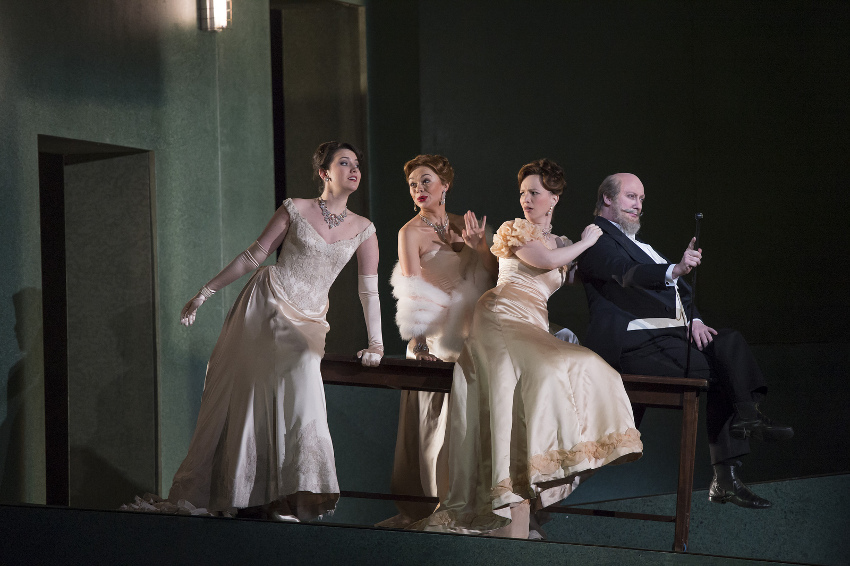 Staring opposite is Matthew Polenzani, an American tenor of stunning richness and sensitivity. As Des Grieux, he compliments her tone and poignancy as, an ardent young lover, he petulantly turns to the priesthood once he has been spurned. As his succumbs to Manon's advances when she has found him once again (just about to take his orders) their impassioned duet 'N'est-ce plus ma main' has you worrying that he is going to devour her onstage, such is their chemistry. When she tempts him to the gambling tables so as to win money to fund her lifestyle, her slow cat-like moves seem to seep into his tense body and her eyes burn into the back of his neck – the connection is palpable.
There are brilliantly austere sounds from bass Alastair Miles as Des Grieux's condescending father, and a comic turn from Christophe Mortagne as Guillot de Morfontaine, the aging nobleman with a soft spot for Manon whose presence is one of the various elements of light relief in this production, which seems to laugh at the society it portrays as much as it glorifies it.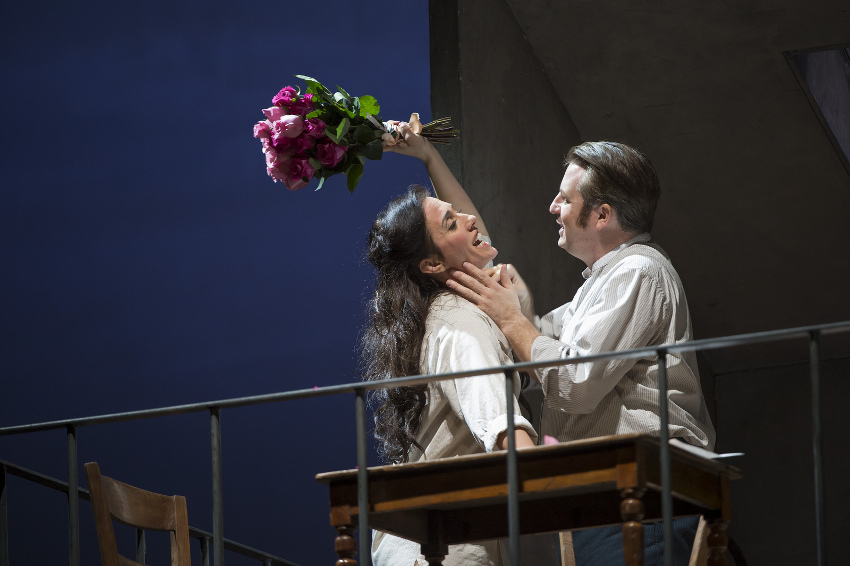 Laurent Pelly's direction from 2010 is revived at the Royal Opera House this season by Christian Räth, who sets the more serious themes of love, lust, betrayal and gambling against Cecil Beaton-esque tableaus and nigh on ridiculous choreography where the courtesans are essentially the pantomime ugly sisters and top-hatted society men follow the alluring Manon.
Apart from one scene of Parisian idyll the set design is markedly stark. The lovebird's cosy apartment is a bed and table atop a staircase that looks like part of a warehouse plonked in the middle of the stage and the Hôtel de Transylvanie, which houses the underground casino where Manon's downfall takes place looks like a concrete cell. Your eye is continually drawn to the people – and Manon. She is as beguiling as she is tragic, and it becomes unclear whether she is unforgivably callous, or just a victim to the vices constantly dangled in front of her.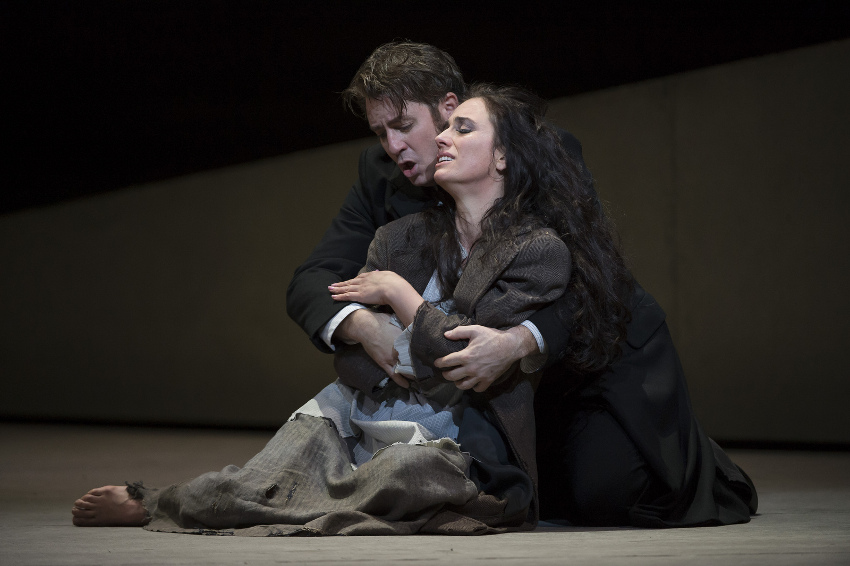 With a performance time of around four hours, this is on the long side, but it's not as though Massenet's work is particularly heavy-going. Under Emmanuel Villaume's baton, the Orchestra of the Royal Opera House revels in every sweep of the score and undulates in sumptuous accord with the singers. This is a stylized and seductive production, with a strong and subtle leading couple who not only sing as though their lives depended on it, but with a beauty and perceptiveness not often achieved. Manon is a flawed heroine, a woman who has fallen from grace, but her dogged pursuit of happiness or pleasure, will leave you heavy of heart rather than vindicated at her inevitable demise. When so much emphasis today is placed on self-satisfaction, perhaps we can all relate to Manon Lescaut.
Manon at the Royal Opera House, Covent Garden, London, until 4th February 2014. Running time approximately 4 hours. For more information and tickets visit the website.