Over the years, numerous directors have embarked upon unconventional adaptations of Shakespeare's plays in an attempt to enrich their original subject matter with a modern relevance and context. Although a brave notion, I have often been wary of ultra-modern Shakespearean renditions since a highly conceptualised approach can work to the detriment of a play's original meaning. So it was with a feeling of trepidation that I found myself at the Donmar Warehouse, preparing to watch Phyllida Lloyd's Julius Caesar – arguably the most masculine of Shakespeare's plays – performed by an all-female cast.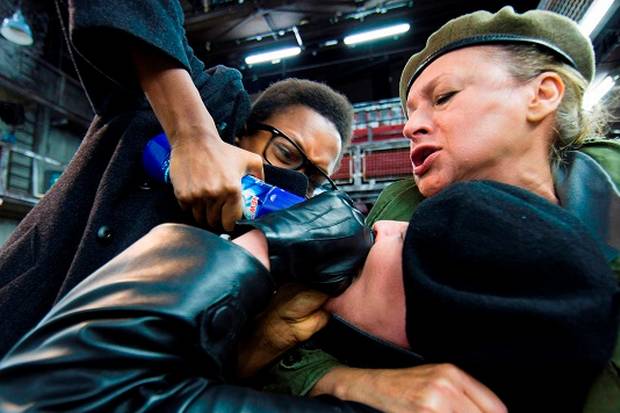 The harsh, stark set reveals the bleak confines of a women's prison, where the inmates are performing an aggressive, passionate version of Julius Caesar as a project, overseen by austere prison wards and the ever-present CCTV cameras. Although this play-within-a-play framework means that the tragic element of the plot is reduced, as we are aware that the deaths of Caesar and Brutus are merely being acted out by the inmates, the prison setting brings a new resonance to the themes of brutality, repression and shifting allegiances that are prevalent in the play. It also allows for a particularly complex performance from the brilliant Dame Harriet Walter, whose anguished portrayal of Brutus is rendered poignant in the final moments of the play when she is forced to return to her cell after living out her metaphorical freedom fantasy.
One gets the feeling that Lloyd takes some delight in deliberately making her audience feel uncomfortable; the hard plastic chairs we sat on were placed in awkward positions so that when the violent murder of Caesar takes place – in this instance he is forced to drink a bottle of bleach – I found myself craning my neck to get a better view and then wondering whether this was Lloyd's way of denouncing the entertainment industry's thirst for violence. To add to the general sense of unease, the audience is subjected to periodic bursts of thrash metal music which precludes violent scenes, whilst later in a surreal moment a naked young woman walks ominously onto the stage holding an infant. At times it all seems slightly unnecessary, but the intensity of it all is captivating, nonetheless.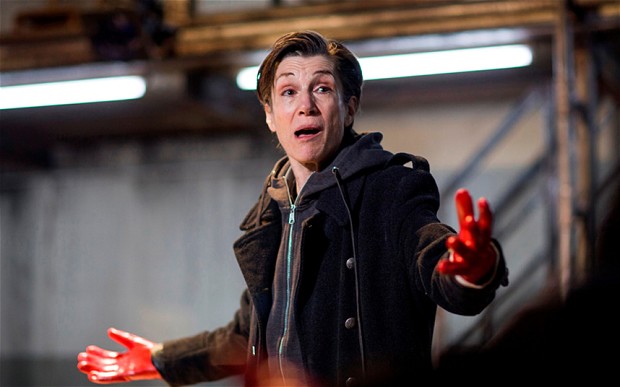 Lloyd is almost playful in her toying with the audience; in a blatant homage to Brechtian theatre, one unfortunate member of the audience was politely asked to move seats by the actors, so that they could film Caesar's murderer on their handheld cameras. As Lloyd forcibly removes us from Shakespeare's Rome, she presents her audience with a post-modern allegory that allows us to confront some sinister and lasting truths about the world's pervading threat from authoritarianism, the ills of violence and the danger of both political extremism and complacency.
The play merits watching not only for its originality and audacity, but for some truly fantastic performances; Jenny Jules' angry Cassius offers the perfect balance to Brutus' measured and quiet internal torment, whilst Cush Jumbo's Mark Antony is strong, proud and unnerving in his absolute devotion to the despotic Caesar. The only performance that disappoints is that of Frances Barber, whose thuggish, caricatured Caesar is denied any sense of depth; at one point she uses a Krispy Kreme donut as a cruel torture devise in a scene that is so over-acted it becomes comedic. It is only after her death that her role takes on relevance, as she lingers menacingly in the corners of the stage to oversee the action, a symbolic nod to the pervasive threat of power. Nonetheless, the entire cast – which includes ex-convicts from the Clean Break Company – has clearly put its heart and soul into the production, and the result is a play of conviction that intends to make clear its anti-war, anti-authoritarian message.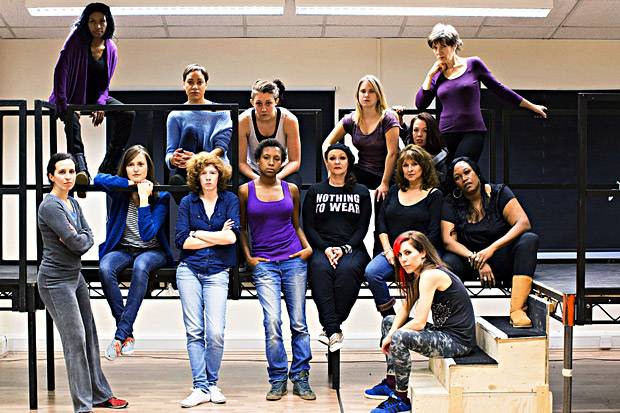 It is also refreshing that although an obvious feminist rhetoric runs through the play, which has a distinct lack of sexualised female figures, the issue of gender is not overly forced and in fact becomes irrelevant as the protagonists are instead defined by the rich intricacies of their characters and acting strength. It might not have been what Shakespeare envisioned for Caesar, but Lloyd's impassioned adaptation certainly packs a punch.
Julius Caesar at the Donmar Warehouse until Saturday 9th February 2013. Running time: 2 hours and 5 minutes with no interval. Tickets from £15. For more information and tickets visit the website.