Private Lives is the funniest play I have ever seen. Period. Bar evenings spent watching stand up, this was the first time I had ever genuinely worried about splitting my sides whilst confined to a plush, velvet seat, and that is in no small part down to the delectable casting at the Gielgud Theatre. I'm not urging you, I'm telling you: go and see Toby Stevens and Anna Chancellor right now.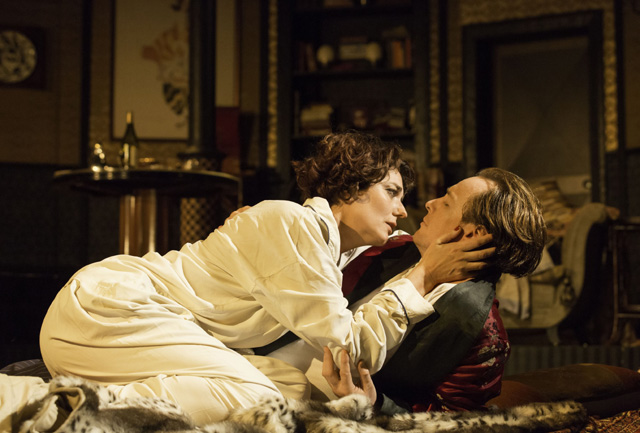 Noël Coward finished the play in 1930, and both directed and acted in it himself alongside the famous Gertrude Lawrence. The original cast also included Lawrence Olivier, who joined the other two on Broadway when the show transferred; the lead roles have since been tackled by Elizabeth Taylor and Richard Burton, and Sir Robert Stephens and Dame Maggie Smith.
Interesting, then, to see the latter couple's son take the lead as Elyot Chase, the vaguely caddish ex-husband of Chancellor's Amanda Prynne. Each is on honeymoon with their second spouse, chosen out of a desire for peace and security after the tempestuous relationship that ended in a boiling mess the first time round. The play is light, bright and very easy to watch. It is a whirlwind from the start, with Elyot's new bride, Sibyl, running onto the balcony of their hotel room in the South of France, mid-conversation. The pace doesn't let up from there on in, and there is a simple but genius-like quality to the plot, which starts with Elyot and Sibyl verging on a quarrel at her inability to put his first wife out of her mind, thus driving him to distraction. As they go in to change for dinner, so Amanda and her new husband Victor appear on the adjacent balcony and he proving just as concerned about her previous husband. The conversations mirror one another, avoiding repetition yet providing much opportunity for double entendres, sarcastic responses and haughtily raised eyebrows. This is Chancellor in her element, with her deep, husky, weary voice sounding both amused at and bored of Victor all at once.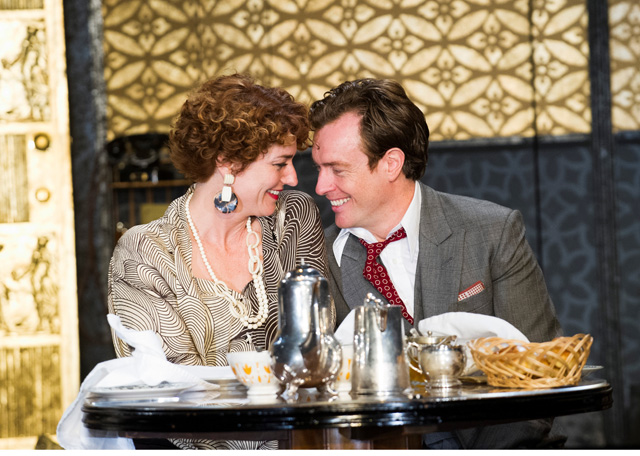 Amanda is a restless soul, who is either a lot more vulnerable than she tries to make out or just hopelessly quixotic. Chancellor's version is sleek, glamorous, erratic, romantic and hilariously cutting when she wants to be. Her free-spiritedness causes her to wind the gramophone up to play the Rite of Spring and dance about doing its jagged moves whilst in her pyjamas and fighting with Elyot at the same time. Her total surrender to her impulses is absolutely barmy.
Elyot is charming and suave, with something a bit cavalier about him. He is seemingly flippant in that typically Coward manner, often shooting off frivolous remarks which, in fact, probably mask a great deal of insecurity or dissatisfaction. Stephens is ideal for this role, managing both Elyot's smoothness and his conversely uncontrollable floundering in the face of pressure. He flips from James Bond to a shrieking wreck in an instant.
As soon as Elyot and Amanda set eyes on each other once again, all else is lost, and we follow them as they escape to rekindle their romance. The humour at times descends into slapstick, with Elyot and Amanda throwing vases at one another, smashing records over each others' heads and getting caught by their respective partners rolling around on the floor, practically scratching each others eyes out in one hell of a lovers quarrel, so volatile is their chemistry. What should be plain silly is hysterically entertaining but so energetic that I really do worry for the actors health, completing this marathon night on night. Stephens and Chancellor alternate between fits of passion and rage, with his face a decided puce a great deal of the time. The second half is shorter than the first, which is almost a relief as I don't think the actors – nor the audience – could have taken any more.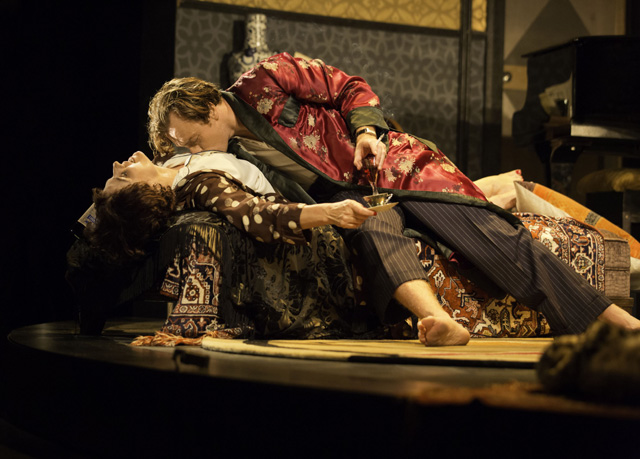 The whole thing has the allure of its Twenties era with the characters prey to that flighty restlessness of Waugh's Bright Young Things or F. Scott Fitzgerald's hopeless partyers. The well-documented boredom of this hedonistic set is concentrated into a tiny bottle here, which seems ready to pop at any moment. The costumes are sumptuous, from Stephens wearing a tux and Chancellor's deep velvet cocktail gown. After the balconies of the South of France, the set rotates to reveal a huge, bohemian flat in Paris, adorned with fur rugs, cushions, chaise longues and a grand piano. The occasional accompaniment is Coward's heavenly 'Someday I'll Find You,' which he wrote for the play.
The supporting roles of Victor and Sibyl are played by Anthony Calf and Anna-Louise Plowman, with a brief appearance by Sue Kelvin as a bolshy French maid. Plowman is in fact Stephens' real-life wife – this play does have a history of casting couples after all. Calf and Plowman don't have much hope of fighting against the power of these leads but that is no bad thing. Private Lives is gloriously overacted and utterly exhausting – pure comic indulgence.
Private Lives at the Gielgud Theatre, 35 Shaftesbury Avenue, London W1D 6AR. Booking until 21st September 2013. For more information and tickets visit the website.