This Northern Broadsides revival of Githa Soweby's 1912 play, Rutherford & Son, appears at the St James Theatre following a 15 week national tour, but it doesn't simply deserve acclaim due to Sir Jonathan Miller's stellar direction; the imposing cast is led by thespian stalwart and Northern Broadsides founder Barrie Rutter, who gives a commanding performance of John Rutherford, a "bull-headed capitalist who crushes his own children beneath the wheels of industry."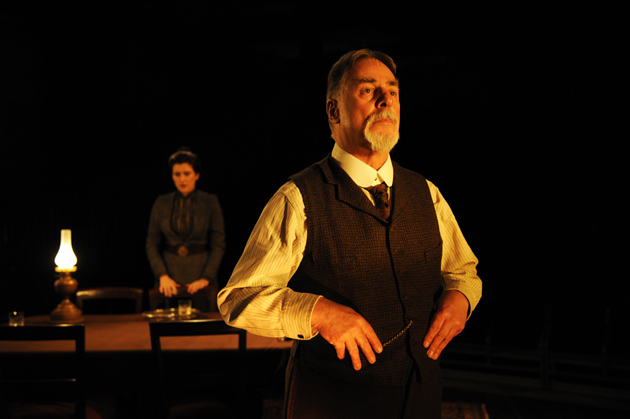 Whilst Rutherford & Son might have been a hit when it first premiered (quite an astonishing feat for a female playwright back then), it's not surprising with its themes of oppression and screeching, dissatisfied women battling against chauvinistic dimwitted men, that it fell out of favour. That is, until the National Theatre revisited this unfashionable work and hailed it as one of the best 100 plays of the twentieth century. Do I feel culturally richer for this revelation? Not particularly.
Edited and translated by Blake Morrison, and utilising thick Yorkshire dialect, Miller's championing of this soap opera style tale of a dysfunctional family does illustrate the timelessness of Soweby's themes. Miller found her work reminiscent of the naturalism of Chekhov and claims to have been drawn to the similarities of our own economic climate and the devastating impact on small family businesses. "When we came together to do our first read-through," noted Miller, "I was bowled over by the liveliness of the text and the appropriateness of performing it with this amazingly talented Northern Broadside cast." But it lacks the subtleties of Chekhov or the Russian playwright's deftness for pent up angst and repression.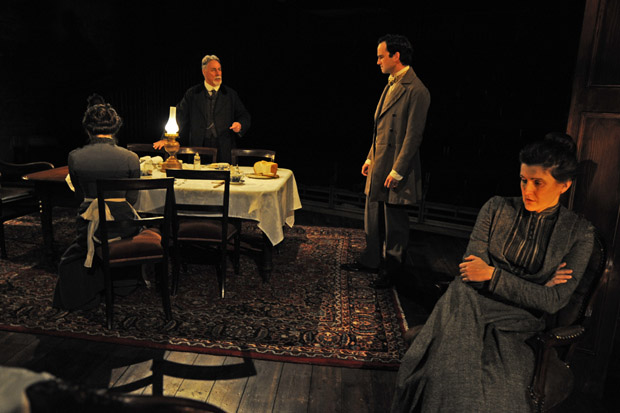 Set entirely in the living-come-dining room of the Rutherford house, Miller's regular designer Isabella Bywater enhances the gloomy atmosphere and builds the tension. John Rutherford has toiled for twenty-five years at his glassmaking factory with the intention of passing it on to his dandyish Harrow-educated son, John (Nicholas Shaw). With John Jnr having returned from London with a wife below his own social ranking, and Rutherford's other son, Dick (Andrew Grose), a mere clergyman, his aim to improve the family social standing has seriously backfired. His son John detests rather than respects him and strives only to escape the coarse Yorkshire environment. As Rutherford's fiercely intelligent daughter Janet (Sara Poyzer) points out, they will never be anything other than "common." She is the only sibling prepared to tackle her father head on and you almost expect her to strike him with a hot poker when he scolds her for assisting the servants, before demanding that she remove his boots. Considered well past marriageable age, it is Janet's illicit relationship with her father's right hand man, Martin, however, that proves the cataclysm to the family's final breakdown.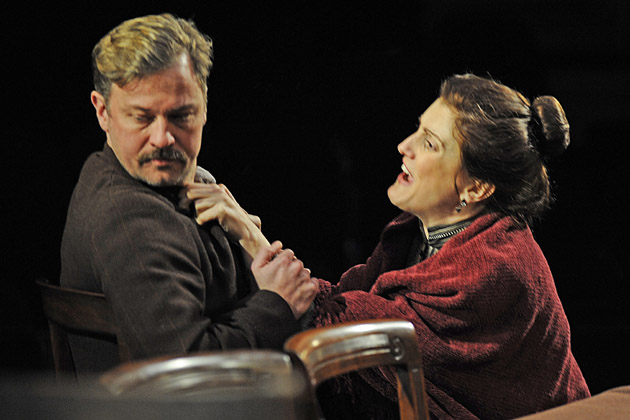 When young John boasts of having invented a new metal worth thousands, it's clear that his motivations to escape his father's house are purely selfish and not inspired by his wife Mary's isolation or a desire to have a home of their own. Whilst empathising with each character at different turns, Soweby's feminist female characterisations naturally steer the plot towards the womenfolk ultimately triumphing over the bombastic Rutherford. Using the financial plight of the factory and the salvation of his life's work to justify betraying his son, Rutherford's family retaliate with a mass exodus. Save one member – and for whom Catherine Kinsella, wonderfully cast as his feisty daughter-in-law Mary – is prepared to strike the hardest bargain of all.
Rutherford & Son at the St James Theatre, until 29th June 2013. Performance time approximately 2 hours 20 minutes including one interval. For more information and tickets visit the website.