Reginald Rose's 1955 play has been something of a standby in the half-century since it was first performed, going through several different versions and interpretations. The latest staging, ably directed by the Gate's artistic director Christopher Haydon, is a traditional take on the material that is likely to please purists and general theatregoers, while frustrating those who might wish for Rose's work to be subjected to a more rigorous examination of its underlying themes of race, class and the American Dream. Sex is strictly off the agenda here; all of the dozen characters (plus an occasional guard, who has perhaps the most thankless part in the West End at the moment) are male, and, in this production, white to boot.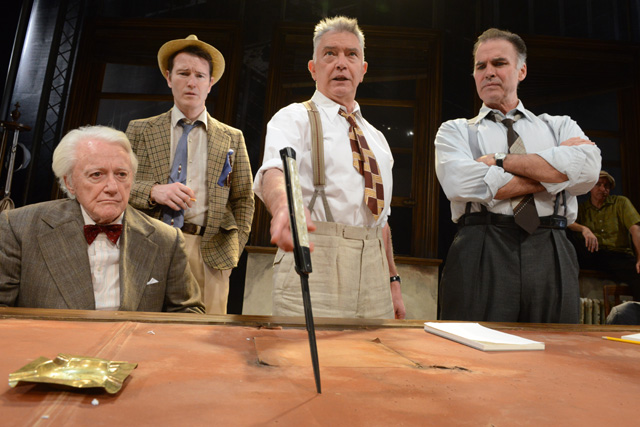 The storyline is already iconic, having been imitated and parodied countless times, but there's still a frisson in the thriller-ish set-up. A young black man is on trial for the suspected murder of his abusive father. The evidence appears to be heavily against him, and eleven out of the twelve jurors are easily convinced of his guilt, allowing for a swift end to the trial. However, the eighth juror (Martin Shaw) is unconvinced, arguing that rather than looking at simple questions of guilt or innocence the jury should instead consider the concept of the case being proved 'beyond reasonable doubt', without which a conviction is impossible. Sparks fly.
The play is a star vehicle for Shaw, who these days makes fairly infrequent stage appearances, but in truth his character is less a three-dimensional human being and more the voice of liberal reason. His profession, appropriately enough, is that of an architect, and it is his forthright, keenly argued approach to the law and to justice (two occasionally entirely separate entities) that drives the mechanics of the drama. However, Shaw is a surprisingly low-key central presence, complete with wavering American accent, and it falls to Jeff Fahey, returning from his tour of duty in Lost, to steal the show in the richest and most complex part as the intransigent Juror 3, whose motives for a conviction might be more self-interested and personal than they initially appear.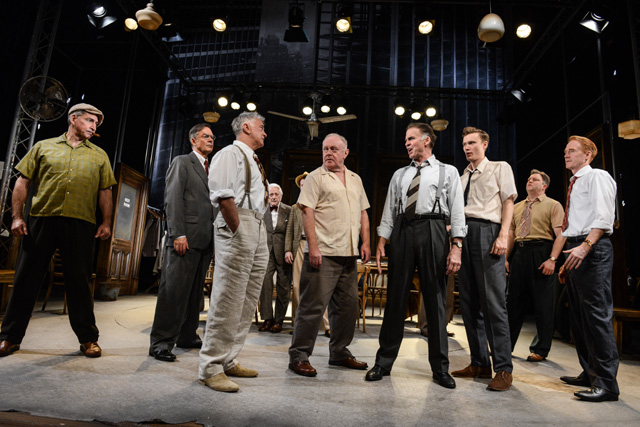 Nonetheless, this is primarily an ensemble piece, and, as ever with British productions of American classics, there's some appeal to be gained from watching how a mixture of British, American and Irish actors cope with the demands of the accent. I especially enjoyed Miles Richardson as the bigoted garage owner, Juror 10, who adopts a deep, gravelly Noo Yawk accent of a sort unheard in Western civilisation since the glory days of Jackie Mason and Phil Silvers. Another fine performance came from Luke Shaw, a replacement for another actor the night that we saw the production, as the precise, erudite Juror 4, who carefully weighs up every aspect of the evidence and comes to a conclusion in the most rigorous of fashions. Michael Pavelka's set design, involving a subtly rotating stage, is spot-on, beautifully recreating the muggy heat of a New York evening and  – prophetic fallacy alert! – the second act storm.
This is a capable rather than profound reading of a play that perhaps feels somewhat hemmed in by its time and setting; a comparison with, say, Rattigan's The Winslow Boy does it few favours. Nonetheless, for a piece of undemanding but gripping West End entertainment, this is deeply entertaining stuff, and, with a runtime of just over 2 hours (including the interval), it isn't going to leave you feeling as exhausted as the jurors do.
Twelve Angry Men, at the Garrick Theatre, 2 Charing Cross Road, London, until 1st March 2014. For more information and tickets visit the website.