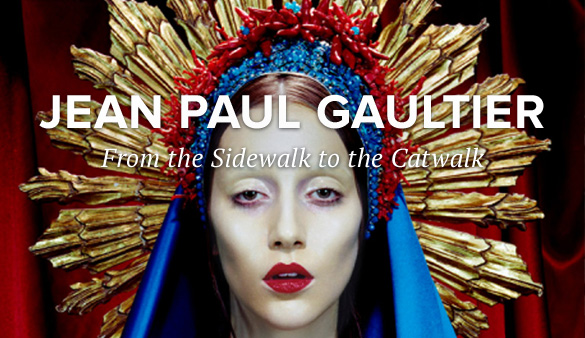 Some may call it a retrospective, but 'The Fashion World of Jean Paul Gaultier: From the Sidewalk to the Catwalk' exhibition is a clever and visually striking art and fashion installation in my opinion.
Yes there are over 140 cutting-edge and iconic designs from Gaultier's avant-garde and eclectic design archive on show – but it's the way in which those pieces are presented which really brings his work to life – from eerie talking mannequins projected with moving facial expressions (including the designer himself clad in an iconic Sailor top), and a catwalk show in motion, to a seriously sexy collection of fashion imagery featuring pieces from various Gaultier collections lensed by photographers including David LaChapelle, Mario Testino, Mert Alas and Marcus Piggott and longtime Gaultier collaborator, Jean-Baptiste Mondino – this is without doubt one of the most beautifully curated fashion exhibitions ever staged.
After first opening at the Montreal Museum of Fine Arts, the exhibition travelled on to cities including Madrid and most recently Rotterdam, where I had the opportunity to see it and fall in love with Gaultier's work all over again. Now London is to experience the thrill of pointy bras and beautifully constructed corsets (yes I'm talking about Madonna of course), as the show will open here next year at the Barbican.
Alongside Madonna's conical stage costumes is a stunning crochet dress created for Kylie Minogue's 2007 'Like A Drug" video; the scalloped mermaid gown French actress Marion Cotillard wore to the 2007 Oscars, and pieces created for Luc Besson's 1997 sci-fi film "The Fifth Element".
The dynamic exhibition spans Gaultier's career with haute couture and prêt-à-porter designs created between the mid-1970s and 2010, alongside sketches and video clips which spotlight his collaborations with filmmakers, choreographers, and musicians over the years.
Expect to wander through various stages of Gaultier's design life, as you begin with 'The Odyssey of Jean Paul Gaultier', which highlights virgins, sailors and mermaids, all of which have been common themes in his collections. Then enter 'The Boudoir', which is a salon-style room with a sultry and sassy edge, filled with cone bras, lingerie, corsets, and cages. From sculpting on the skin, to 'Skin Deep', in which the exhibition showcases Gaultier's fascination with the human body, and includes the breathtaking skeletal corset Dita Von Teese modelled in his AW10 / 11 haute couture show.
The exhibition then moves on to the 'Urban Jungle' and Gaultier's love of ethnic culture, followed by my favourite part of the installation – 'Punk Cancan', where the true essence of l'enfant terrible's fascination with subcultures is visible – pure Parisian chic meets rebellious London Punk (complete with Mohawks), and like me, you'll probably want to own everything on display, apart from the codpieces that is. I would've tried to steal the tartan dress and cropped leather biker jacket taken from the AW 2007 ready-to-wear collection, but the scary mannequins with their moving eyes would've seen me.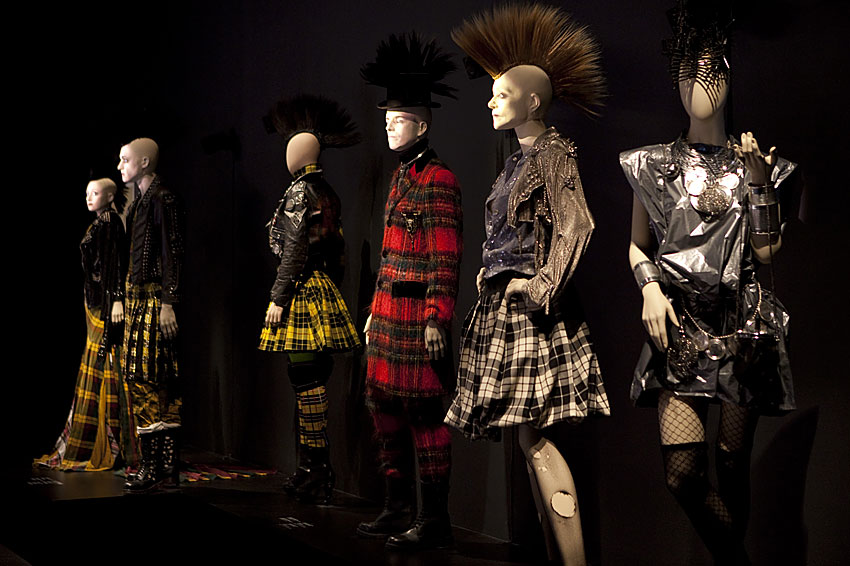 The last look into the world of Gaultier is 'Metropolis', housing some of the designer's explorations into multimedia and pop culture, and his most futuristic and eclectic creations – including an outfit made from a plastic rubbish bag accessorised by tin can cuffs and a belt made from tin can lids – an idea which came to Gaultier's mind after feeding his chat one day (that's French for cat, obviously). If you can't afford real Gaultier, this could be your chance, non? Just think of the eco-fashion factor in recycling bin bags and tins cans too.
If you want to experience a raw and passionate spirit, an edgy attitude and a heart that beats to the rhythm of underground culture (everything we Londoners love), then this exhibition is a must-see.
'The Fashion World of Jean Paul Gaultier: From the sidewalk to the catwalk', will run at London's Barbican from April 2014 to August 2014. For more info head HERE. You can also read my exclusive interview with Jean Paul Gaultier in the April issue of Dazed & Confused, out this month.