This end of May Bank Holiday has one distinct advantage over August's: hope. That's the reason this is always one of the biggest weekends of the year for sales of garden furniture. We still have the hope of balmy evenings ahead sitting outside with a cold beer after work. Now garden chairs and tables are all well and good but don't you think you might fancy some cheese or a slice of pork pie to go with that drink? Thought so. Then skip the garden centre queues and instead spend this weekend preparing for a summer of outdoor fun by getting cracking with some chutney. Or pickle. Or (if you absolutely must) piccalilli.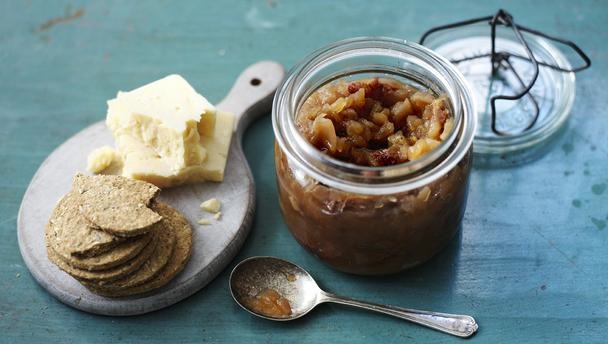 All manner of fruits and veg can be chutneyed or pickled. Chutney has the edge for me because the sauce matters as much as the main fruit/veg. As it cooks the sweet, spicy cooking vinegar is reduced down into something almost like a jam. The flavours meld together into a taste explosion. The recipe below is for a very versatile apple, date and walnut chutney. Great with pork pies, ham, cheese, cold chicken – in fact, great with pretty much all picnic fare.
Pickles can have their moment too, though. The difference from chutneys is that the pickled fruit or vegetable (or combo of) is eventually taken out of the spiced vinegar it's been preserved in. The preserving liquid is left behind. Think about pickling cucumber, courgettes, onions or mango. Pickling walnuts has got to be worth considering for the Carry On-ness of it if nothing else.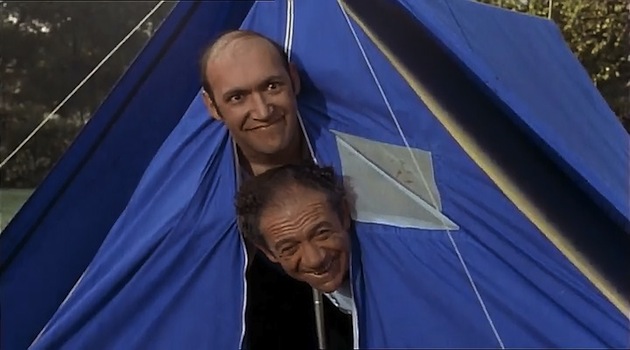 The line between pickles and chutneys can be blurry – piccalilli is where the two collide. Small pieces of cauliflower, gherkin, onion and green beans are preserved in a spicy vinegar and mustard sauce with turmeric added for the characteristic vibrant yellow colour. I was going to do a piccalilli recipe but my best endeavours haven't yet dissuaded me that piccalilli is the work of the devil. Good luck to you if like it, though. It wouldn't do for us all to like the same things.
Chutneys, pickles and even piccalilli will improve in flavour as they mature over the summer months. Making them now should see you happily through a good season of picnics and evenings in the garden. We can but hope.
Apple, Date and Walnut Chutney
2 onions
juice and rind of an unwaxed lemon
3⁄4tsp salt
1tsp cayenne pepper
1tsp mustard powder
160g dark brown sugar
2 Bramley apples (about 450g)
250g pitted dried dates
1tsp ground ginger
1tsp black mustard seeds
250ml cider vinegar
75g walnut pieces
Chutney is best made in a large stainless steel or enamel-lined (Le Crueset-style) pan – aluminium or cast-iron pans without the enamel will react with the acidity of the vinegar. And you'll need 1 litre worth of jars. Chopping and stirring are pretty much all there is to this.
1. Chop the onions. Peel and dice the Bramleys. Put both ingredients into a large mixing bowl with the lemon juice and rind, and then mix it all together to straight away help stop the apples turning brown on you.
2. Chop the dates and add them into the bowl together with the salt, ground ginger, cayenne pepper, mustard seeds and mustard powder. (That's right – the walnuts are not going in yet.) Mix it all together well.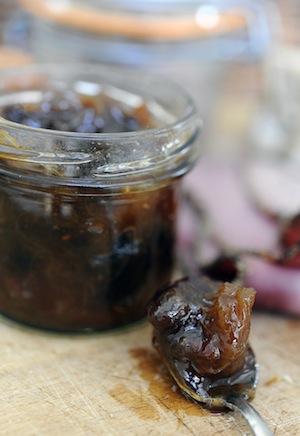 3. Put the vinegar, sugar and 50ml water into the pan and set it over a medium heat until the sugar has dissolved. Stir into that the mixing bowl of apples etc and bring it all to a boil before turning down to a low simmer. Your chutney will thicken up gloriously over the next hour to an hour and a half. You want it become jam-like but bear in mind that as it cools it will thicken up a little more. So take your chutney off the heat a little before it has reached the consistency you want. Keep stirring regularly throughout.
4. Now – finally – the walnuts are added once the cooking is done. Crush them with your fingers as they go into the chutney pan and once again give it all a good stir.
Start sterilising the storage jars just before adding the walnuts. Preheat the oven to 140C. Pour almost boiling water into the jars, empty the water out, and then sit them on their side in the oven for 5 minutes or until all the water drops have evaporated. Now just spoon the chutney in, seal the jars up and label (with the date as well as the name).