One of the perks of childhood is being able to order a whopping great ice-cream sundae without anybody batting an eyelid. I don't think I was properly warned, though, that when childish things are put away that privilege goes too. As grown-ups we're supposed to have dessert tastes more sophisticated than heaping our favourite treats in a glass dish and sprinkling some nuts over the top. Well, yah boo sucks to that. Because, really, whose day wouldn't be made that little bit better by having an ice-cream sundae? So here's the plan: re-brand them as 'coupe', serve in elegant, oh-so-grown-up champagne saucers, and no-one need ever know these desserts are actually just a Knickerbocker Glory at heart.
There are four fruity coupe recipes below: 'Peach, Rose & Pistachio' which is a little Middle-Eastern, headily sweet yet still quite light; 'Rhubarb & Rosemary' feels like you're serving up the English summer in a dish; a refreshing 'Strawberry, Hazelnut & Orange'; and the more indulgent 'Cherry Chocolate'.
Each coupe's primary ingredients are layered up in the glass with top-notch (no point in skimping – if you're going for it then go for it) vanilla ice-cream and Creme Chantilly. That's whipped cream taken to another level by being whipped with icing sugar and other flavours that will marry it with the coupe's fruits. Often that's whatever booze or juices the fruit has been macerating in. The Creme Chantilly can be prettily piped or more lazily spooned as you prefer. A sprinkle of nuts, maybe a grating of chocolate, and you're done.
Each recipe is for four coupes served in glasses approx 180ml capacity. Small enough for the coupe to appear to be bursting its banks.
Peach, Rose and Pistachio Coupe
1. Preheat the oven at 180C. Halve and stone two peaches and arrange them cut-side up in a baking dish with a small knob of butter dotted over and 2tsp essence of rosewater, 1tsp caster sugar and 1tsp lemon juice sprinkled over. Cover and cook for 25 mins or less if they're really quite ripe. Leave the peaches to cool uncovered in the syrup but flip them over so the cut side can soak up more of the juices.
2. When it's time to serve, gently peel the skins off the peaches. Slice each half and arrange in the bottom of the coupe glasses. Whip the Creme Chantilly using 350ml double cream and 3.5tbsp icing sugar, adding in the remaining peach cooking juices and another 2tsp essence of rosewater towards the end of its whipping.
3. Put two scoops of ice-cream on top of each set of peach slices and then layer on the Creme Chantilly. Scatter over 4tbsp chopped skinned pistachios and finish with 60g white chocolate grated over. An edible rose petal makes a nice extra touch if you have some knocking around.
Rhubarb & Rosemary Coupe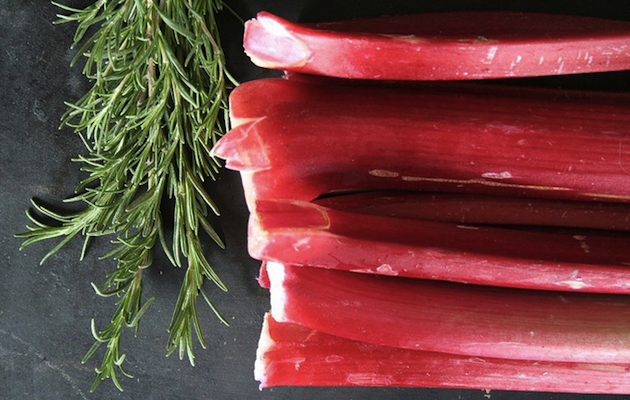 1. Make the rhubarb puree first. Trim but don't peel 400g rhubarb – the red skin will give your puree its pinkness – and blend it with 4tbsp water until smooth. Add 1tsp caster sugar as you simmer it for 15 minutes to reduce down and thicken up. Leave to cool. The rhubarb's tartness will make a fine counterpoint to the sweetness of the ice-cream and Creme Chantilly.
2. When it's time to serve, whip 350ml double cream with 3.5tbsp icing sugar, 3.5tsp vanilla extract and the finely chopped needles of two hearty sprigs of rosemary.
3. Two scoops of ice-cream go into the base of each glass. Pour over the rhubarb puree. Next comes the Creme Chantilly and finally sprinkle over 4tbsp flaked toasted almonds.
Strawberry, Hazelnut and Orange Coupe
1. Hull and halve 200g strawberries. Stir them around in 4tbsp Grand Marnier (or Amaretto), cover, and chill for an hour at least.
2. Make strawberry puree by whizzing another 200g strawberries in the blender.
3. When it's time to serve remove the strawberries from the liqueur so that you can use that as you whip the Creme Chantilly (350ml double cream with 3.5tbsp icing sugar), adding also the zest of two oranges as the whipping is nearly done. Roughly chop 4tbsp hazelnuts.
4. Put 2 scoops of ice-cream in the base of each glass. Strawberry puree goes on top, some (not all) of the hazelnuts and then the Creme Chantilly. The strawberries are going to sit on top of the cream but just before you put them on roll them in 4tbsp caster sugar. And finish with the final sprinkling of hazelnuts.
Cherry Chocolate Coupe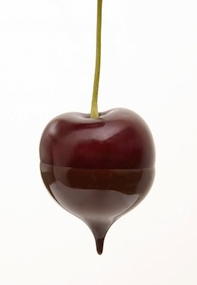 1. Halve and stone two handfuls of cherries – about 200g – and mix them in with 4tbsp Kirsch or brandy and a decent sprinkling of ground cinnamon. Cover and chill for an hour at least.
2. Make chocolate sauce by dissolving 40g caster sugar in 200ml water in a saucepan over a medium heat. Stir in 30g dark chocolate and 20g cocoa powder. Set it over a high simmer for approx. 6 minutes as it thickens to a sauce. Strain and keep at room temperature until time to serve.
3. Divide the cherries between the coupe glasses. Whip 350ml double cream, 3.5tbsp icing sugar and the liquid that's left behind from the cherries.
4. Two scoops of ice-cream go in each glass on top of the cherries. Then some chocolate sauce, the Creme Chantilly, more chocolate sauce, and finally crumble 4tbsp flaked toasted almonds on top.