Easter is usually a far less angsty holiday than Christmas – all that really matters is to have some fun, relax and eat plenty. To my mind the best way to do all those things at the same time is by cooking up a storm for (and with) your nearest and dearest. So, welcome to my tour of Easter weekend as seen from the kitchen stove. It's a two-parter of culinary festive fun to see you through from Good Friday to Easter Monday.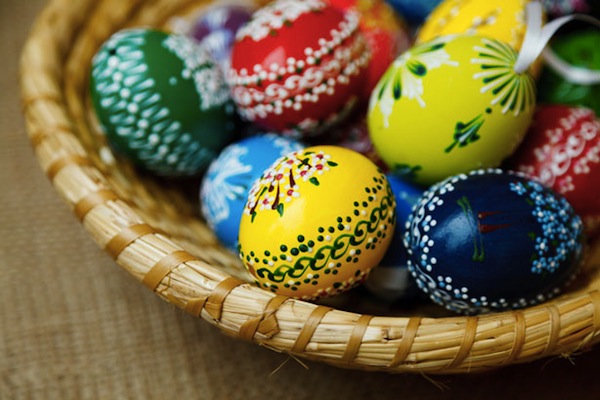 GOOD FRIDAY
Hot cross buns, obviously. Some traditions are not to be messed with. Ignore the fact that the shops start selling these from New Year's Day onwards, Good Friday is the one day of the year when it is not only right but it is required for you to sit down with a pot of tea and a couple of these fragrantly spicy and fruity buns, all warm and slathered in melting butter.
They make a cracking Good Friday breakfast to get the holiday weekend started in the manner you mean to continue. If you fancy that it helps to do up to and including point 5 the night before.
Hot Cross Buns – makes 13
For the spice-infused milk:
200ml full fat milk
zest of an orange or a lemon
1/2 tsp grated nutmeg
100g butter
2 cloves
pinch of saffron threads
3 cardamom pods, pestled or mushed between your fingers
And then:
a 7g pack of active dried yeast
450g bread flour
50g golden caster sugar
1⁄2 tsp salt
1/4 tsp ground ginger
1/2 tsp ground cinnamon
3 eggs
150g dried fruit – a mix of sultanas, raisins and currants
50g mixed peel
3 tbsp plain flour
3tbsp golden syrup
1. Put all the ingredients for the spice-infused milk into a pan together and heat to a simmer. Turn the heat off and leave to cool / infuse for an hour or so.
2. Mix the yeast with 1tsp of the sugar and strain into that the milk.
3. Put the flour, the rest of the sugar, salt, ginger and cinnamon into a large mixing bowl and make a sort of well in the middle.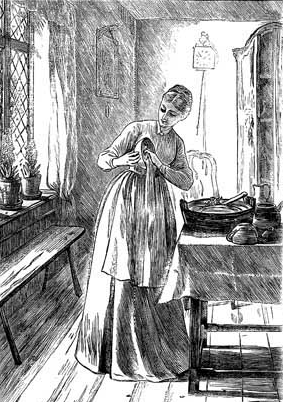 4. Beat two of the eggs together and pour them into the well; likewise with the milky yeast liquid. Bring it all together into a dough – you might need a splash more milk – and knead for about 10 minutes until it becomes smooth and elastic.
5. Shape the dough into a ball and place it in a greased large bowl. Cover with clingfilm and leave it to rest and rise for a few hours at room temperature away from draughts.
6. When the dough has risen give it a good old punch to knock the air out. It will feel like hitting a fluffy feather pillow. Most satisfying. Give it another quick knead and then stretch it out into a rectangle. Sprinkle the dried fruit and mixed peel onto the dough and continue to knead as you wrap the fruit into the dough.
7. Break off 13 even pieces, roll them in your hands, flatten slightly and sit them a small distance apart on baking trays lined with baking paper. Now using a normal table-knife, mark a cross on each bun. Really press down into the bun but don't cut through. As the buns rise the cross will join up a bit. Cover the trays with cling film and pop somewhere warm (not the oven) for half an hour to rise again. Preheat the oven to 200C.
8. Mix the 3tbsp of flour with cold water to make a paste that is just stiff enough to hold its shape. Then use two teaspoons to dribble and guide this paste into the marks of the cross. Beat the remaining egg with a little water and brush this over each bun – that will make them all brown and scrummy looking.
9. Bake for 15 minutes until browned. Gently heat the syrup in the last few minutes of the buns' cooking time. Straight away when they come out of the oven brush each one with the syrup so that they'll be shiny, sticky and sweet. Then transfer the buns to a wire rack to cool – although some should absolutely be eaten soon whilst warm.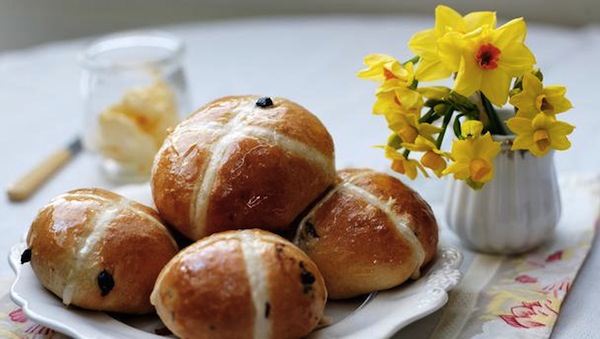 The other great Good Friday food tradition is fish for the main meal of the day. In my family that often means "haddock and chips twice with mushy peas, please" but making a classic fish pie would be even yummier.
EASTER SATURDAY
This is a day best spent planning and preparing for Sunday's big feature feast. How about gathering the younger troops to make some solid chocolate eggs together? Common-or-garden hens' eggs make an excellent mould. I reckon that these ones will beat hands-down the hollow disappointment of shop-bought eggs and even more importantly: messy, chocolatey laughs are guaranteed.
Solid Chocolate Eggs
Make bespoke easter eggs with a production line of helpers each using a different kind of chocolate to suit varying tastes.
Ingredients, simply:
Eggs – however many you want to make
Chocolate – whatever kind you fancy, approximately 100g per egg.
1. First of all you need to wash and dry the outside of each egg. Then carefully use a needle to make a hole at one end, open that hole up to about a centimetre and pour out the egg's insides. (Keep them for scrambling etc.)
2. It is really important to clean out the inside of the eggs so don't be tempted to skip this bit: rinse the empty shells with very hot water and then put the eggs for 10 minutes into an oven which has been preheated at 150C . That will dry out the insides and kill off bacteria.
3. Melt the chocolate by breaking it up into pieces, putting those into a heat-proof bowl, and sitting the bowl over a pan of boiling water.
4. Once thoroughly melted, it's all about how to get the chocolate into the egg. One way is to scoop the melted chocolate into a piping bag, feed the nozzle into the egg through the hole you made and pipe it all in. Yawnsville. That will be quick, easy, straightforward and not nearly as much as fun as the alternative. Which is to spoon the chocolate in bit by bit, with it inevitably dripping around the egg and having to be teased back in. A good tip is to hold the spoon a little way above the egg so that the stream coming off it gets a bit narrower to aim at the hole.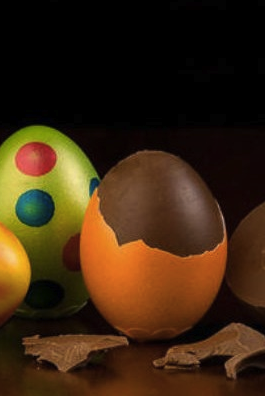 Fill the eggs right up with chocolate, stand each one up in an egg box and then leave to set in the fridge for several hours or overnight. The eggs can then be painted and decorated, ribboned-up or wrapped in crepe paper to be given as easter egg gifts. Just do make sure the eggs are kept out of fridge for at least an hour before being eaten or else they'll be just too hard.
These eggs can be tricky buggers to get into – bash the shell on a hard surface to fracture it enough for eager hands to peel off. I recommend leaving on the last third or so of the shell so that there's something hold onto as the chocolate egg is nibbled. Otherwise there are going to be some very chocolatey hands around.
Next weekend, Part Two is going to round off Easter with:
Easter Sunday 'feast' – Slow-roasted shoulder of honeyed lamb (you might want to pre-order a shoulder from your butcher in readiness) and a few good things to go with it; lemon pudding with rosemary cream.
Easter Monday 'feet-up' – Hot Cross Butter Pudding.