My heart sinks whenever I read that something is 'the new cupcake'. Some perfectly innocent sweet treat – which was quite happily minding its own business – is inevitably the latest victim of branding laziness and condemned to become ubiquitous and boring. But the madeleine is safe. The madeleine isn't the new anything. Part of the joy of madeleines is that they have been around for donkeys' and yet managed to remain impervious to trends.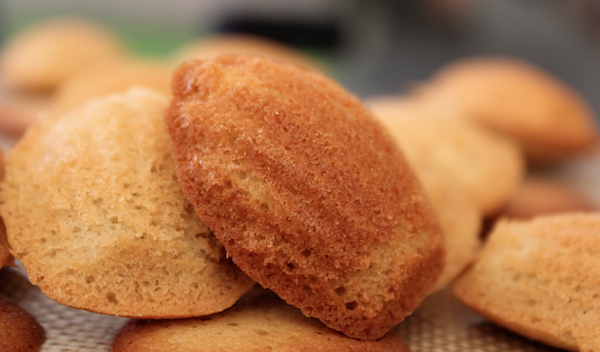 There is a rule about madeleines and it is the very thing that helps protect their status: they have to be eaten straight from the oven. Serve your madeleines literally within minutes of taking them out of the tin and I promise you bites of heavenly lightness. When even a few hours old they lose that magic and you end up with just, well, sponge. Disappointing sponge at that. No true madeleine would be caught dead waiting patiently on a baker's shelf. And she certainly won't be the one trying to lure you with overpainted charms like her cupcake cousins. The madeleines' look is understated and super-stylish.
Its baking tin sorts out easily enough the signature shape and fluting but to achieve the distinctive 'hump' on their non-fluted side you need to be sure to rest the mixture before baking. That also solves any worries about needing to do everything at once at the last minute – just prepare the madeleine batter in advance, leave it to rest (even overnight) and then they're a doddle to bake just before you want to serve/devour them.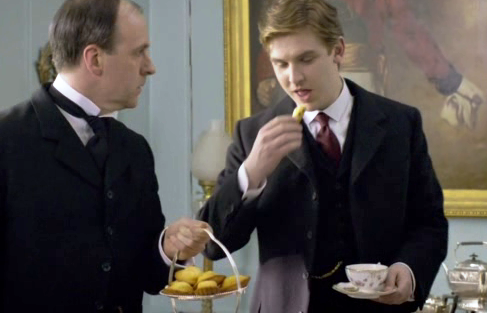 And when is that likely to be? Afternoon tea, very possibly. Maybe at the end of dinner if you're really pulling out all the stops. Or they could be part of a dessert – only recently I served madeleines as the partner to syllabub and would definitely do that again.
Classic Madeleines – for a dozen of the large ones (about 8cm long)
2 eggs
60g caster sugar
grated zest of 1 lemon
a few drops of vanilla extract
60g plain flour, sifted (plus a smattering more for the baking tin)
1 tsp baking powder
a pinch of salt
60g butter (plus another smallish piece)
1. Melt the 60g of butter by putting it in a bowl over a pan of boiling water. Once melted, take it off the water and let it come to room temperature.
2. Whisk together the sugar and eggs – get them nice and thick. Then work in the lemon and vanilla, followed by the sifted flour, baking powder and salt. Combine well but don't overdo it. Lastly, stir in the melted butter. Your madeleine mixture is now ready to sit and rest – for at least 2 hours. If your kitchen is warm then put it into the fridge.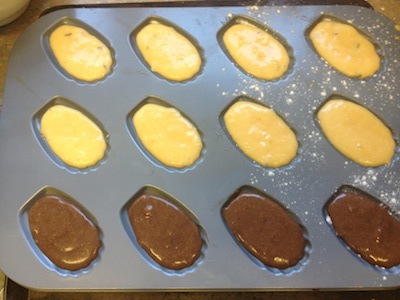 When you are ready to bake them:
3. Preheat the oven to 180C.
4. Melt the small piece of butter that you still have left over. Brush each madeleine indent in the tin with butter, and follow up with a smattering of flour over.
5. Spoon the mixture in, going not quite up to the rim. Don't worry about spreading it out evenly as the oven will do that for you.
6. Sit the tray on a baking sheet in the oven – that helps protect the fluted underside from not getting too brown. They'll need about 15 minutes but check at 12. The edges should be going nicely brown.
7. Let them sit for 15 seconds out of the oven before lifting your madeleines out of the tin and onto a wire rack. Serve them immediately.
Dressed Up Madeleines
The classic recipe is hard to beat, but there are plenty of simple tweaks you can try should the mood strike you for different madeleine flavours:
Orange – swap the lemon zest for orange, and the vanilla extract for orange-water
Rosemary – add in finely chopped rosemary leaves (about 1 tbsp of them) Lavender – again, about a tbsp of edible leaves should do it
Almond – swap 1 tbsp of the flour for the same of ground almonds
Chocolate Orange – swap the lemon for orange and add in a squeeze of the juice; swap 1 tbsp of the flour for the same of cocoa powder; leave out the vanilla
Earl Grey or Jasmine – put a tbsp of tea leaves into the melted butter whilst it is sitting at room temperature. Leave for 15 minutes before straining the tea out and carrying on.
Spices – a tsp of ground cinnamon or ginger is lovely, but leave out the lemon and vanilla.
Angela Clutton is writing a book about all kinds of ways of living and doing things that have been passed down through generations. For more information, visit her website.