So did you catch it? Shoot it? Pluck it? Draw it? Interrogate your butcher about it to such a degree that you could put together a Crimewatch profile on it? Or even (oh the shame, the shame! ) pick it up off a supermarket shelf? If the answer is yes to that last, I'm pretty sure that the world and your kitchen will keep spinning. Of course I'd prefer it to be wild rather than farmed, and from an independent supplier, but really all that matters is that you have got your game and you are going to cook it beautifully. Aren't you?
Some pointers: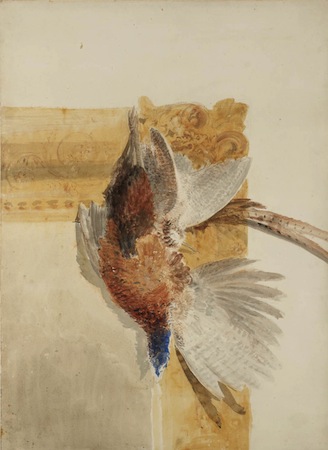 1. Game is generally very lean. This is a good thing on the health front, but can be a bad thing on the taste front as it is easy to dry it out when cooking. Think about frequently basting your meat as you cook; maybe laying some rashers of bacon over a bird whilst it is roasting to retain the moisture; and when roasting or grilling be aware not to cook it for too long. Game birds, hare, venison and duck can be served slightly pink.
2. Younger birds will have more tender flesh than older ones (I trust you are ignoring any temptation to make a slightly sexist and ageist pun here) so cook them in ways that will bring out their best. Younger game are suited to quick roasting or grilling; older game should be destined for casseroles, braises and slow roasts.
3. Game carcass will make amazing stock.
4. When looking for recipes, remember that most beef recipes will suit venison and likewise chicken for rabbit.
5. Rabbit livers and kidney are delicious.
Over the next few weeks I will be writing a handful of recipes that are intended to show the diversity of ways that you can prepare game. There will be potted rabbit and roasted pigeon, but first up is a venison braise.
BRAISED VENISON IN RED WINE WITH JUNIPER
This is one of those dishes that you dream of coming in from the cold to. On Bonfire Night a few years back I popped this into the oven just as we were heading out to watch the fireworks. We returned home a few hours later to be greeted by the incredible smells of venison and red wine sharing their flavours with the juniper and the orange and all the other wonderful ingredients that were in the pot with them. This recipe will give you quite a heavy red wine sauce. I love it that way and a mash of any kind will eagerly lap it up, but if you think you might prefer something lighter then exchange some of the wine for stock.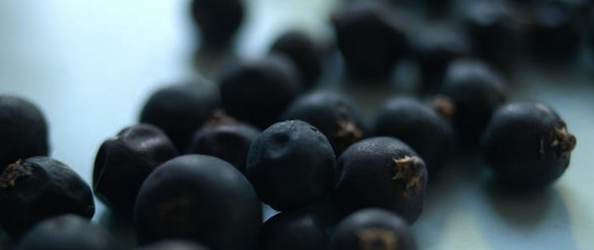 Ingredients to serve four:
2tbsp port
2tbsp red wine vinegar
olive oil
600g diced venison
3 tbsps flour
60g butter
2 medium onions, thinly sliced into half-moons
2 sticks celery – finely chopped
140g cubed pancetta / bacon
100g chestnut mushrooms – chopped small
16 juniper berries
3 cloves garlic
4 sprigs thyme
1 tsp mace
2 bay leaves
About 550ml red wine – I suggest you open a bottle, pour yourself a glass and then use the rest to cook with. If the wine isn't good enough to want to drink it, then you definitely shouldn't be cooking with it.
A broad slice of orange zest, with as little of the bitter white pith as you can possibly manage.
Marinade the venison in the port, red wine vinegar and 2 tbsps of olive oil. Ideally do this overnight but if a few hours is all you have then that is definitely better than nothing. When it is time to start cooking your braise, pat the meat dry with some kitchen roll and do not throw away the marinade liquid. Put the oven on at 150 electric / 300 fahrenheit / gas mark 2.
Roll the meat in flour that you have seasoned with salt and pepper – this will help make the sauce nice and thick. Now put a large casserole pot (one that has a lid) onto a high heat with about three-quarters of the butter and 2 tbsps olive oil. When hot, sear the venison in handful batches. Move them around in the pot so they brown evenly and then remove to a plate with a slotted spoon.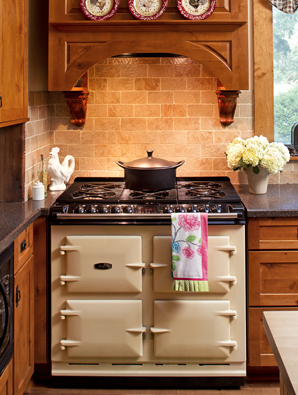 Turn the heat down a little and add the rest of the butter, then the onion and the celery. There will inevitably be some tasty bits stuck to the bottom of the pot from the venison and you don't want to miss out on those or burn them, so scrape them off with a wooden spoon while the onions are tenderising.
Just as the onions and celery are getting soft and a little brown, put in the pancetta/bacon and the mushrooms. Allow to cook for about 10 minutes – the bacon will be just starting to crisp and the veg will have cooked down.
Whilst that is happening, crush together the juniper berries, thyme leaves and garlic with a good pinch of salt. Stir those in with the onions etc so that the heat can start to release their flavours.
Your pot will by now probably have more deliciousness stuck to its base, so deglaze it with a little of the red wine and repeat your wooden spoon action. Add the mace and return the venison to the pot.
Pour over the red wine and the reserved liquid from the marinade. You need to just about cover the meat so that it doesn't dry out. If you haven't got quite enough red wine then add a little stock if you have some to hand, or just water will do as you shouldn't need much. As I said earlier, you could swap some of the wine for stock to give you a lighter end result.
Stir everything together with a couple of good grindings of pepper, finally adding the bay leaves and orange zest. Put the lid on and cook in a slow-moderate oven for about 3 hours. Stir partway through and remember to remove the bay leaves and orange zest at the end.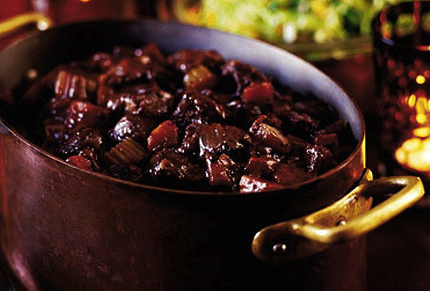 This venison braise is really lovely served with mustard mash, celeriac and potato mash, celeriac and apple mash, plain mash… You get the idea. A green vegetable is a good idea too – maybe a savoy cabbage that has been lightly cooked in stock and a squeeze of lemon.
Angela Clutton is writing a book about all kinds of ways of living and doing things that have been passed down through generations. For more information, visit her website.