It was a truly odd set of circumstances which led me to spend part of last weekend expounding upon the delights of mixed peppercorns to the most reluctant of audiences – my 17 year old nephew-in-law. I know, it's got fool's errand written all over it. In my defence these were not any old peppercorns but really super ones that I'd just got from the La Boqueria 'Streets of Spain' food festival and was pretty darn chuffed with. He was having none of it – absolutely couldn't see what was going to make any pepper any different from any other. Gauntlets a-go-go.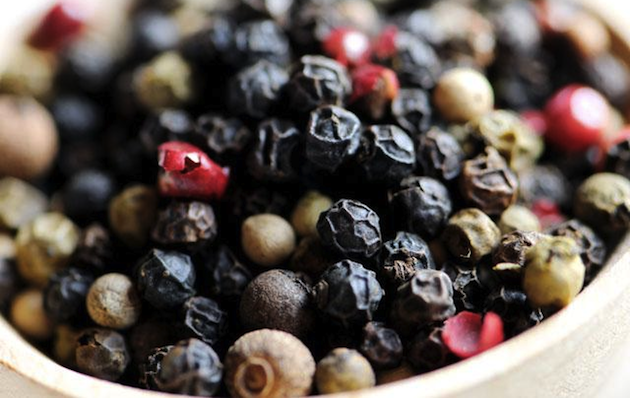 I set off telling him how their delicacy and complexity of flavours could do so much more than merely season a dish. That as the fruits of the pepper plant ripen from green through to red their flavours develop too. Not for nothing was pepper once so prized a commodity that it was used as a currency for paying taxes. We think of a peppercorn rent as being minimal – in medieval times it meant quite the opposite.
The unripe green peppercorns have a fresher, less intense flavour simply from not having had so long to mature before being picked. As the fruits become yellow and then nearly red they are harvested and dried out so much that they shrivel up and become our fiery black pepper. There is no one uniform flavour for black pepper any more than there is for olive oil. The intensity and depth will depend on where the pepper grew but also at what stage in its ripening it was cropped and how it was dried.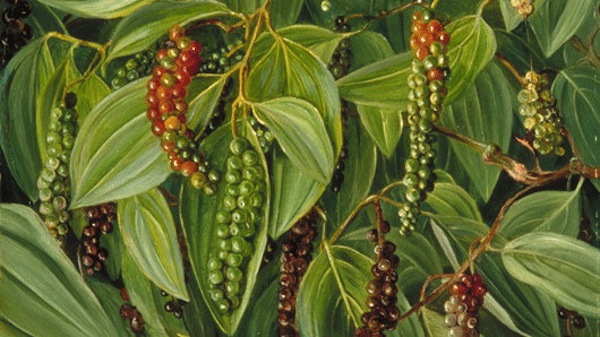 White pepper comes from fruits that have been allowed to ripen even more and are then skinned before drying. Getting rid of the husk allows us to enjoy the warmer, softer peppery-ness of the inner seed. And then into this fiesty melange come the pink peppercorns which are sly little devils as they have diddly to do with pepper at all really. These are the berries from a type of rose shrub rather than the pepper plant. They not only manage to pass themselves off as pepper rather brilliantly but their hint of sweetness works well in offsetting the other pepper flavours.
All of which is a lot of hot air when you're 17. If I was going to persuade this boy-man that my mixed pepper was better than any other he was going to have to taste it. Not tucked away in the seasoning of a meal but front and centre, encrusted onto a steak. With a really tasty (ever so slightly boozy) sauce and chips alongside.
Simple, to the point, effective. En garde.
Steak au Poivre – serves 2
2 fillet steaks – 150-200g each and about an inch thick, with the excess fat cut away
2tbsp whole mixed, green or black peppercorns
25g butter
1tsp olive oil
4tbsp marsala (or brandy)
150ml beef or veal stock
50ml single cream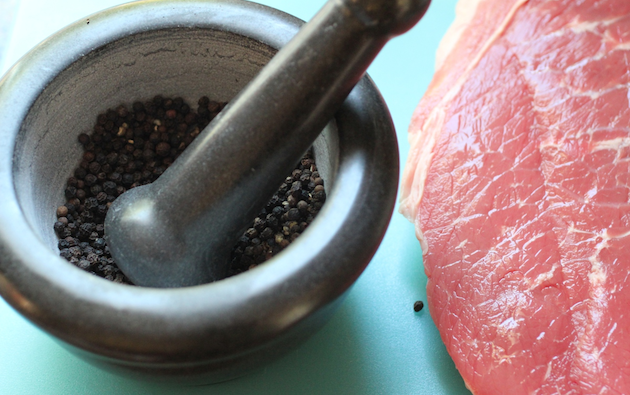 1. Roughly crush the peppercorns in a pestle and mortar. Season the steaks with salt and then smear both sides of the steak with the peppercorns. Really press them in so they stay put. The steaks can be covered and left like this for 30 mins to 3 hours.
2. Get the butter and olive oil really hot in a frying pan. Put the steaks in as the butter starts to foam and cook them on a high heat. You'll know how rare or not you like your steaks to be and their cooking time will also depend on how thick your steaks are. For steaks a little over an inch thick I do mine 3 minutes each side and that's just pink enough.
3. Take the steaks out and let them rest / keep them warm on plates while you make the sauce.
4. Pour the marsala into the same pan the steaks were cooking in. Let it bubble for about a minute. Pour in the stock and scrape at the bottom of the pan to release any scrummy bits that are stuck there. Let the stock reduce over a high heat for about 3 minutes before adding the cream. It will continue to reduce and thicken – gauge how much for what kind of sauce you want. Another 2-3 minutes should do it. Taste for seasoning and pour over the steaks.
Serve with undressed green salad leaves and chips – not frites. I can't be doing with spindly frites. I prefer a chip to look and feel like a chip. The steak au poivre requires quite a bit of last minute prep with the sauce so I'd advocate oven-roasting rather than deep-frying your chips. There's less rush-rush about it. Start cooking the steak after the chips below have been in the oven for about 10 minutes.
Oven-roasted chips – for 2
2 or 3 big Maris Piper or King Edward potatoes – about 500g
100ml olive oil
Preheat the oven to 200C.
Peel the spuds and cut them into thick chip slices. Toss them in a bowl with the olive oil and some salt.
Lift the chips into a single layer on the baking tray, letting any excess oil drip away into the bowl. Sprinkle more salt over. Cook for approx 30 minutes turning frequently – they'll be golden and crispy when done. Fingers crossed your steak and sauce is ready now too.
Surely a dish that any 17 year-old worth his salt (or, indeed, pepper) couldn't help but be won over by? I'll let you know.