Blanchette is a new neighbourhood bistro in Soho founded by three brothers – Malik, Maxime and Yannis. They serve small plates of French classics – terrines, cheese, charcuterie, gratin, lashings of Bordeaux, you get the idea. I'd been planning to run wild with the menu but a memory of mass consumption at Bodean's just along the road chastens me and I make myself a firm promise: I will not overeat.
We step in out of the cold, and the place is rammed – it's only small, and happy diners fill every corner of the window and the bar. We're lucky enough to have a table in the back, and I feel some pity for those people who'd chanced it and turned up without a reservation – Blanchette isn't like one of those no-booking overhyped places which expect you to wait at their overpriced bar for an hour and a half. If you haven't booked, you're waiting in three square feet right by the door: so near and yet so far.
But book you should, because – at the risk of ruining the tension of a review – Blanchette is fantastic. When we sit down two things are apparent: firstly, the fact that the three co-founders and brothers have serious clout in the music department (Malik also founded sound designers La Musique du Faubourg) means that the atmosphere is going to be excellent. While it's overpowering at first, as the courses and wine accelerate, Messrs B. White, M. Jackson and M. Gaye all make an appearance, and the foot-tapping becomes ubiquitous. Secondly, some serious thought has gone into the décor, which is reassuringly French but pleasantly irreverent – Gerard Depardieu's cookbook makes for some pre-menu light reading, propped up against the handsome exposed brick, in a room littered with jaunty dressers and idiosyncratic light fittings.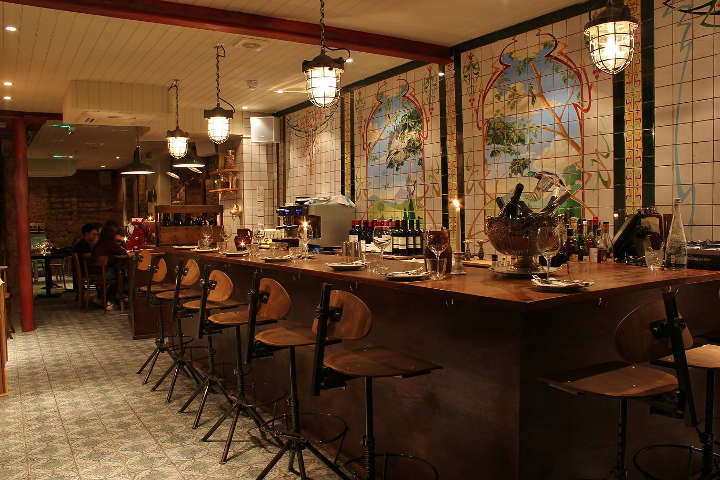 Excitement builds when we order. The staff at Blanchette are incredibly attentive without intruding too much, and the sense of this is heightened by the small-plate format, which means more interaction between waiter and diner. These are intended to be tapas-style dishes, meaning two or three each, for each course, should suffice.
At their suggestion we get started with a baked St Marcelin, which really is jumping in at the deep end – thick, tooth-coating cheese which doesn't overpower but drips heavily off the breadcrusts – along with a goujonette with gribiche sauce, pissaladière, and a board of coppa. The chicken is good but the pissaladière is wonderful, slightly oleaginous and devilishly salty, and we find ourselves fighting over the anchovies in an ungainly fashion. The coppa too is great – often charcuterie boards feel stingy but here there's enough cured pork shoulder for us both to feel like we had a fair crack of the whip. The tunes have switched to 80s girl bands in preparation for the mains, and I take a breather for a glass of red, which I'd somehow lost among all the plates and terrines on the table. Phew.
First up is the warm confit of salmon with duck, puy lentils and herbs, and it's superb – the salmon is so moist, perched on the pool of flavoursome lentils. Alongside it the artichoke and potato gratin with Reblochon arrives. Now this is absolute, grade-A comfort food, with cheese that's crispy in parts, thick and viscous in others, and full of flavour. The tartare of the day is trout, and I'm hardly going to refuse that. It's drenched with dill, crème fraiche and coriander, and again is refreshing, rather than filling. However, the dishes are coming thick and fast now, and the first cracks start to appear in the cast-iron promise I made myself. I shift in my chair and realise how much we've already eaten. This could be close.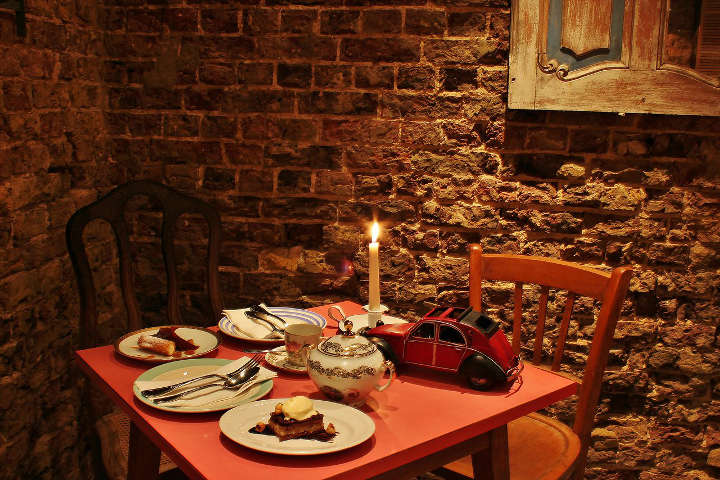 The braised lamb shoulder with anchovy, rosemary and soubise sauce should be the best dish of the night. The lamb has a clove of garlic brazenly perched on the top, and collapses into soft, delicate flesh with the merest hint of impact from the fork. The onion in the soubise combines well with the salty anchovies and I'm spellbound. However, the best dish has been hiding in the corner, being mercilessly pillaged by my dining partner, and thankfully I get to it before all is lost. The heritage carrot salad is almost obscene, with its cluster of leaves and herbs balanced on top of crispy, honey roasted carrots, propped up by ominous lumps of St Meure cheese. It is genuinely as satisfying as eating a burger, with a glorious mixture of textures and such a punchy cheese to finish it off. Some salad.
The promise I made myself in tatters, I decide to make my sin complete and snatch up the dessert menu. Barry White is serenading us now, and although it was a late booking, the hubbub shows no sign of thinning out. My lady has a small but perfectly formed rice pudding with salted caramel, and I settle on the hazelnut dacquoise. It's an absolute triumph, the spoon crunching through sweet layers of meringue and helping me to fill the last few square inches of digestive capacity.
The first few tentative steps I take toward the door when it's over are nervous, but happily my arms hang normally and I've stopped just short of the brink. Blanchette will seduce you with its small, inviting dishes, but you'll clear every drop of every one of them, and all that cheese will eventually catch up with you. The musical atmosphere is great, the staff and the setting are delightful, and above all the food is terrific. Simple, well-executed, indulgent, and just a great way to spend an evening. I can't wait to go back.
Blanchette, 9 D'Arblay Street, Soho, London W1F 8DR. Tel: 020 7439 8100. Website.