If you were ever to find yourself back in 1930s Havana, my advice would be to head to El Floridita and let Constante whisk up a stiff drink for you while you get your head around the situation. You may well see Ernest Hemingway propping up the bar, sipping the very first daiquiri that the legendary bartender Constante Ribalaigua created for him there. Known as the 'Cathedral of cocktails', Floridita was the place to drink in early 20th century Cuba.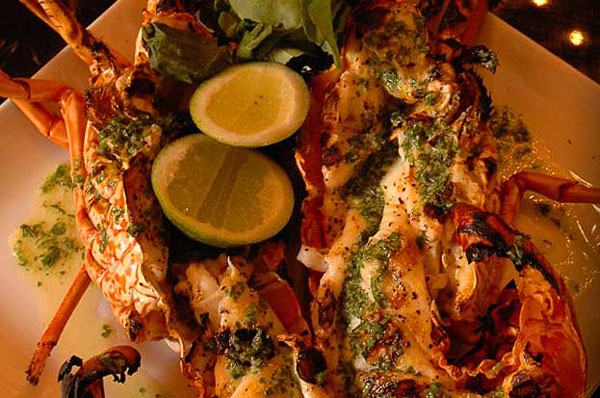 So it's no surprise that the cocktail list at the branch of Floridita on London's Wardour Street is a tour de force. Flick through the 21-page booklet and you'll come across pages dedicated to 'Back to the Future', classic tipples that have been tweaked with modern ingredients; 'Constante's Page', a list based on the 1935 cocktail book published by the eponymous bartender; and 'All Up in Smoke', predominately whisky based drinks that are laced with tobacco, oak and leather bitters. There's also a page for nostalgic celebrity inspired drinks, such as the 'Mary Pickford' and the 'Hemingway Special', and, for the hardiest drinkers, a Mahiki-esque 'Rum Keg', which slings a challenging combination of rum, cognac, gin, sherry and a bottle of champagne in a barrel for sharing. The bar boasts the widest selection of rums anywhere in Europe – some of the diners had made a good stab at getting through this, judging by the attempts at salsa being made on the dance floor when Osvaldo Chacon and The Cuban All-Stars started up their lively timba set.
Yet for those who, like me, thought his was just another Soho cocktail bar, I'd urge you to explore its subterranean offerings as a restaurant.
My friend (she is blonde, but does it sound a little too AA Gill if I refer to her as this henceforth?) and I were impressed with a generous sharing platter of king prawns slathered in lemon and butter and what were probably the biggest sea scallops I've ever seen, grilled and served in their shells with garlic and chilli. As far as I'm concerned, there's a fairly failsafe equation of fresh seafood + butter + garlic with which you can't go far wrong. Cooked to perfection and served in generous portions: what's not to like?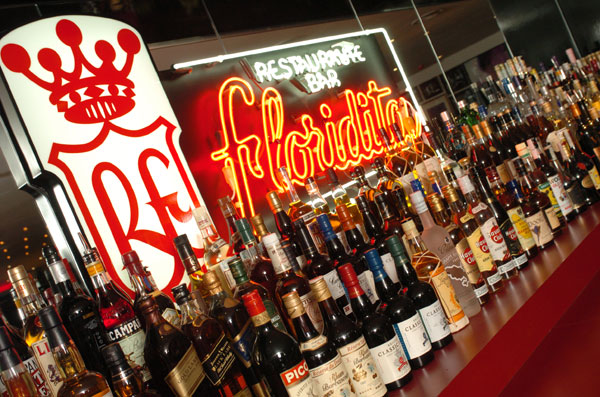 Next, a fillet of red snapper wrapped in a banana leaf admittedly seemed to have little in common with the Cuban theme, hailing from somewhere much further east. The cuisine is a globetrotting mixture of pan-Latin American fusion via the Far East, spanning Spanish charcuterie, ceviche, Argentinian empanadas and Brazilian rump steaks, petis fours alongside pak choi and hamburgers. Still, the nutty sweetness of soy dipping sauce and tangy oriental accents of lemongrass and lime complemented the succulent, flaky slither of fish. For blondie, a similarly displaced Lobster Thermidor, which appeared on a chunky wooden chopping board with button mushrooms, tarragon and Parmesan, offered delicately sweet, melt-in-the-mouth meat within its impressive rosy shell.
In fact, I later learn from the Eat Cuban cookbook they sweetly gave me at the end of the meal that Cuban food is meant to "mirror the mélange of cultures that make up Cuban society". So that explains the diverse French colonial, Caribbean and Latin American Nuevo Cucina flavours – good news for anyone who wants to gallivant from guacamole to petit fours in one seating.
As with any Latin or South American inspired menus, vegetarians don't fare too well – it's worth noting that for all the steak, lobster and suckling pig on the menu, non-meat eaters will be limited to a mozzarella and bell pepper quesadilla or Romero pepper empanada. On the other hand, with six varieties of steak and the option of adding a half lobster to any of these, omnivores can really go to town.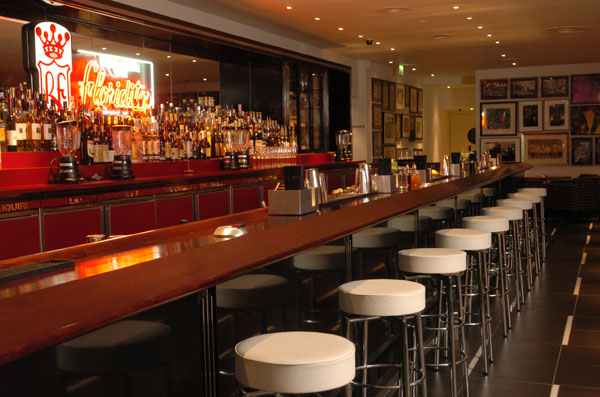 What came as a surprise was the strength of their wine list, and the staff's ability to make spot on recommendations for which vintages to enjoy by the glass with each course – in our case, an Argentinean 2010 Las Boleras Sauvignon Blanc with the scallops, 2009 Duette Indomita Pinot Noir from Chile for the lobster and a late harvest Sauvignon Blanc dessert wine with our glutinous duo of knickerbocker glory and bourbon cheesecake.
The staff showed genuine passion for the menu and despite a full house and raucous band, it seemed as though all I had to do was merely think about ordering something when a waiter would intuitively appear to oblige. Maybe they were making up for past grievances, as I spotted a number of online reviews from disgruntled diners who had found the service careless and slow. I certainly couldn't complain; it was some of the best I can recall having in London.
Looking over some of these old comments, Floridita's 'theme park' demeanor appears to have divided previous diners too. Several complain of the noise and bustle, which seem curiously puritanical qualms considering this is a Latino themed bar in Soho – surely nobody's expecting the hushed formality of Gavroche, are they?
It does transform into a nightclub of sorts, complete with a lively dance floor. The awkward couples putting last week's salsa class moves to the test provided much amusement to my friend and I, better than any stand-up routines I've seen in nearby comedy clubs. The site of one hopelessly stiff, gangly suit trying to move to the rhythm with his voluptuous partner kept us lingering mirthfully over cocktails for some time.
There might not be a queue of retro Cadillacs outside, nor a warm, saline breeze coming off the ocean, but this urban incarnation of Floridita keeps up the laid back, celebratory atmosphere of its Caribbean forefather. This underground carnival is perfect for a Friday night outing with a group of friends – loud, a little cheesy, serving up ample portions of tasty seafood alongside a pantheon of cocktails.
[cgview id=116 num=8 size=150×150 showtitle=always lightbox=0]