With spring in the air, my chap and I donned our Sunday best and enjoyed an afternoon stroll through St James's Park before sauntering along to the Churchill War Rooms, one of the five Imperial War Museums. With over 300,000 visitors a year it is one of the most visited museums in the UK. It's all about the atmosphere – you just have to close your eyes and it's easy to imagine yourself back in World War II as you traverse the dark maze-like corridors deep underground; the hurried footsteps to and fro, ringing telephones, countless official cabinet meetings, and the air heavy with tobacco smoke.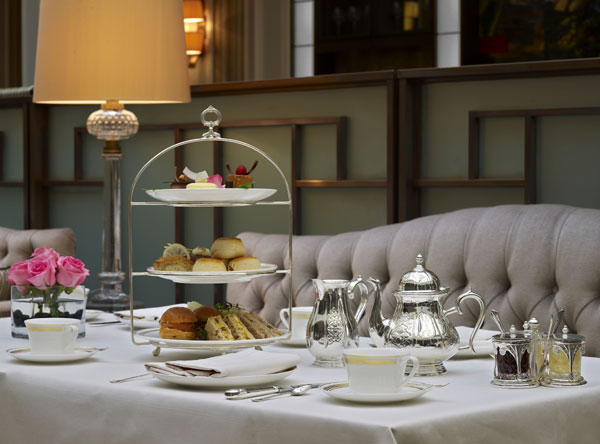 It was fascinating to explore the nerve centre of Whitehall where, from 1939-1945, military strategists, typists, telephone switchboard operators, government officials and the Prime Minister steadfastly worked alongside each other in the cramped and claustrophobic environment below ground as enemy bombs fell on London. Elizabeth Layton, Churchill's personal private secretary said, "One was completely inspired when working with him, and one felt that one was in the centre of everything and exceedingly privileged to be there."
The basement was adapted in order to provide the War Cabinet with a meeting place during air raids and was fully functional one week before Britain declared war on Germany. Winston Churchill famously declared "This is the room from which I will direct the war." The Cabinet met there 115 times, mostly during the Blitz, but the War Rooms were in use 24 hours a day until the end of the war. Opened to the public in 1984, the Map Room remains exactly as it was in 1945. The bedrooms, with single beds and writing desks, were typical of basic military living accommodation, apart from Clementine Churchill's room, which was obvious from the floral print armchair and general attempt at cosiness. Churchill insisted on having Clemmie near him in order to relieve his fears for her safety. The incorporated Churchill Museum, opened by H.M Queen Elizabeth II in 2005, features interactive displays, film footage, photographs, personal and touching letters he exchanged with his wife Clemmie, plus an impressive timeline tracing Churchill's childhood, and military and political career.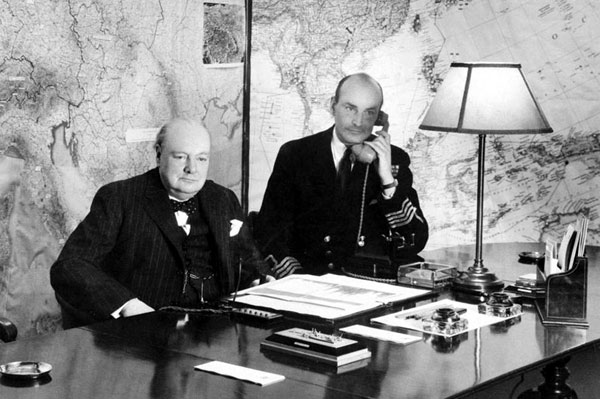 Exiting the museum to bright sunshine, we accidentally stumbled upon a period film set and were happy to play the weekend visitor by walking under Marble Arch itself before arriving at The Lanesborough for afternoon tea – the way to a girl's heart. The hotel has long been acclaimed by the supreme judges at the Tea Guild for providing their customers with consistently impeccable service, elegant surroundings and the finest hand-crafted patisserie. Afternoon tea, starting at £38 for The Lanesborough Tea, is served in Apsleys – the Art Deco inspired dining room with enormous circular chandeliers and flooded with light from the glass atrium.
The obliging staff helped us feel truly pampered and the pianist delighted the other cucumber sandwich partakers with his vast repertoire of Andrew Lloyd Weber classics, although personally I prefer more of an easy listening jazz – 'just tea for two and two for tea'. Just as you'd expect, the clientele comprised of mostly chic tourists and families celebrating 'special occasions'. Unsurprisingly, visitors to London flock to luxury hotels to experience the quintessential English pastime and The Lanesborough, with its close proximity to Hyde Park and certain famous Knightsbridge shopping destinations, is no exception. What better way to spend a leisurely and relaxing Sunday afternoon away from the hustle and bustle?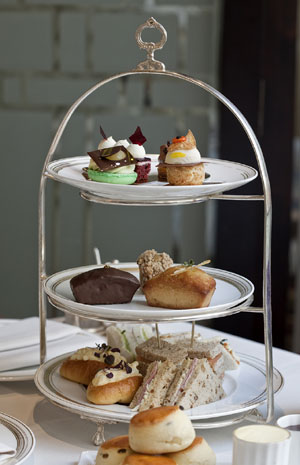 We sampled The Belgravia Afternoon Tea, which commenced with strawberries and cream, a very pleasant start to the proceedings and accompanied by a glass of Tattinger Champagne. The selection of teas and clever blends are as carefully chosen as any fine wine list – hence the importance the hotel attaches to their Tea Sommelier. The Lanesborough is proud to have crowned Karl Kessab the first tea sommelier in the country, so I decided to live a little and sample the exotic sounding Rose of the Orient tea – a blend of some of the world's finest green teas including Sencha, Gunpowder, China Wu Lu and Pai Mu Tain flavoured with Jasmine, cornflower blossoms and rose buds. Tea is made in traditional silver Russian samovars, in order to maintain the tea at the correct temperature for optimum results – a method adopted in Britain in the 18th century, and one the Lanesborough is keen to revive. Each tea is tasted daily to ensure peak condition. You are welcome to try more than one tea so why not steer away from the trusty Earl Grey? Karl's personal preference is Darjeeling. The obliging staff made sure our tea remained refreshed throughout the proceedings.
An amuse bouche served in a shot glass consisted of a cold pear crumble – if only I could justify this as helping me achieve my five a day! The finger sandwich selection was delicious, freshly prepared and imaginative – using a wide range of breads including cranberry, rye and delicious miniature brioche rolls filled with invitingly free range yellow egg mayonnaise, nor did the divine pastries by the renowned pastry chef Tal Hausen disappoint. Far from the sugar-fuelled and caffeine-induced adrenaline rush you'd expect, we were preparing to succumb to heavy-eyelid-syndrome when freshly baked scones and hot teacakes, accompanied by preserves and lashings of clotted cream were wafted before us, as we struggled to the finishing line – determined to gluttonously consume every last crumb and dainty morsel in sight! The only thing we needed now was a Sunday evening doze…
Churchill War Rooms: Open daily 9:30am-6pm. Admission: Adults £16.50. For more information, visit the website.
The Lanesborough Afternoon Tea is served daily at 4pm, 4.30pm or 5.00pm. Telephone +44 (0) 207 333 7254 to make a reservation, or visit the website for more info.
[cgview id=116 num=8 size=150×150 showtitle=always lightbox=0]