Italians do it better. I could have told you that myself, yet last time Pret a Diner was in town this was announced to the capital somewhat differently. In a bubble of quirky design and ostentatious charm, the magnificent surroundings of a one-time James Bond-esque casino on St James's was transformed into the ultimate of pop-up restaurants. Evenings spent here were replete with food from two very special Michelin starred chefs, Italian style cocktails fused together like a caffe shackerato (just ask an Italian) and an edgy underground ambience that only a team of such creative minds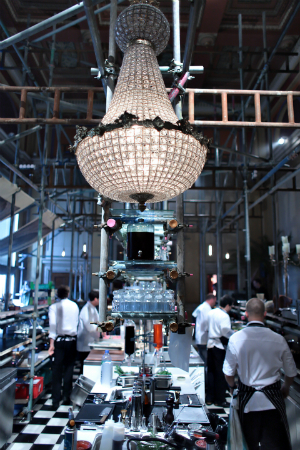 know how to accomplish. Could they do it again?
They did. This autumn sees the launch of Pret a Diner's latest endeavour – The Burlington Social Club, the most recent venture from a company that is becoming synonymous with some of the city's hottest nights out. This time, however, it is billed as a 'social experience': a seated refuge for thirty global nomads. Behind the Royal Academy, just off Burlington Gardens, we sashayed into the white column-studded building along with fellow hipsters through a vast open foyer and up the brilliant split staircase in a style that would be more befitting of a white tie ball – all that was missing was the ball gown. Yet, herein lies the magic of such an experience: it exudes elegance with a very current twist. Tonight the dinner dress that would have once graced these most magnificent Senate Rooms, complete with airy stuccoed ceilings and low hung chandeliers, was replaced by a blur of cocktail dresses, braces, brogues, red lips, and rows of scaffolding doubling up as an open plan bar and a kitchen service.
The experiential nature of the evening is drawn out in the well-crafted menu of cocktails and small dishes, which work to complement each other in the most unusual of combinations. Talking to chef Ian, specially flown in from South Africa for the duration, we ask what influences he's used for the menu. 'There's something still very German' he tells us, noting the quail egg with truffle, served atop rolled rice as part of the club's signature sushi collection. This takes precedent due to the catering company's history – originally founded in Frankfurt, (the Pret a Diner concept was created in 2004) but is also reminiscent of the first of Kofler and Kompanie's ventures in London, the Minatour, set up against bare walls in Victoria tunnels, underneath Waterloo station. I am accompanied by a friend who has now been to all three of these London-based experiences. "This one has a more relaxed, convivial atmosphere" he says, hands in pockets, as we survey the room.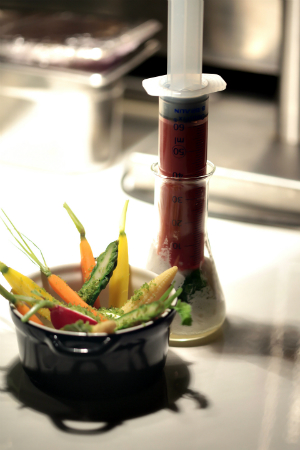 The DJ in one corner cranks up the music as more food comes out and the rest of the room gets stuck into the vibe. Next to us is a couple who could easily be swapped with Eddie and Patsy from Absolutely Fabulous, such is their attire and stance. Elbows fiercely guard their position at the bar but they are vegetarian so decline the teriyaki ox cheeks with parsnips, baby vegetables and orange: their loss, our delicious gain.
Other dishes include a one-hour egg with mushroom foam, la ratte potato and chicken skin and tofu panna cotta with sea bream sashimi, shimeji and soy foam. For freshness and clarity there is tuna tartar with ponzu jelly, shisho snow and wasabi soy sauce – delicious. Accompanying cocktails are just as daring. My favourite was the 'Tomba' – served in a scientific glass beaker, but the classroom stars of the periodic table have disappeared and are instead replaced by an injection of ginger, tomato, basil, coriander, lemon and 'Coquetier'. Outside of this rectangular gastronome's haven are two side rooms, decorated in yet more scaffolding but with a tortuous theme – or medieval at the very least. A make-shift double bed is covered in fur throws, with leather masks and 'knight in shining armour' style apparel that encourage all other senses to be tantalised.
A group of Italians nestle in amidst the crowd. They're demonstrably excited to be here, crushing the ice-cool stance of others who people watch with intent, or who are otherwise entertained by a nearby card-trickster. These three come from Milan. Two are here on business, and one is looking for love. Tonight they might just find it inside a cocktail glass of TBSC Ginger Fizz. Do Italians do it better? The Burlington Social Club might just have them trumped.
Open daily from 6.30pm – 12.30am. For more information, visit the website.