The Factory House is a curious beast. Nestled in a sheltered nook beneath the intestinal behemoth that is the Lloyd's building, one could simply wander past the restaurant's understated façade without sparing it a second glance on the way to the multitude of Ye Olde Pizza Expresses and Pseudo-Victorian Burrito vendors that are attracting the besuited masses in Leadenhall Market this Thursday evening. Upon entering, however, one begins to appreciate the creative and aesthetic direction they are promoting.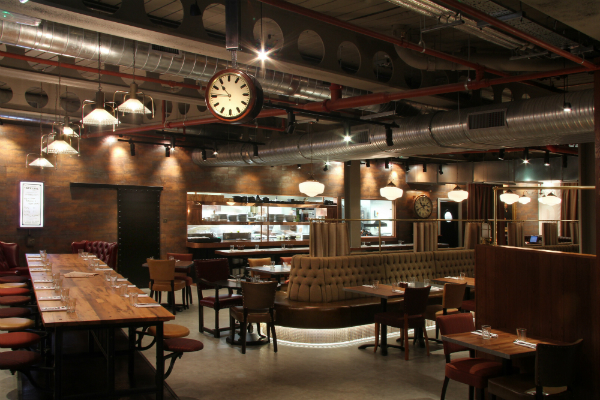 It seems the diner is to be propelled into the world of the Victorian industrialist – a figurative factory-floor. To this end, my dining partner and I are presented with punch cards, in order that we might "clock in" to the presumably back-breaking labour to come.
One could be forgiven for speculating whether the next century's diners can look forward to lovingly crafted reimaginings of this era's more menial occupations. A culinary call-centre, perhaps? A gourmandist sweat-shop? As we are led downstairs to the restaurant itself, we are able to take in the aged volumes on the shelves and the patent's drawings of fantastical inventions from the industrial age on the walls. Are we to be ushered into K.W. Jeter's world of steam, copper and flying machines? Well…Not quite. The restaurant itself is a pleasant enough place to be, with tonally neutral shades strewn around the pleasingly segmented dining areas and admittedly beautiful burnished metal bar, creating an enclosed, cosy feeling in what could otherwise be a rather cavernous void of a space.
But there seems to be a curious mish-mash of aesthetic directions at work here. On visiting the lavatory one encounters the mechanical factory sounds of construction and labour coming from the stereo, which seems in keeping with the industrial theme. But the highly stylised touches of Victoriana sit rather uncomfortably with the televisions set in the booths (for the sluggish breakfast patron, it seems) and the truly awful "chill-out" music emanating with unwarranted and unwanted amplitude from the dining area's many speakers. This music, if it absolutely must exist, is surely more suited to an Ibiza beach bar at sundown than a Victorian industrialist's watering hole. It bashes persistently at the walls of my enjoyment, but luckily is beaten back by the food.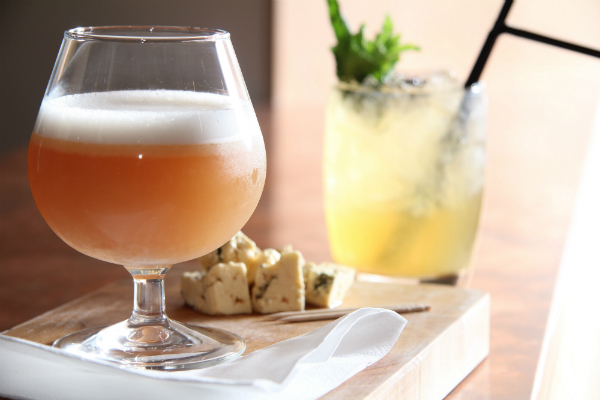 The menu (or "Provender" as it is dubbed), printed on yellow newspaper, could easily have the capacity to infuriate the less whimsical diner with it's fanciful blend of Victorian English, however myself and my companion find ourselves relishing the bill of fare, especially once we catch a glimpse of the dishes on offer.
The stylistic contradictions of the space thankfully do not extend to the menu. This food is British through and through, and aimed squarely at the stomach. A wooden board of warm bread and salted soft butter is one of life's greatest pleasures, and this fennel-seed infused time-killer does not disappoint. Time for cocktails, crafted by the award-winning Fluid Movement collective, and my friend opts for the Factory House Punch, a most rewarding blend of aged Havana Club, peach brandy and green tea, about which he enthuses wildly. The drive home precludes a boozy evening for your correspondent, but the bar staff were quick to accommodate this with a couple of variations on the virgin Mojito. The pepper variety is particularly delicious and serves as a welcome palate-cleanser over the many courses we are about to undertake.
The appetizers duly arrive, and we are charmed by the Bacon & Thyme Popcorn, the subtle touches adding a divine extra dimension to the arguably un-improvable cheek-filler. The orange-stuffed olives disappear in an instant, and then we are treated to a Lancashire Rarebit. At first glance, this seems the most simplistic plate I have ever been served in a restaurant – seemingly just a couple of slices of cheese on toast – but the cheese is infused with distinctly English flavours, redolent of country pubs and the smoky, ale-fuelled agrarian existence of days past. It too vanishes in a flurry of forks.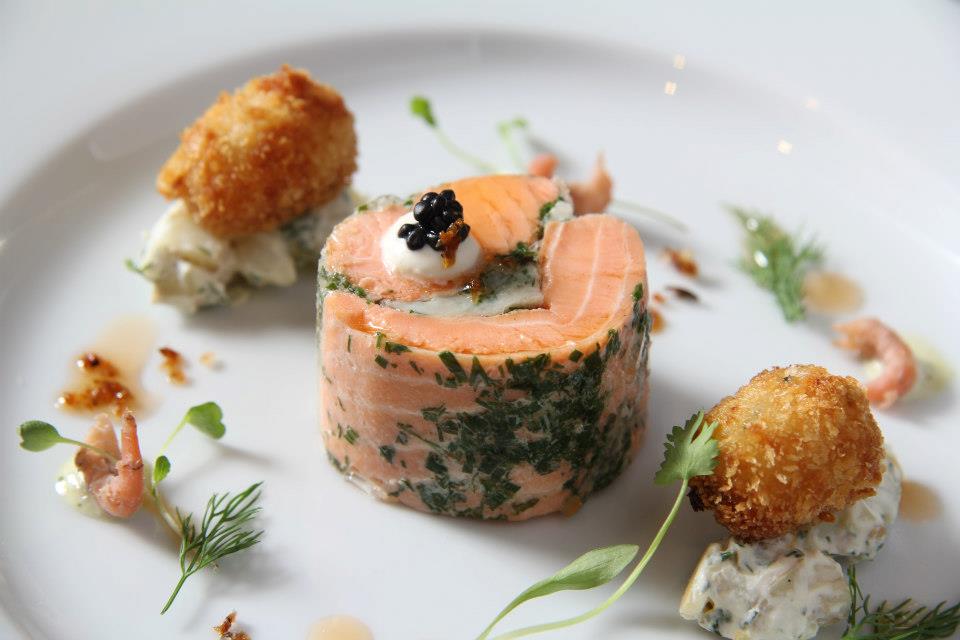 Our growling appetites suitably calmed, the starters arrive. My plate of British Charcuterie, all sourced from the same organic Suffolk farm, is a delight, the quality ingredients and perfectly aged meats shining in a sphere now dominated by supermarket sheaths of mechanical horror. My companion's Poached Sea Trout with Brown Shrimp Fritters is a marvel of clean, subtle flavours, the tender pink fish complimented by the sublime cucumber ketchup. Delicate and light without being insipid, the dish is presented beautifully, and sets up a paradigm that becomes apparent during the meal. Executive Chef Sean Davies (late of the Tate Restaurant) has crafted a menu that balances the hearty, simple food of old England with touches of dainty artistry and simple yet elegant presentation.
This becomes more evident when my main course arrives, a perfectly cooked piece of guinea fowl on a bed of spinach, flanked by some exquisite black pudding scotch eggs that ooze enticingly. The Medlar plum gravy that accompanies this sets it all off very well, and makes for a very flavourful, if a little too brief, series of mouthfuls.
Meanwhile my friend is tucking into his fillet steak and chips, washing it down with a glass of rich, fruity Malbec. The fine piece of rare meat entrances us two ardent carnivores, and is complimented by a delightfully piquant shallot butter sauce. "These are just like McDonald's chips!" my Cantabrigian companion exclaims, his cheeks pinking with childlike wonder. I promptly order up some of my own, to pad out the delicious but modest portion of guinea fowl.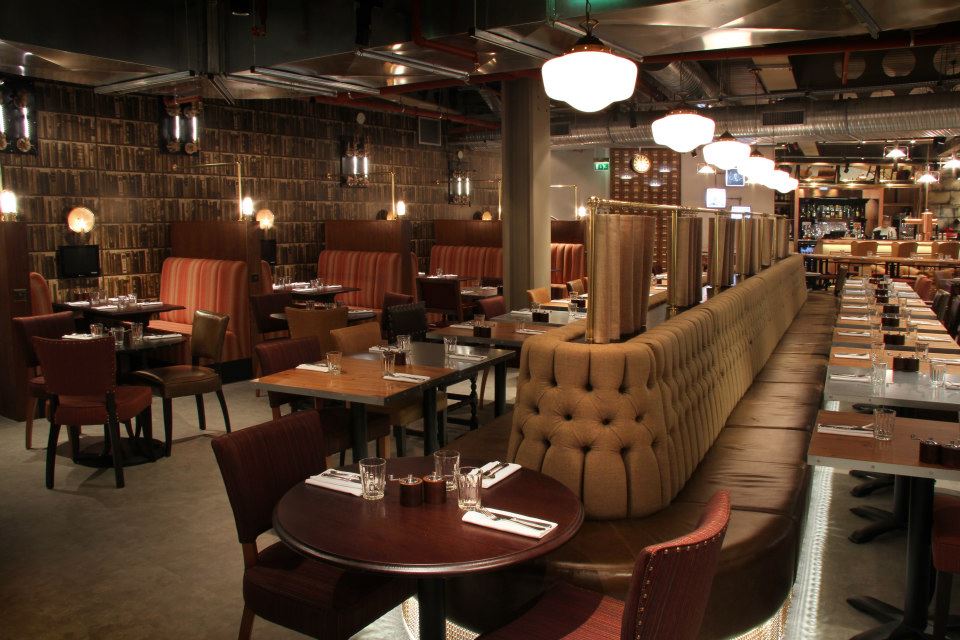 The mains dealt with, our resolutely empty plates are whisked away in anticipation of the puddings. My friend's Sticky Toffee pudding gets the job done in typical fashion, and is hoovered up in a surge of sugary glee. I am a little concerned that my Dark Chocolate and Walnut Truffle cake will be too rich, but my worries prove to be unfounded as I engulf the heavenly turret of caramelised nuts, cake and chocolate truffle with sybaritic abandon. The coffee arrives with a couple of moustache-shaped pieces of shortbread, heralding the restaurant's enthusiastic embracement of Movember, an event that seems to be rivalling Christmas in popularity this year.
For the sake of thoroughness we order a few items from the comprehensive cheese board, and the fine selection of Britain's true delicacy proves to be the perfect full stop on a genuinely memorable meal. The Factory House then, a Victorian Emporium of Great Import. If you can look past the peripheral stylistic incongruences (and the awful music) and focus on the mouthwatering food and drink, then you are in for a most rewarding experience indeed.