The Olympics have been a great catalyst for innovative pop-ups around London (alongside that whole inspiring young people into sport and restoring national pride thing, for which it's also been pretty useful), from London Book Club's fortnight-long street party in a Shoreditch car park to the Roundhouse's transformation into a sandy beach.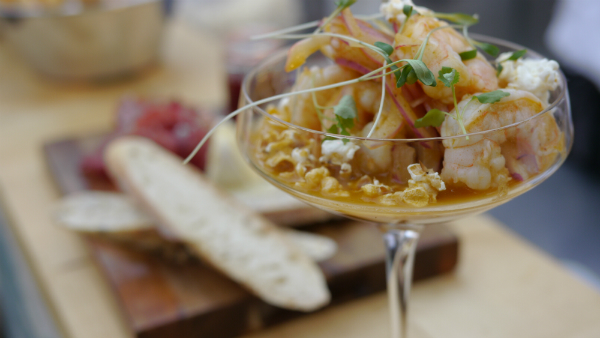 The London Picnic Club is the latest in a line of novel pop-ups from Platterform, preceded by the Finnish restaurant Helyes! that ran during London Design Festival back in 2010 and last year's Limanation that kicked off the Peruvian food trend. The duo behind it all, Julian Bayuni and Kevin Darcy, met working at Momo's Kemia Bar and decided to create a platform where chefs and mixologists could collaborate with artists, musicians and designers to create a multi-sensory experience. This experiential take on the Great British picnic – part architectural project, part gourmet challenge – will be running up until the end of the Paralympics.
Perched atop an office block on Tooley Street, just down the road from London Bridge station, the Skyroom is the perfect spot for an urban roof garden. You feel like you're one of the lucky few in on a secret as you look down over the rush-hour traffic and the suits heading into Tesco for less salubrious suppers.
Designed by British architect David Kohn, who also created 'A Room For London' atop the Queen Elizabeth Hall in South Bank, in 2010, it is certainly a temporary looking space – almost worryingly so, considering you are five floors up. An assembly of decking, corrugated iron and glass all look rather casually hammered together, brightened up with strings of rainbow-coloured paper lanterns and an array of potted plants. The best seat in the house, if you can handle how precarious it both looks and feels, is on a platform that juts out over the street, where you sit on floor cushions around a very low table. Deckchairs and patio furniture add to the casual, outdoorsy vibe. Cutlery is brought over in a little metal watering can. Handily, there is a roof in case the glorious British summer decides to do what it does best, although the barman I ask concedes it does get rather leaky in a deluge.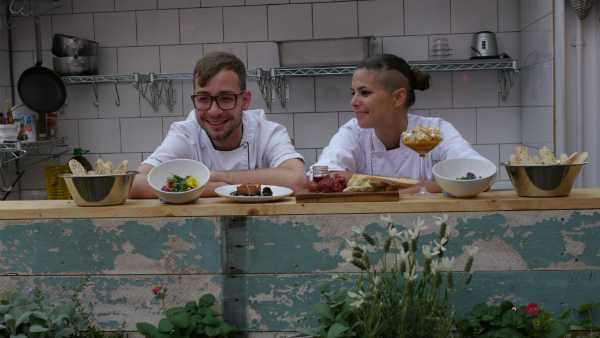 Head Chef for the London Picnic Club's seven-week duration is Alejandro Bello, of Ceviche fame. His is a constantly evolving menu, fusing lots of cuisines rather than offering a traditional English picnic – so don't come expecting soggy cucumber sandwiches and Battenburg cake. The idea is that as the rooftop garden blooms, new flavours and ingredients are incorporated into the dishes. This carries through to the delicious cocktails, as the barman plucked fresh sprigs of basil and a handful of strawberries from what resembled a miniature garden on the bar for my vodka-based concoction.
Clocking the gigantic picnic hampers (of the proper wicker variety) that were arriving at neighbouring tables, I was a little disappointed to find out they contained a few tiny plates of food resting on a whole lot of stuffing. A slate platter of bread from St. John's Bakery, cheese from Neal's Yard Dairy and charcuterie from Brindisa was, as one would expect, full of tasty, good quality morsels; it was just a little too morsel-sized portion-wise for my liking. A wonderful pot of homemade fig, gooseberry, pisco (a Chilean/Peruvian grape brandy) and bacon chutney that accompanied was some compensation, though.
The salads boasted summery, fresh flavours in unusual combinations, all very prettily presented. A refreshing salad of melon, cucumber, raspberry and endive was strewn with a purple flower. Prawn ceviche with popcorn came in a tall-stemmed Martini glass. The contrast in textures for this was successful, but it was unfortunately overshadowed by an overtly sharp, acidic dressing.
I was relieved to see main course portions, which are served after the hamper, were far more generous; in fact, after grumbling about the slivers of cheese, I couldn't finish my Squid Rice. It was a brilliant paella-style dish with juicy chunks and rings of calamari, a smattering of fresh dill (utilising that herb garden again) and just the right amount of red chilli kick. Pork neck with Venezuelan cocoa, cherries and cardamom jus went down a storm with my partner.
Opinion was divided on the pudding, which was a Pineapple Eton Mess with chunks of pineapple jelly and syrup swirled through whipped cream and crumbled chocolate biscuit. I didn't enjoy it at all, but the boyfriend thought it was delicious. If you'd rather not risk it, there was also the option of mixed berries on the menu, likely to be far less divisive I'd wager.
Billed as an "immersive food and drink adventure", the London Picnic Club has plenty to make you want to linger after you've finished picnicking. There is a projector screen playing sport themed films, live music and a collection of board games such as Jenga, Twister and giant chess. It makes a great grown-up playground for a semi al-fresco supper with friends or to impress a date with your expert local knowledge. Forget about an M&S meal deal in the park, and take the summer picnic, quite literally, to the next level.
The London Picnic Club runs until 8th September 2012. Priced at £35 per person. Advanced bookings via the website.