Some of us, and certainly all of us at The Arbuturian, love gin. Heady botanicals, crisp drinking, mothers ruin, Plymouth, London, Islay and now Mediterranean. The list continues to grow. Autumn might have arrived, but I like to think that summer is never that far away, and with the current fifty shades of gray that forces itself into our daily lives (the weather, not the book) my present and favourite solution for returning to the balmy summer evenings – yes, there were at least four this year – is to turn the central heating up high, don my Harris Tweed and make a G 'n' T, not to be mistaken for G 'n' R which gives you an altogether different feeling.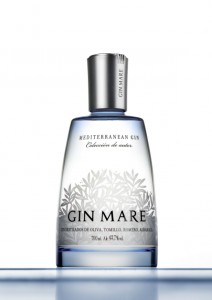 Take a good slug of Gin Mare (pronounced mar-ray) and pour into your glass, slice a lime into quarters, squeeze and drop into the glass, add tonic, repeat until sitting on coastal vista during sunset. Delicious. Gin Mare is smoother to drink than some, sweet on the nose and the palate is deliciously complex with a hint of savoury from the herbs.
Gin Mare is the product of a new generation from a family with a long history of distilling the finest spirits in the very heart of the Mediterranean on the beautiful Costa Dorada.
An artisan approach sees the unique botanicals including Arbequina olive, thyme, rosemary and basil, distilled separately in a Florentine copper pot still before being hand blended to produce a super premium gin of genuine warmth and depth of character. Available from Harvey Nichols, John Lewis  and selected Waitrose stores  (£36.95 70cl), Gin Mare can also be bought online at thedrinkshop.com and thewhiskyexchange.com and enjoyed in some of the best bars in London.
For more information, visit the website. For a selection of our Food & Drink Editor's top gin picks, click here.