Despite the tricky (i.e. non-existent) summer of 2012 which did English wines no favours, the industry is on a roll; the credibility of our sparklers in particular is undisputed, the best going toe-to-toe with continental counterparts and more often than not coming out on top. One of the most exciting new players in the game is Herbert Hall from Marden in Kent: An English 'garagiste' operation, producing tiny amounts of stunning wine, its two vintages have already received enthusiastic reviews and secured some of the best listings in London, from Le Gavroche to The Clove Club via Fortnums, Harvey Nicks and Harrods. Tim French, wine buyer for the former says "I am a huge fan of both cuvees from Herbert Hall. We work very closely with Nick to produce a special blend for Highgrove (HRH Prince of Wales label). His rosé is also outstanding, a delicate, pale beauty that is so inviting and rivals many famous pink Champagnes. Perfect English summer drinking."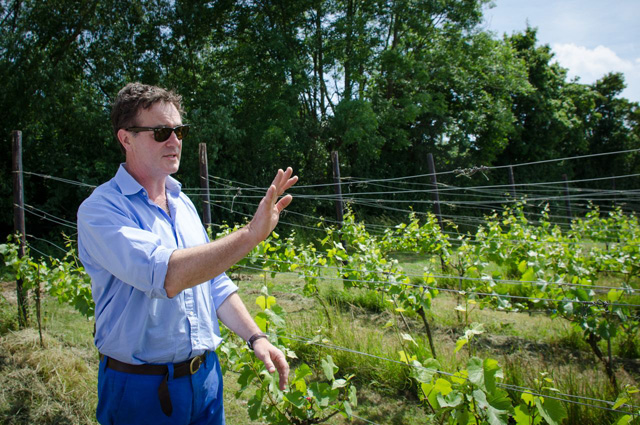 I first encountered owner Nick Hall earlier this year after tweeting an overheard description of his newly-released pink cuvée as "the crack cocaine of English Rosé". He subsequently emailed saying this tweet had directly led to opening his first account in Scotland, how impressed he was by the power of social media, and that we should clearly meet for lunch. I was wondering what to expect, when Nick was described to me by boyhood friend and now agent for his wines Stephen Clark as "disorganised, wilful, rebellious, romantic, impulsive, charming, idiosyncratic and very, very talented (when he puts his mind to it). As a young man he was what the French would call an 'enfant sauvage' – unpredictable, impulsive and irresponsible. He was very good looking and rather wild and seemed to spend most of his time fending off admirers, but after a fairly varied and colourful career all the chaos seems to have become channelled into a true vocation."
Over fish and chips and bottles of his wine at discrete members club 2 Brydges, Nick told me how growing up on the family fruit and hop farm in Kent during the 1960s and 70s, he worked the hops harvest with his brother Peter. However, unable to get out of bed before midday and with A-levels in Art and English, he was not cut out to be a farmer and turned to journalism. After a 15-month stint as a reporter on the South London Press at the time of the Brixton Riots and Cynthia Payne, he left to take up a place to read English at Kings College. Stints followed as a Soho-based journalist, then with advertising agency Grey Worldwide for a few years before setting up an art consultancy in a Deptford warehouse. A famous doyenne of the PR industry said over dinner that of all the people she had ever met, Nick was the only one who she could not imagine doing any kind of organised job.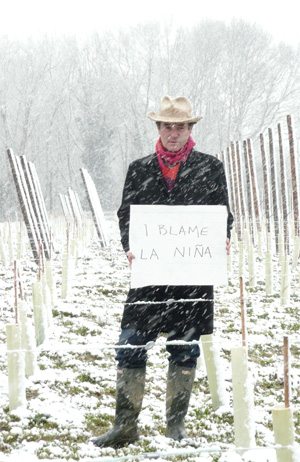 In 2003 he moved his family from London back to the farm in Kent – "to give his children some fresh air and re-connect" – restoring the house where his great grandfather Herbert Hall had lived when he first came to Marden in 1893 as a farm labourer. The agricultural landscape had changed dramatically since Nick's childhood. The hop gardens had gone and most of the oast houses turned into private homes. His bedroom window looked out over a 10-acre site, the first farmed by Herbert Hall as a tenant more than 100 years ago. It had been a hop garden but now was empty. One morning Nick looked out of the window and realised the gravel-seamed south-facing slope was calling out to become a vineyard. He enrolled for the degree course in winemaking at Plumpton college and a year later he had planted the vineyard ('college notes in one hand, vine in the other') and had begun work building and equipping a winery. He produced his first sparkling wines from the 2009 crop.
Stephen Clark, who worked for over two decades for Laurent-Perrier in the UK, continues "having spent most of my life working with Champagne I was astonished by the style, elegance and balance of Herbert Hall. What I really love is that it is not trying to be Champagne. It is a true expression of the fruit that Nick grows in a little corner Garden of England. Clean, fresh, fruit-driven wine and with just a tiny hint of autolytic character. Very traditional yet also very modern. Superb". And it's not just his agent who sings Herbert Hall's praises, with wine writer Matthew Jukes describing Nick's first wine as "the finest debut English Sparkling Wine I have ever tasted" and Tom Stevenson, Decanter judge and author of both the Christie's and Sotheby's wine guides calling his winemaking "masterful".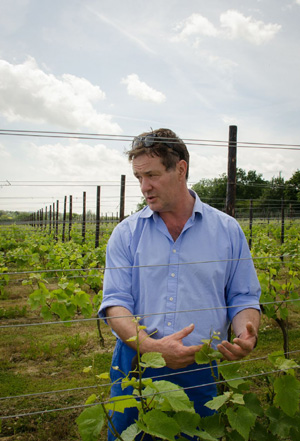 Nick has come full circle. He says he became a winemaker as a way to re-discover his past and to express his love for the place where he grew up. He sees wine as a way to express the place and the conditions in which it is grown and made, and a way of holding on to a part of every year that passes. He believes in consistent quality but variation from one year to the next, an embodiment of nature, endlessly repeating itself yet always slightly different. It is not surprising then that his wine was described by one wine critic as "a wistful and romantic creation". There is nothing whimsical about his success though: After just two vintages Nick was recently selected as one of the top 20 most influential people in the UK wine industry and although his life up until Herbert Hall had been somewhat unstructured, it was in many ways the perfect preparation for the kind of winemaking he does: He is a very 'English Vigneron' – idiosyncratic, inventive, part labourer and part sophisticate. On his father's side he comes from the steady farming stock of great grandfather Herbert, but his mother was a Llewellyn, a family associated with a more glamorous, sophisticated lifestyle of enthusiastic socialising. His time in journalism and creative industries in London taught him new ways to look at the world, beyond the ordinary and later, working with painters and sculptors he learnt the value of creative integrity and refusal to compromise.
Unlike most of his peers among the top English Sparkling Wine founder/producers, he does all of the work himself – from tending the vines through to pressing and winemaking and ultimately bottling, labelling and even dating by hand, working late into the night, listening to Syd Barrett songs on the winery hi-fi, signing off each bottle as he goes. He seems equally happy immersed in physical labour in the vineyard or enjoying the excitement and stimulation of London's fashion, art and dining scene. "I like repetitive work," says Nick. "Without wishing to sound too pretentious I feel there is a spiritual dimension to labour. Especially when you repeat over and over again. I have stuck on thousands of labels by hand. It becomes like a form of meditation. But you can't meditate forever. Sometimes you have to have some fun."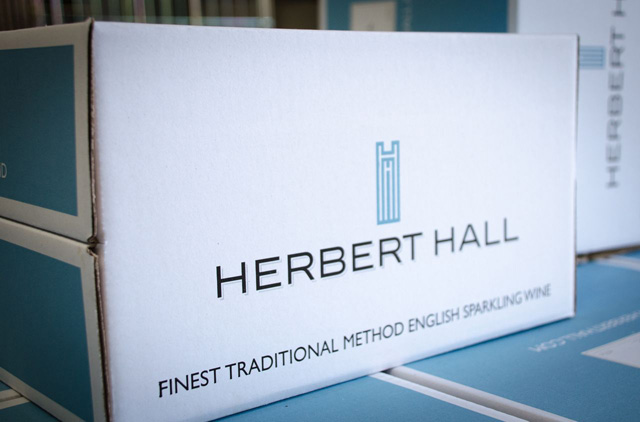 Most recently this fun included Herbert Hall being chosen by tailor Timothy Everest MBE for Tilda Swinton's party during their collaboration for London Collections in June, where Tracey Emin, Mary McCartney, Nicky Haslam and Jefferson Hack were amongst the guests appreciating Nick's handiwork. Timothy, whose clients include Mick Jagger and David Beckham, explained: "I wanted to serve a drink that would reinforce all of the values I instilled in the collection; elegance, luxury, and handmade with a complete respect for its craft. Herbert Hall was all those things and more. Made with love, using traditional methods, it's one of the most exciting English wines I've come across to date, and the perfect 'fit' for an event of this calibre."
Away from the glamour of London's art and fashion scene and back in Kent, I joined an entertaining "bud-rubbing" day at Herbert Hall, with a group of sommeliers and other front of house staff from those restaurants where the wine is listed. Not as lubricious as it sounds – the morning involved taking a tour of the vineyards, removing the extraneous buds from the sprouting vines, and sampling a first disgorgement of 2011 blend before a well-lubricated lunch of poached salmon and cold roast beef, a typically fun, dynamic and innovative idea from Nick. Walking from Marden station across the farmlands with his brother Peter Hall earlier we had stopped at an intersection of three fields: The largest organic apple orchard in Europe, opposite Kent's only remaining traditional hanging hops garden and adjacent – a gently sloping, fauna-enclosed south-facing field of vines. The juxtaposition of the three summed up the tenets of Herbert Hall – respect for the past, embracing the future and an underlying desire of one man to best express the present opportunity of a unique terroir. Never without a story, from a tale of A Rake's Progress to that of the Prodigal Son, Nick Hall is marching to the beat of his own drum and carrying all in his wake.
For more information about Herbert Hall wines, visit the website. Bottles (all hand-signed) are available in limited quantities from London's top luxury retailers and some rather smart restaurants (including Le Gavroche, J Sheekey, Le Caprice, The Clove Club, Palm & Brunswick House) or from Wine Chap.
Photography (c) Theresa Harrow.