Stirling pretends he wasn't hatched in the lab and thinks about Father's Day gifts…
You might, if you have been paying attention, remember the launch of the Jack Daniel's Sinatra Select at the Beaufort Bar in the Savoy not so long ago.  An elegant evening of cocktails, anecdotal tales, lounge music supplied by none other than Frank Sinatra Jr. and, of course, Larry karate-chopping Mrs Frank Sinatra Jr. in the throat.  It was an accident; she survived, and the judge was kind.
Today we are looking at the same Tennessee distillery but a special release of the Jack Daniel's Single Barrel.  Why special?  Because for a limited period you can personalise a message which will be hand crafted into the bottle – and just in time for Father's Day.  Need more convincing?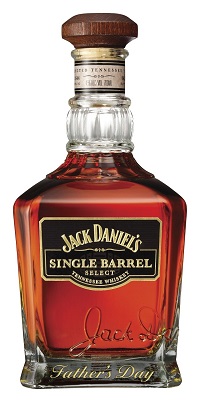 Not just any Jack Daniel's barrel is granted the status of Single Barrel. Every so often, the Jack Daniel's Master Tasting Panel discover a barrel of whiskey so special they put it to one side for what, I suspect, turns out to be the party of the century, followed closely by the hangover of the century – although we condone modesty at all times, of course.  Those bottles that are marked for greatness are carefully hand-bottled one barrel at a time, each bearing an individual rick number and bottling date.
With a richer, robust flavor to its brother Jack Daniel's Old No.7, Jack Daniel's Single Barrel has notes of toasted oak, vanilla & caramel and each barrel offers individual nuances of colour and taste.  I have conducted in-depth and protracted, empirical research to be able to draw these conclusions.
No two barrels are the same, so Jack Daniel's Single Barrel presents the perfect chance to offer your father a whiskey truly unique this Father's Day.
Jack Daniel's Single Barrel can be engraved both on the side and on the front of the bottle and bought exclusively through The Whisky Shop online, priced at £47.
Visit The Whisky Shop here to order your bottle.
In other news: maturity isn't just about whiskey. Please enjoy responsibly.