Richard Paterson is known to be the greatest master distiller of his, or any, generation. He has worked for Whyte & Mackay for over 40 of his 64 years. Before he joined, it was his father's domaine, and before that, his grandfather's. His duties involve custodianship of all of Whyte & Mackay's brands, but his role as Master Distiller at The Dalmore is without doubt his most important and cherished role. The Dalmore is perhaps the most noble and widely-respected of all the great highland malts, and a whisky that one can become deeply involved with. Wherever I travel in the world, I'm always reassured when I see the iconic stag's head; I know that a soothing, singular dram is at hand.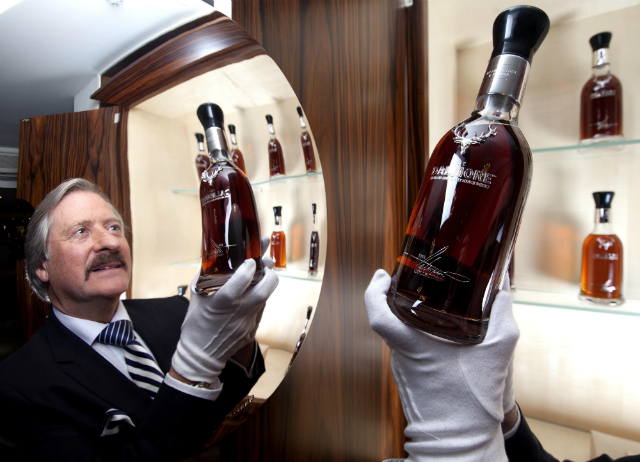 Sitting next to Richard in the private dining room at Harrods as he unveils The Dalmore Richard Paterson Collection is an honour and a privilege. This is Richard at his most passionate, his most engaging. The Paterson Collection is the greatest single work of Richard's career, a moment that he's been working towards over a professional lifetime. The Dalmore is known for holding significant stocks of old, rare whiskies, some of which are released onto the market in tiny, gleaming parcels.
The  Richard Paterson Collection is a new proposition entirely; nothing close to this has ever been seen on the rare whisky market – it is a totally unique. Over the last three years, Paterson and his team have repeatedly tasted all of the finest whiskies from their reserve stocks and from these rarities – most of them previously unavailable in any form – Richard has assembled twelve whiskies of indescribable brilliance. The collection of twelve bottles is presented in a solid oak case that's been specially created by Gavin Robertson, a master cabinet maker from Inverness.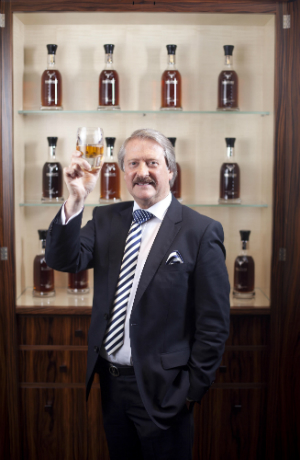 One of the most extraordinary aspects of the collection is the ledger, which has been created by John Watson & Company Ltd, one of Glasgow's oldest printers. Richard has spent over two hundred hours writing the very personal story that accompanies this collection; it is a true labour of love and an incredible testament to the care and passion that this man has for The Dalmore.
Each of the twelve expressions is presented in a hand-crafted full lead crystal decanter, produced by Glencairn, one of the world's leading crystal houses. Luxury jeweller Hamilton & Inches have crafted and hand engraved the silver that adorns each bottle. And then to the whiskies…
The whiskies take distillation dates ranging from the 1990s back to 1926 and cover a multitude of styles and a variety of strengths. The blending is key, with each bottle taking particular flavour characteristics from different vintage years. Each of the whiskies is startling as a stand-alone pleasure, but it is when considered and enjoyed as a collection that the true glories become apparent. Perhaps Paterson puts it most eloquently himself:
"This project is the legacy of the individuals and tradition that so enriches the Scotch whisky industry. This is a peerless collection, guaranteed to produce many warm memories. After all, it is the spirit of a lifetime."
So there it is, a one-off piece, a testament to Scotland and its finest export and a treasure trove of joy for the individual, or individuals, that take ownership. I feel blessed to have tasted the whiskies, it was a once in a lifetime experience that will rest in my memory forever.
The Dalmore Richard Paterson Collection is available at Harrods for £987,500. For more information, visit the website.