We stroll up to the front of the hotel, searching for a likely entrance. There's nothing. We enter the hotel through the revolving door and search the foyer. Still nothing. We find a doorman and discreetly make enquiries about a 'Luggage Room'. "Ah" he says, sizing us up. "Outside, look for the small, black door to your right – you need to knock". We find the unmarked door and dutifully knock away. There is a delay, and then a spyhole opens and after a quick assessment of suitability, we're in.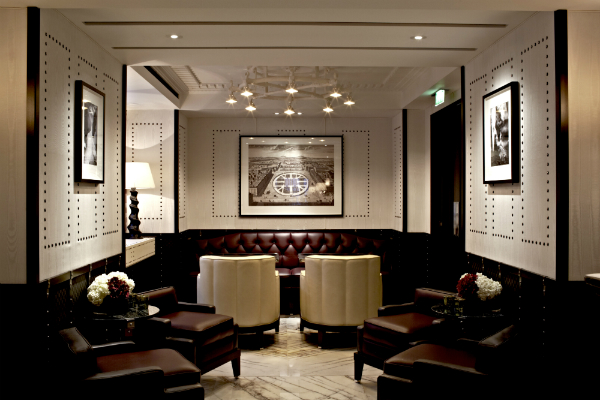 The bar's name is The Luggage Room and it forms part of the Grosvenor Marriot Hotel. The bar opened in December 2013 and has grand aspirations. The website offers a battered old-fashioned leather trunk as an emblem for the bar. I assumed that this was an affectation; that the bar was trying to evoke the currently en-vogue glamour of the 1930s and 40s, but once seated in the darkened, jazz-filled basement bar, I find out that up until recently, and since the hotel opened, these rooms were indeed the luggage rooms of the hotel. I would assert that this is a much finer way of using a space which lends itself beautifully to elegant boozing.
The room is dark, candlelit and displays much leather. The tone of the décor lies somewhere between the Clubland of St. James's and a Madmen-era New York. We are seated in a Burgundy coloured booth and offered rum punches to help us settle in. A distinguished-looking gentleman sits at the bar in deep conversation with the manager about ways of crafting the perfect daiquiri and loose jazz fills the room – all is conducive to an extremely civilised drinking experience. We decide to keep away from our classic, safe choices of Negronis and Martinis and dip into the well-chosen selection of house cocktails.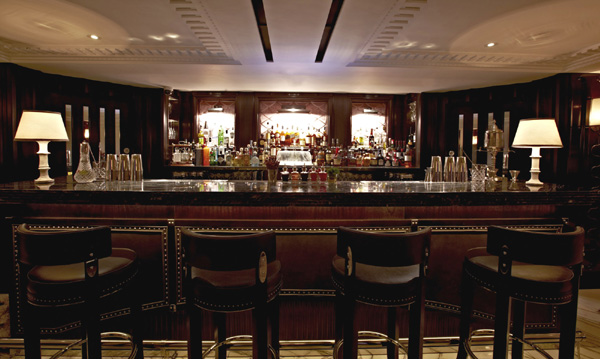 I choose a Penicillin to begin. Not a 'classic cocktail' as such, but a well-loved blend of Johnny Walker (or sometimes, American rye whisky), lemon, honey, ginger and then a tot of Talisker to add a smoky, peat-stained edge. It slips down extremely smoothly; medicinal notes from the Talisker fooling the senses into a false sense of security – this is a strong drink that hits the spot. Sarah enjoys a Luggage Cocktail – a punchy combination of Ketel One vodka, Campari and rose syrup which makes for delightful drinking and refreshes as it inebriates.
Bar snacks at The Luggage Room are better than one might expect in an establishment that focuses on the brilliance and precision of its alcoholic offerings. There is an intriguing take on the ubiquitous Scotch Egg – a light and beautifully seasoned layer of poached salmon encasing a soft boiled hen's egg. The accompaniment for this superior morsel is a small kilner jar of crème fraiche with the intense, dark charms of caviar running through it. Subtly flavoured anchovy fillets and an extremely fine pork pie also help to keep our stomachs sated as we move through a faultless Manhattan and luxurious, champagne-laced Barnato Fizz. As night presses on and eventually, our time to finish up and climb the stairs back up to the real world comes round, a sense of melancholy sets in. We leave The Luggage Room as Miles Davis plays on and cocktails clink joyfully. This is a late night treat of a place, an all-but-hidden sanctuary from the trials and tribulations of the real world, a place to come and take time to enjoy the refined luxuries of life.
The Luggage Room, Grosvenor Square, London W1K 6JP. Tel: 02075141507. Website.