In my dreams I have a herb garden like the one I visited recently at Congham Hall Hotel. One where row upon row, bed upon bed of some four hundred varieties of herbs stretch out before me. I dream of wandering through the garden picking herbs as my in-real-life-non-existent long blonde hair blows in the breeze – my subconscious has evidently never quite recovered from over-exposure to 1980s Timotei adverts. There's a wicker basket slung over my arm to carry the herbs back to a frankly enormous (I'm loving this dream) kitchen where they'll be turned into all manner of gorgeous sweet and savoury dishes. Undoubtedly I'll have picked too many but the extras are not just left to go a bit skanky at the bottom of the fridge; instead they're turned into refreshing tisane infusions to drink.
At least, that last bit actually happens.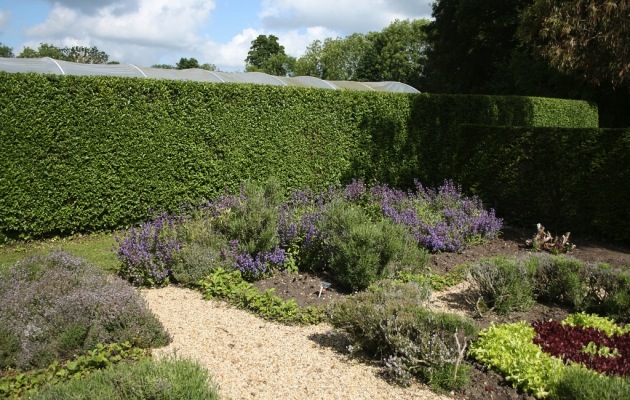 Most if not all of the common-or-garden herbs that we grow or buy to cook with make delicious herbal teas or tisanes. There's a lot more scope than just fresh mint – refreshing as a pot of that can definitely be after a hearty meal. The aniseed flavour of tarragon makes that one of my favourites. Also thyme, rosemary, bay leaf, sage, dill or lovage. Very simply you put into a teapot about a tablespoon of the fresh herb leaves or a couple of whole stalks. For bay leaf tisane I use four leaves. Pour over water that's just off the boil and let it infuse for about 3 minutes. A tea-strainer is just about the only other thing you need.
Even better with the warm weather that is surely coming our way any second now is chilled tisane. Gorgeously refreshing and it can look beautiful to have a pitcher full of herbs and water and ice out on the Sunday lunch table or at a picnic. Chilled rosemary and mint tisane is a particularly good one.
That's the kind of combination which shows how tisanes are a great way to really understand and enjoy herbs. We can all be guilty of too often just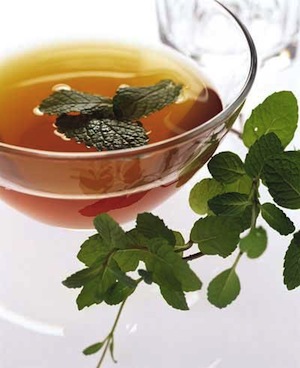 lobbing herbs into our cooking without properly comprehending their inherent flavours for ourselves. It's a sort of culinary automatic pilot from being told time and time again that rosemary goes well with lamb, tarragon with chicken and on and on. When herbs are brewed into a tea you can't help but experience their full complexity and so achieve a better understanding of what goes with what and why. A rather nice little side-effect of making and drinking tisanes is becoming a more sensitive and confident herb cook.
All the herbs I've mentioned are renowned for helping the digestion amongst their other particular health benefits. At risk of going all Gwyneth on you the link between food and health is neither rocket science nor new. Herbs have long been valued for significant healing properties. The Congham Hall herb garden is a particularly magnificent version of the smorgasbord of herbs and edible flowers that English homes traditionally grew to fulfill the needs – medicinal and culinary – of the household. We pop to Boots for our medicines; folks in the fifteen or sixteen hundreds (and earlier) nipped out to the herb garden. It gives me no great pride to be able to personally vouch for the seemingly miraculous hangover-healing properties of sage tea.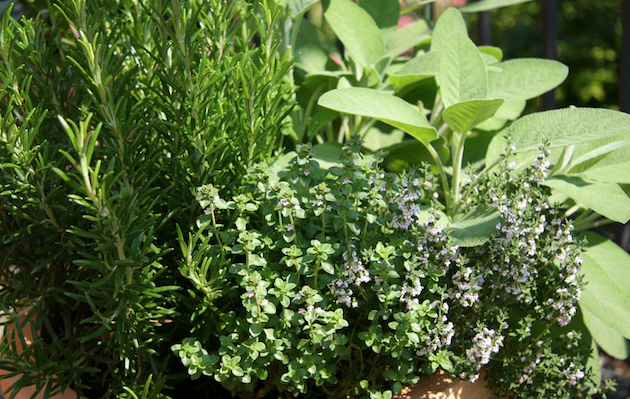 Yet herb-lover that I am my heart always sinks a bit whenever herbal tea is offered at the end of a dinner. Partly because it usually means the fun part of the evening is coming to an end but also because too often it also heralds one of those sad little teabags of self-denial. There's no need for that at all. A few fresh herbs are all you need to have the wherewithal to create your own elegant and delicious tisanes.