A passion for country living has led one city man to Somerset and the house of his dreams. Nick Hammond visits a cooking school with a difference…
In the heart of Timsbury, a fieldsports fortress is being built, brick by brick. It's a mighty stone building and it houses Bod Griffiths, his wife Annie, their newborn son and pet lab. It also houses the Vale House Kitchen.
Launched in Autumn 2013, Vale House has a bold mission to reintroduce a disenfranchised population to their natural heritage through fishing, shooting, foraging, butchery and cookery courses. After a career in London finance, Bod has migrated south and extensively renovated, revamped and revolutionised this lovely old house. Now it's time to spread his gospel.
"I've shot and fished as long as I can remember," he tells me over a glass or two of homemade sloe gin as we recover from morning rain beside the kitchen Aga. "I've been lucky enough to fish all around the world, but the English countryside has always been the most special place to me. There's nowhere quite like it, and in these days when everything agricultural seems to be under increasing pressure, I wanted to do something to remind people what it's like to live and work in the country, and where real food comes from."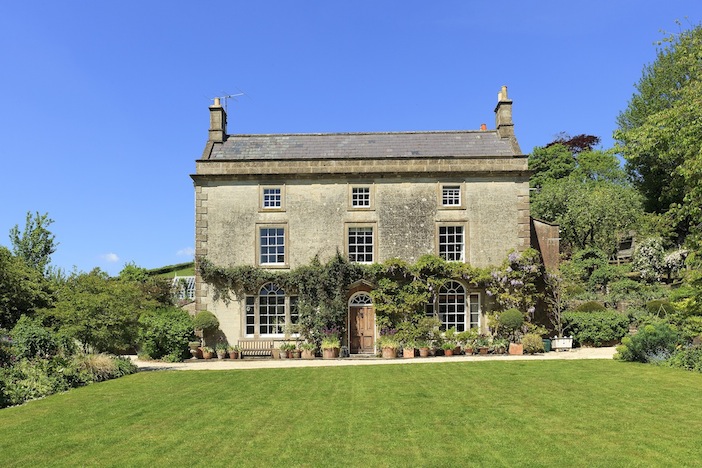 It's a laudable dream and no thought – or expense – has been spared in making it a reality. A stream of top tutors (including the irrepressible Tim Maddams of River Cottage fame) are now busy holding day courses on country skills as diverse as game shooting, fly fishing, deer butchery, jam making, foraging, baking and seasonal cookery. "It's been a long, hard slog getting everything ready," admits Bod. "There has been so much to think of, so many little things to get right. But it's amazing to see the place open and the first customers come in."
I spend a couple of days with the Griffiths family, who are the ultimate relaxed hosts. Bod exudes bonhomie and a genuine old-fashioned courtesy combined with a fearsome passion for his project.
On the first morning, our small group meets Neil Keep, nearby resident and fly fisherman extraordinaire. We spend some time discussing the fundamentals of the sport, and amid the rainshowers and topped up with coffee, we practise our rusty casting on the front lawn. Neil gives me the best casting advice I've ever had. "Just imagine you're picking up the phone and putting it to your ear. No more movement than that," he confides. And immediately I'm knocking the 'fly' out straight and true at a distant birdbath. Brilliant.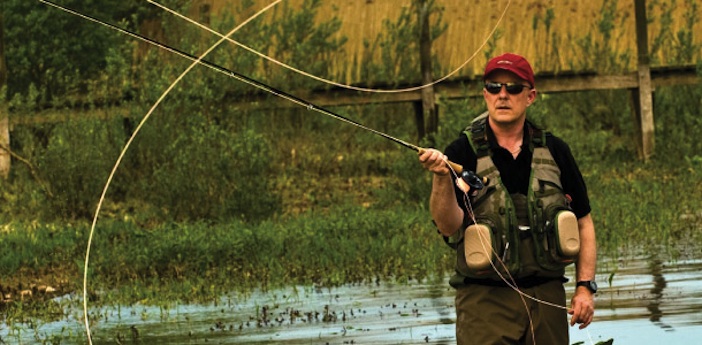 After lunch and a discussion of knots, flies and Bod's fish pie, we head for nearby trout lakes. The cast goes to pieces under scrutiny and I succeed in impressing Neil with my capability for finger-busting tangles. Then, to our eternal chagrin, the lady member of our group – a Londoner and first-timer to boot – catches a beauty of a rainbow weighing in at close to 6lbs. And, of course, none of the rest of us males catches so much as a cold for the rest of the day.
No matter; we cast, we tangle, we laugh and collect sloes and soon decamp to our hostelry, the charming Carpenter's Arms nearby. It's a proper Somerset pub with a decent kitchen, wine cellar and excellent rooms. Some judicious application of Doom Bar and dinner, Scotch and a cigar and I'm ready for the lure of a deep duvet.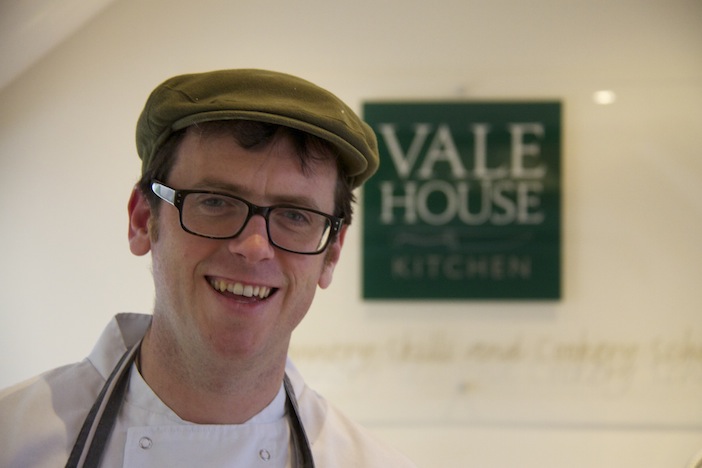 Sunshine streams through the window in the morning and before long, we're off in Bod's chariot, heading for a cookery day with the aforementioned Tim Maddams. A mixture of deep sarcasm, cheerful fun and profound love for his subject makes Tim a compelling tutor. We gut and clean yesterday's fish, finding a surprise package of roe which Tim immediately makes into an amazing caviar-like mouthful on freshly made drop cakes. We practise making a fish stock from the bones, fillet a flatfish, smoke some pure, golden farmed trout and kill and prepare the biggest cock crabs I've ever seen.
So much goes into the day that my mind is a whirl as I begin the long car journey home and I find myself pondering each aspect in turn as I crawl through the inevitable Bristol traffic.
What is most compelling, in hindsight, is the love and sincerity that simply shines through Vale House; an holistic approach that sees fruit, herbs and veg grown on site, piglets fed in the orchard and tired but happy people at the end of the day. Wasn't life supposed to be like this?
Take a pilgrimage south. You'll find new thoughts, skills and friends in Timsbury.
For more information, visit the Vale House Kitchen website.