Dine Mile High pop up restaurant flew into London with a strong tail wind and plenty of Duty Free. The fourth event, Destination Mozambique, took place at the unlikely location of the former Westbourne Grove Sorting Office in trendy Notting Hill – where East Africa prepared to meet West London. Air Mail was the order of the day, with tea lights creating the impression of a runway and beckoning guests for a surreal evening of fifties glamour.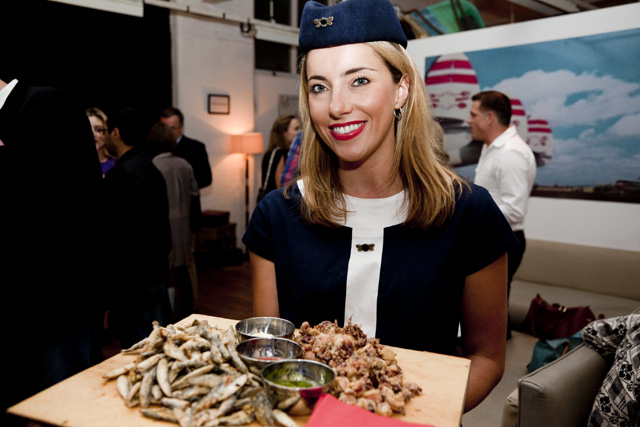 With waitresses dressed as air hostesses in Pam-Am-inspired uniforms greeting guests at the Check-In Desk, they prepared to take care of our every need – First Class all the way! Wearing an electric blue 'Joan' dress and with my boarding pass and passport at the ready, I was only too happy to await my flight in the Departure Lounge, where the barman stamped my passport in exchange for a thirst-quenching Aperol Spritz – well and truly putting me in holiday-mood. The hostesses, who doubled up as actresses, interacted with guests, whilst being on hand with African-style tasty snacks including spicy chicken wings, whitebait, and fried yam with spicy dips. The lounge space, designed by vintage furniture supplier MAR-DEN, evoked the feel of a Mad Men set, and the twin communal wooden dining room tables would later create a castaway camaraderie perfectly in-keeping with this fantasy African adventure, taking everyone a million miles away from their weekly routine.
From the creative minds of the four Templeton cousins who have been dubbed the Von Trapp's of the foodie world since founding Shuttlecock-Inc; Anna, Ollie, Will and Ed all share a wealth of experience from the event, theatre, culinary, cocktail, music and advertising worlds. Mile High was inspired by the glamorous days of 1950s air travel, when legroom meant doing the tango and turbulence was only an effect of the bar steward's cocktail shaker. For those that like their evenings out to be memorable, they don't get much better than this. With the 'pilot' calling each party by surname, we duly boarded our flight. The dinner ticket (£65) included a classic cocktail, departure lounge snacks, a four course meal prepared by ex-Moro chef Oliver Templeton, two glasses of wine, and after-dinner music from Mile High's airborne DJ division.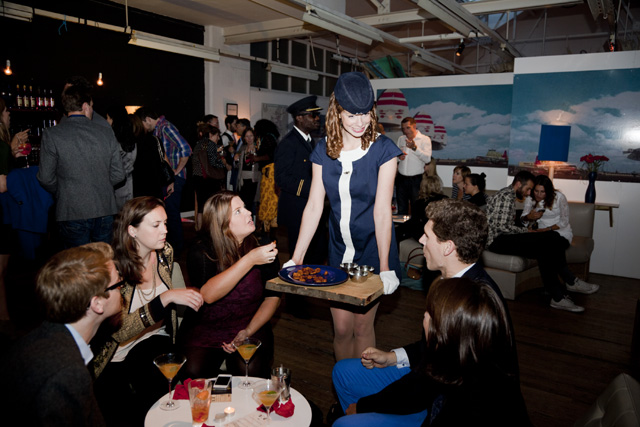 The menu commenced with prawns marinated in fresh coconut, with chilli, peanuts and lime, before conjuring up aromas I know and love from African cuisine – the BBQ; charcoal grilled sardines accompanied by fried cassava, and a sweet and spicy tomato salsa. This was followed by a spatchcock poussin, coriander pilaf with grilled red pepper, green chilli and cucumber. With most of the dishes presented on sharing platters, the food soon got everyone talking. Refreshments were served table-side in the form of a suitably kitsch drinks trolley and there was plenty of entertainment in the form of an irate passenger. The band could be heard warming up as the dessert was served; macerated pineapple with a coconut, mango and passion fruit granita and salted cashew nuts, and which proved a refreshing finale prior to dancing the rest of the evening away.
A new event entitled Rumble at The Deli, will take place at Tom Conran's popular Notting Hill hangout, Tom's Deli, during the month of November, and which will see two talented young chefs going head-to-head to create culinary wizardry. Tickets £55 for six courses. For more information on this and future Shuttlecock Inc events visit the website.