So the first time I visited The Jugged Hare, I was impressed by how slick an operation it was. Impressed by the investment, the interior work, the transformation that had been achieved and the obvious, immediate hit that this country-in-the-City gastropub was. It was impressive, but at the same time, not unexpected, considering that The Jugged Hare was, at the time, the new opening from ETM – Ed and Tom Martin's company that specialises in magisterially assured gastropubs across the capital.
I did have criticisms though…yes, The Jugged Hare was slick and well-mannered, but it lacked a certain zeal. I wrote:
"My only criticism would be a lack of generosity, the concept of portion control seems relevant here, the dishes are faultless in one sense, but perhaps therein lies a problem – they seem a tad too self-aware and manicured to be properly affecting".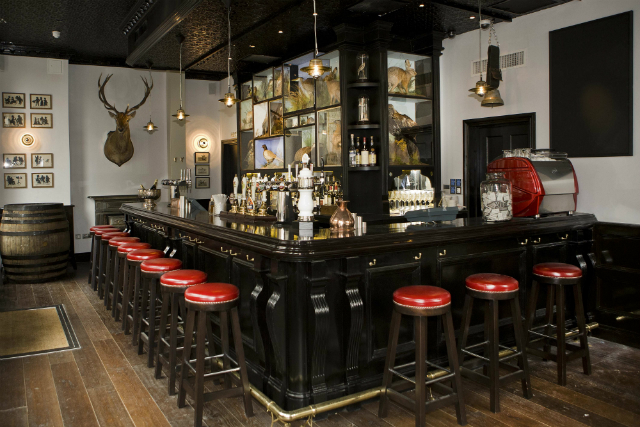 Well, what a difference a year can make. We arrive in the midst of a storm of ominous portent that heralds the beginning of autumn and seems to allude to all being different from hereon in.
The menu has changed subtly, but importantly. Game was present, if slightly reticent; now it is out in all its blushing, deep red, insistent glory. There are all manner of treats in store for those who like things feathered and furred. We settle down and straight into the action with a portion of crisp fried grouse legs and spiced bread sauce. The pile of limbs that arrives is vast and the flavour that abounds there delights; this is the poshest of fried bird legs – KFC seems worlds away. Wild boar head croquettes are similarly satisfying in their pseudo-junk food guise: salty, gooey and matched beautifully with an apple caramel sauce.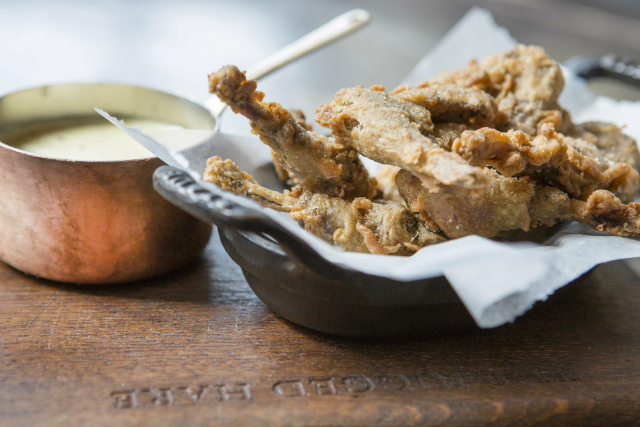 Our main courses are classic, substantial in proportions and perfectly seasonal. Roast mallard with pearl barley is well-cooked, but could feed two from its oversized plate. Roast grouse is faultless, its feral, exigent juices staying with us late into the night.
The Jugged Hare seems to have upped its game (ha ha). Get down there, before the season's out.
The Jugged Hare, 49 Chiswell St, London EC1Y 4SA. Website.