Stirling braves the cold for a classic Krug & Koffman treat in Covent Garden…
A crisp and chill December noon accompanied me as I cut a fine dash through a bustling Soho then Seven Dials en route to the East Piazza of Covent Garden. Awaiting me to help shoo away the sniffles and iced nose was the festive, culinary experience of the Krug Kreperie. A collaboration between legendary French Chef Pierre Koffman and Krug champagne, it manifested itself in the guise of 3 bespoke chalets complete with heated seats, heated mirrors, thick rugs and cosy blankets. Even the chilliest breeze will find it hard to creep under your tweed and tickle your smalls.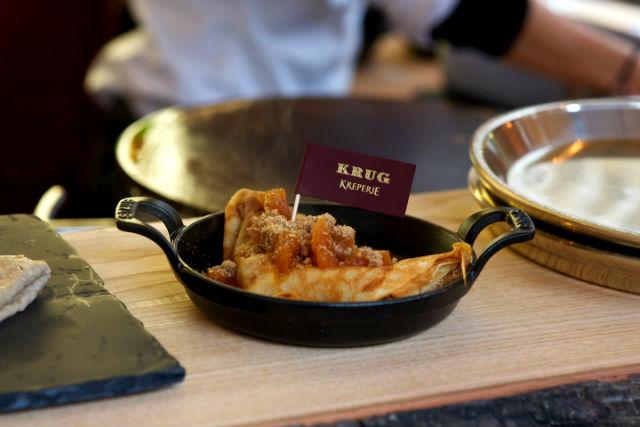 When seated you can choose from one of the six sweet or savoury crepes created for the Krug Kreperie, these include a Crab crepe, a Caramel, Apple Crumble crepe, or Pistachio with Caramelized pistachio nuts, inspired by Pierre Koffmann's famous Pistachio Soufflé. Each crepe is paired with a glass of Krug Grande Cuvée for £35. In all, it was a unique and delightful moment spent sipping, eating and forgetting that the Christmas shopping list was still unattended.  Apologies Lady Stirling.
The Krug Kreperie is now open in Covent Garden until December 8th, before moving to Koffmann's at The Berkeley from December 9th until mid January.