I first had this notion while chatting with a Turkish rock star in Istanbul, when I tried to draw analogies between our two crafts. I explained that wine, for me, is all about the stories; how it's come to be there, the country it comes from, the people who blended it, the weather and the climate, and the personality it conjures. Imagine you're in an orchestra. Each part is known for what it does, and has its own personality, and each section combines to make one finished piece of music. Think of those instruments as grapes, and the wine maker as the conductor or composer and there you have it.
Similarly, Krug are hosting a celebratory evening for the eponymous Grand Cuvée in partnership with the London Philharmonia Orchestra, an incredible digital, immersive installation in the heart of the capital's trendy East End, set to highlight the parallels between the creation of an orchestral symphony and composing the product that is the Krug Grand Cuvée.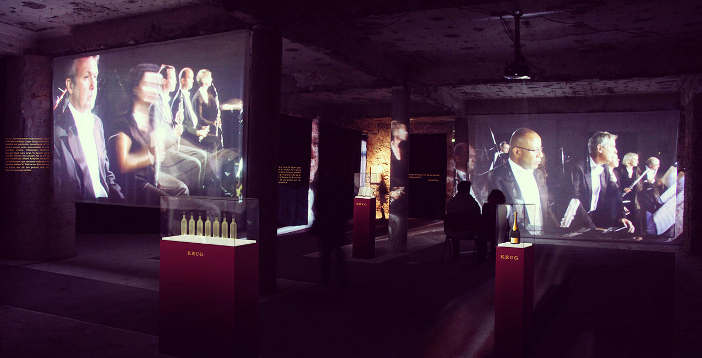 At the loading bay, Dray Walk, E1 6QL (that's just off Brick Lane for those of us not well versed in 'the knowledge'), we are greeted at the white-framed doors by attentive staff who lead us into the upper foyer. A bar bedecked in the thick, tactile, burgundy-coloured material that is Krug's signature cloaking covers our peripheral vision alongside clever interactive Krug stations, akin to self check-in machines at the airport. In the same way we are about to check ourselves in on a journey, one that is defined by carefully engineered musical notes and a bubbly wine tasting.
Downstairs to a background of theatrical black drapes we wind ourselves around this most unusual of experiences. Large screens display a recording of Stravinsky's 'The Rite of Spring' – an aptly performed musical work that lasts 36 minutes – peppered, at intervals along our subterranean pathway, with live instrument-clad musicians playing their own specific parts. There are seventy core musicians in this orchestra and they are currently touring the country, tonight at the Royal Festival Hall, tomorrow in Cardiff, the following night in Bedford. Last week they were in Moscow. This evening, however, each musician is paired with display cabinets of glass bottles that show an array of subtle, translucent colours, working in calculated harmony with the designated section of orchestra.
We begin with the bassoons and the clarinets. Both are likened to the Chardonnays from the mountains of Reims for their plaintive expressiveness, perfect for a romantic melody or, when agitated, for creating angular, accented textures and effects. Next up are the French horns and Wagner tubas, described as the black grapes from the south of the mountains. The French horn's mellow tone can turn a simple tune into something that soothes and lifts the spirit. It can also be tremendously powerful. Likewise the Pinot Noir grape – generous, flexible and expressive – is a harmony of power and elegance.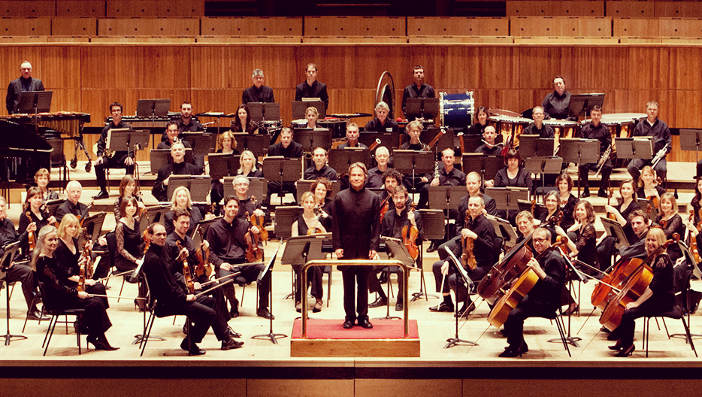 As this evening is all about experience, those who like to participate will not be disappointed – percussion fans can get readily involved – likened this time to the somewhat overlooked but necessary Meunier grapes, the third variety that goes into Champagne. Composed of multiple expressions depending on the plots on which they are grown. Sometimes very indulgent, flattering, accessible, while in other cases they reveal themselves as a support to the structure of the blend thanks to the freshness they can preserve. I bang the bass drum in time with the chief percussionist. Boom, bang, bang. My own presence now noted.
To create the Krug Grand Cuvée, cellar master or indeed composer/conductor Eric Lebel chooses a total of 120 base wines and over a decade of vintages to create the final 'liquide' – a weighty, personality filled, beautiful blend of the finest base wines – giving elements of restraint, elegance and explosion all at the same time. If anything, pairing music on this level only serves to show that both wine and music are art forms in equal balance, carefully crafted to a complex, multi-layered, perfected end. It is also an evening that seeks to underline the wondrous sense of occasion that a sophisticated pairing of classical music and Champagne invokes, whilst keeping it 'real' on the streets of London's ever-hips Shoreditch.
Experiences cost £60 for an hour and a half of musical immersion and two glasses of Grand Cuvée champagne. Runs from 7th-11th April. For more information and tickets, visit the website.