This trip has not gone to plan. I thought the school representative's absence at the airport would be an isolated teething problem – it was nothing a bit of web-searching for phone numbers at KL International Airport Burger King and a spot of borrowing a friendly Malaysian businessman's phone couldn't solve. Indeed, once contact was made and Jack, the driver, heaved my baggage into the back of the open-windowed minibus and the Best of The Beatles was blaring from the tinny soundsystem, I thought I'd hit the big time! He whisked me to the school to pick up the keys to where I'm staying.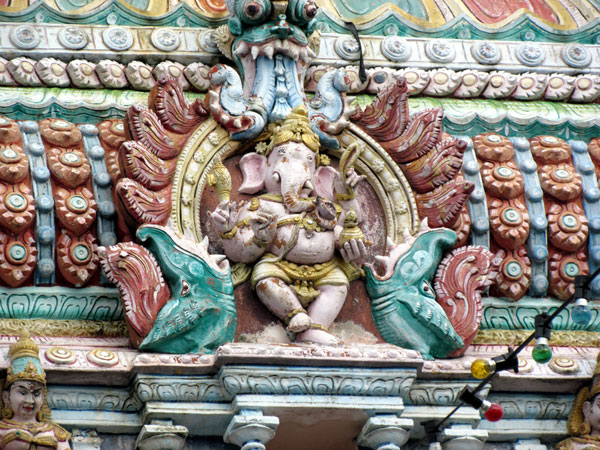 The school is an enormously impressive building site. Granted, it will be amazing when done, but it ain't done yet. So we pull up. Jack calls an immaculately suited Dr. Brice from within, who duly greets us, hands over some keys and advises that my room is the unlocked room upstairs. Obviously I want to know what happened to my own individual condo; he says I'll be staying with him for a while.
Jack chuggs me another 15-20 minutes down endless highways skirted by fields upon fields of palm-oil plantations to a neigbourhood called Kota Seriemas consisting of a mind-bogglingly large grid of new-build semis with a raise-gate security-guard monitoring access from the little round-about. As we pass, behind another car, the bar comes swinging down, smack across the windscreen. I saw it coming – fast – and possibly could've shouted something in time. The bar bounces off, spins backwards on its lever-arm and Jack clambers out to straighten it out. I afford a chuckle but the wrinkly Malay woman at the desk isn't amused.
The house. Clean and modestly big. Childish scrawl in crayon on the white wall. And bare: my room has a double bed with cushion only. I bless my decision to go ahead and stuff the Kuwait Airlines blanket into my hand luggage.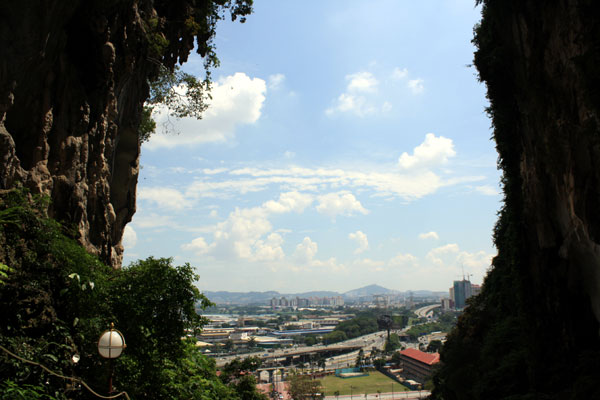 A spot of unpacking, a quick shower, and I lie down to read a little more of The Northern Lights, book one from His Dark Materials. At least I'm not shivering near the North Pole.
The most important thing is never to panic. Dr. Brice said he'd be back around five o'clock. He seemed friendly– big smiley fellow. Jack says he's from Cameroon. Apparently a couple of the other teachers stay here also. They'll know the situation.
And sure enough, they do. In fact, Adam, a sharp, silver-haired and slightly rotund Brummie in his early forties, is moving out that evening. The school have just shown him to his house. He invites me to dinner at a local place after he's unpacked – he, Jon, a gruff mathematics teacher, and an Aussie science teacher named Malcolm are going for a Chinese at about seven.
Basically, what I discover is:
a) This is the Cempaka International Ladies College (the third big Cempaka international school of Kuala Lumpur) first year of intake. Total number of pupils: 19. Aged 11-16.
b) The school does indeed move you out into your own place once they get a vacant one, which usually takes one or two weeks.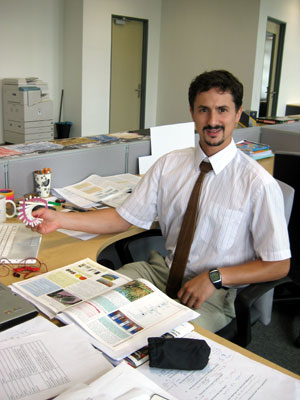 c) Everyone thinks I'm an English teacher.
My contract says I start on the 12th, Monday, but I flew out a couple of days early to acclimatise. But now they're expecting me in on Friday, the day after I landed, so I set the alarm, knock back another sleepy-pill, wake up for a run at 6.30am and eventually find my way back to shower and put on a smart suit; there is a big prize-giving at the Cheras campus, which opened six years ago, that night.
I go in and tell the deputy head, Chick Noir, that I'm a science graduate and I can't teach English. She hands me my timetable – only two lessons that day; periods one and two. We'll sort it out, but the children are expecting Mr Eliot, the new English teacher, please can you help out? The first lesson starts in 15 minutes. Clearly I haven't prepared anything! Please, just go and introduce yourself and help out.
Well, in for a penny, in for a pound. I knock together a lesson plan for the first period based on a passage I find in the textbook that I opened at random on page 16. Class of four chirpy little things take turns reading the passage, one paragraph each, except for Claudillia who's singing opera at the prize-giving tonight and has to save her voice. So I read her bits. A couple of quick written questions on the passage later (Chick Noir suggested I get them to do a spot of writing so I can use that time to prepare the second lesson), and then it's onto literal meanings and deeper meanings. "'You haven't seen anything yet!'" appears in the text and I seize upon this as an admittedly slightly unorthadox example of a metaphor. We agree it isn't meant literally and proceed to come up with some of our own: the car flew down the motorway, yadda, yadda – all good stuff. I take in their books and later draw ticks and smiley faces and write "very good" in red biro.
I choke the second lesson.
I call the agent who got me the job, I call HR. Everyone says "okay, okay, we have a meeting on Monday afternoon, please help out for now. There must have been a miscommunication." I look Chick Noir in the eye and say "I gotta plan Monday's lessons, don't I?" She says "yes".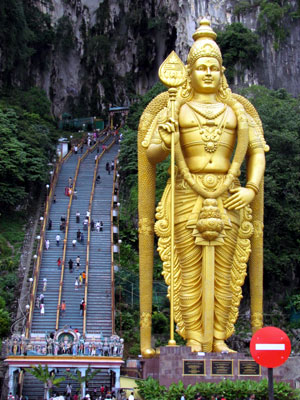 The Cheras campus is highly impressive, the ceremony long, but Claudillia is magnificent. I greet Dartin, the Chairman (a woman) and take the chance to schmooze her husband. He's interested to hear I'm really a scientist and he prompts me to describe my PhD more fully. He says his latest interest is Darwin's theory of Evolution. I exclaim, "my personal opinion is that those who do not believe in evolution have failed to understand it". He nods vigorously.
The English department is one of three to win a prize. Departments at my school never won prizes. They got 100% of students A* at iGCSE in English literature last year. 100% A*. I also discover that the 20th November term-finish only applies to the Cheras campus as they started weeks before CILC. Meaning I may have to change flight/walk out. Many would have walked already. The thought of booking into a youth hostel and having a six-week holiday has crossed my mind more than once.
Solo mission round KL today. My school and my house are one hour's drive away so I got a lift to the airport and a coach in. Good fun, I've bought alot of street food and not a little tat. Spent hours in this internet cafe downloading iGCSE syllabuses and past papers. Orwell's 1984 I know, the Seamus Heaney poem 'Digging' was an Enfield Grammar School favourite, and there are a few appropriate titles I always meant to read: Lord of the flies or To Kill a Mockingbird. Any suggestions?
We'll see what happens at the meeting this week. The most important thing is never, ever to panic. The adventure continues…