"Just one drink" is that perilous phrase spoken when acquiescing to join a group of friends who simply won't accept no for an answer. Once uttered, both speaker and listener can be sure that one drink will lead to another and before you know it you're clinking champagne glasses with a group of suited Swedes, shouting "Skål!" and clutching a vodka shot with a sparkler sticking out of it.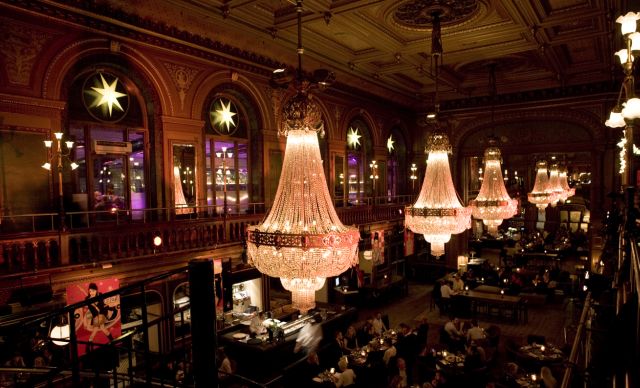 And so it was at Berns, on an otherwise typical Friday night in Stockholm. Berns is an 82-room boutique hotel in the city's business district, and a prominent force in Stockholm's night scene. Not only does it have two acclaimed restaurants, a summer terrace, bars, a nightclub and a concert venue all under one roof, but it is owned by the entertainment group responsible for some of Sweden's swankiest bars and nightclubs. Let me make one thing clear up front: if you're looking for a calming retreat in the city centre, look away now. No one, dear reader, comes to Berns to sleep.
Our fifth floor room overlooks the rooftops of Östermalm and is bright and modern – a world apart from the crystal-chandeliered dining hall that Berns is famous for. Small but intelligently designed, with all the modern necessities: iPod dock, towel heater and giant flatscreen TV that swivels on a column so you can watch it from the bed or the opposing couch. Everything is stylish – from the art (fashion-themed, following Berns' hosting of Stockholm Fashion Week), to the designer linen.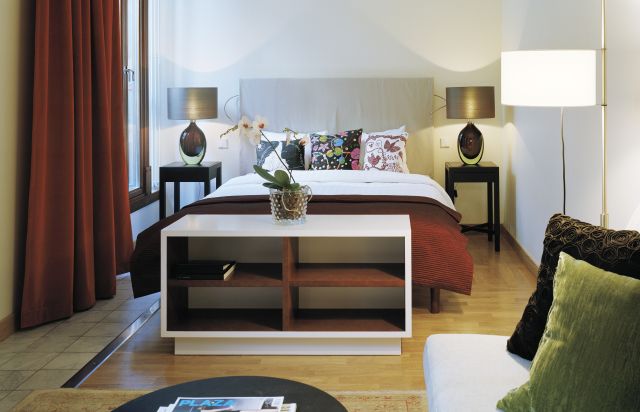 Berns makes no secret about who has slipped between its sheets – its staff and website demurely name-drop its history of high-profile guests. Everyone from the Dalai Lama to Lady Gaga, Blur to Buzz Aldrin have stayed here. Aretha Franklin, Bob Dylan and, more recently, Rihanna, have all played to a packed audience in Stora Salongen, one of the country's leading concert venues.
We started the night at Berns Asiatiska (literally: 'Asian'), in the vast dining hall. Its gargantuan Viennese chandeliers and coffered ceiling are more belle époque than Asian, and evoke the bar's decadent past: first a patisserie, then a chorus theatre, and now a restaurant-cum-party palace. Asiatiska's menu follows the Japanese kaiseki (multi-course) method and we soon find our table piled high with sashimi, steaming pork dumplings, gratinated scallops with fly fish roe, and hoisin-glazed spare ribs.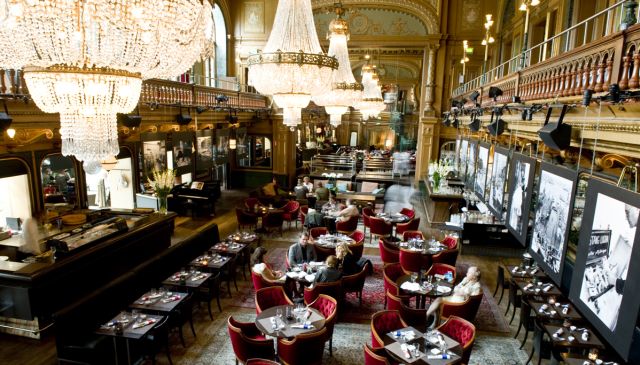 Though it may not be the most authentic Asian cuisine, the food is almost as delicious as the restaurant's history. There is a terrific tale of intrigue involving the Chinese Theatre next door: the story goes that during World War II, the actors, unable to return to China, were offered jobs in Berns' kitchen. Drama ensued – details are blurry – but let's just say there was a love triangle, a jealous rage followed by a violent murder, and repeated assurances that no one ended up in the food.
But times have changed and the drama has been replaced with an exuberant air. After dinner, the restaurant fills with revellers and the music turns up. With the help of our new friends, our 'quiet' drink turned into many and it was 3am before we bid our farewells and slipped into the elevator. Drinks don't come cheap in Stockholm, so if that was a quiet night, I pitied my poor bank balance for tomorrow.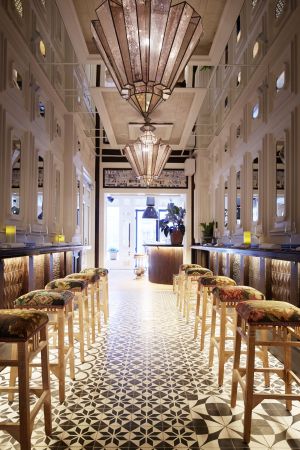 The next morning the hall gleamed immaculately, as if the previous night's frivolities were just a dream. We enjoyed a lazy breakfast before realising we had been in Stockholm some 18 hours without actually leaving the hotel. Feeling as if we'd committed a sin against the very principle of city breaks, we plunged into the cold air and headed – as all good tourists do – to Gamla Stan, a short walk from the hotel.
That night we feasted at the über-exclusive Berns-owned Nosh and Chow, opened this year on Norrlandsgatan. Tables are hard to come by at this elegant townhouse – a warren of dining rooms and bars – but strings are pulled for Berns guests. Interiors are designed by "urban architect" Lázaro Rosa-Violán and filled with artefacts from around the world: maps found in Tokyo markets, lampshades from a Polish hockey rink, and original tiles made for Barcelona's Sagrada Família.
It's the perfect setting for an equally diverse meal: influences are drawn from different, alternating regions around the world. A starter from Peru, followed by a Moroccan main and a selection of Alps cheeses, perhaps? After dinner, those in the know (and who can get in) visit Bernie's Bar, a too-trendy-for-words members-only speakeasy in the restaurant's "yard house".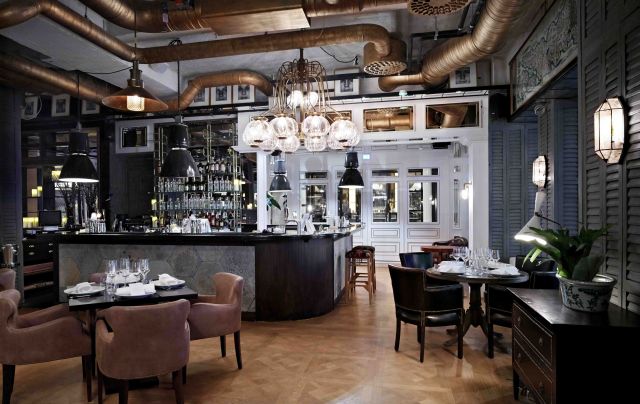 As the night goes on, Berns guests will inevitably end up at Gallery 2.35:1, an exclusive club in the hotel's basement. It's also members-only, but Berns guests grow accustomed to having doors opened for them. It's all part of the "Berns makes your weekend rock" premise – a wristband for weekend guests that not only grants you access to some of the most exclusive bars in town, but lets you skip merrily past the queue.
After two nights of giving Stockholm's bars a run for their money, a 2pm Sunday checkout is a welcome gift. With a few hours before our flight, we relaxed in the dining hall and enjoyed the afternoon tea dessert buffet. Of course we were reluctant to leave – one gets used to being a VIP. For a hotel adept at name-dropping its celebrity guests, it sure has a knack for making you feel like one too.