Celebrating its 125th birthday this year, The Cadogan Hotel is one of the oldest hotels in London – a stylish red brick Edwardian townhouse. Built in 1887, the hotel is famous for having hosted two Victorian stage legends; the flamboyant playwright Oscar Wilde and music hall singer and stage actress Lillie Langtry – often nicknamed 'The Jersey Lily' after the title of Millais' portrait of her, and in reference to her Channel Island upbringing as the only daughter of the Dean of Jersey. Lillie was also well known for being the mistress of the Prince of Wales, Albert Edward, fondly known as 'Bertie'. Later Edward VII, his reputation as a serial philanderer was the talk of London society throughout the late nineteenth century.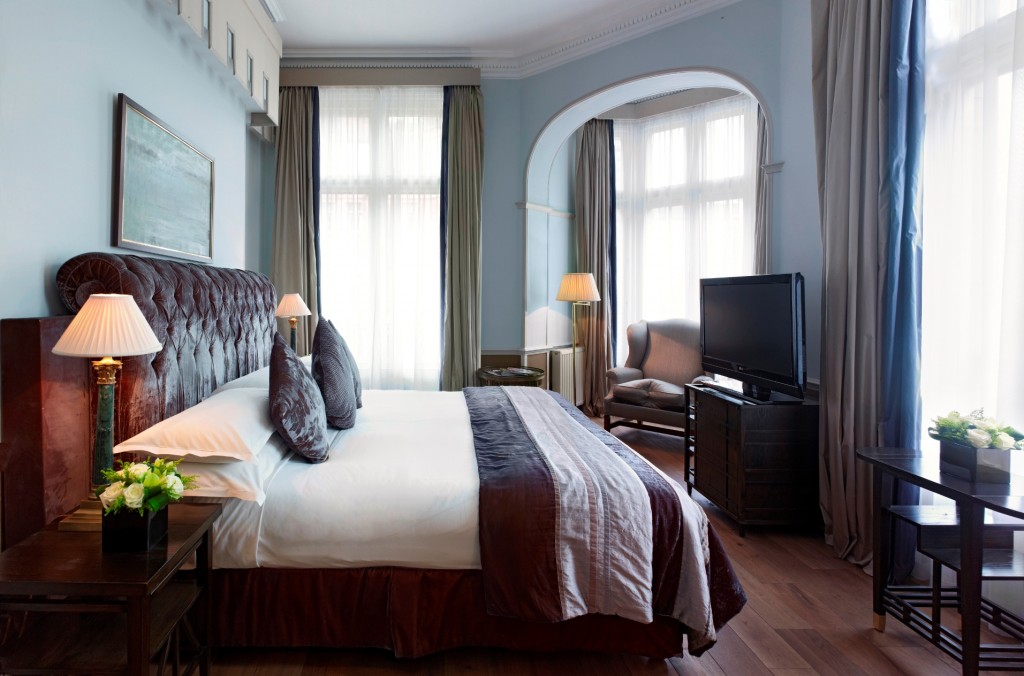 Oscar Wilde, who lived in nearby Tite Street with his wife and two sons, was a regular visitor to The Cadogan where he would host friends, including James Abbott McNeil Whistler and Lillie Langtry, who lived at 21 Pont Street from 1892 before the apartment was later absorbed into the rooms of The Cadogan. Opening in 1895, Lillie remained in her original bedroom until 1897 – a blue plaque celebrates the fact outside and it is rumoured that she haunts the hotel to this day. Just months after the opening of the hotel, Lillie's friend Oscar Wilde was infamously arrested in room 118 where he was charged for "committing acts of gross indecency with other male persons" immortalized by poet laureate John Betjeman's tragic poem entitled The Arrest of Oscar Wilde at the Cadogan Hotel.
"Mr. Woilde, we 'ave come for tew take yew
Where felons and criminals dwell:
We must ask yew tew leave with us quoietly
For this is the Cadogan Hotel."
Wilde, who was understandably reluctant to leave the plush surroundings of The Cadogan, was later found guilty and sentenced to two years hard labour. Guests can now stay in room 118 – the Oscar Wilde suite. Overlooking Cadogan Gardens, the room is styled with leather upholstery, dark oak flooring, and contains a replica of Wilde's smoking jacket. The Lillie Langtry suite, the actress's former room, strikes a more feminine note with floral wallpaper and an original Victorian fireplace, sensitively re-imagined with the assistance of hotelier Grace Leo-Andrieu during the hotel's 2004 refurbishment. The other 63 rooms belonging to this boutique gem are a blend of cosiness and modern elegance. Described by many travellers as a 'home from home' – the rooms are decked out with all the accoutrements you'd expect from a luxury boutique hotel; Ipod docking alarm/stereo, LCD television and DVD player, The Cadogan have modernised just enough without taking away any of the charm I'd hoped for.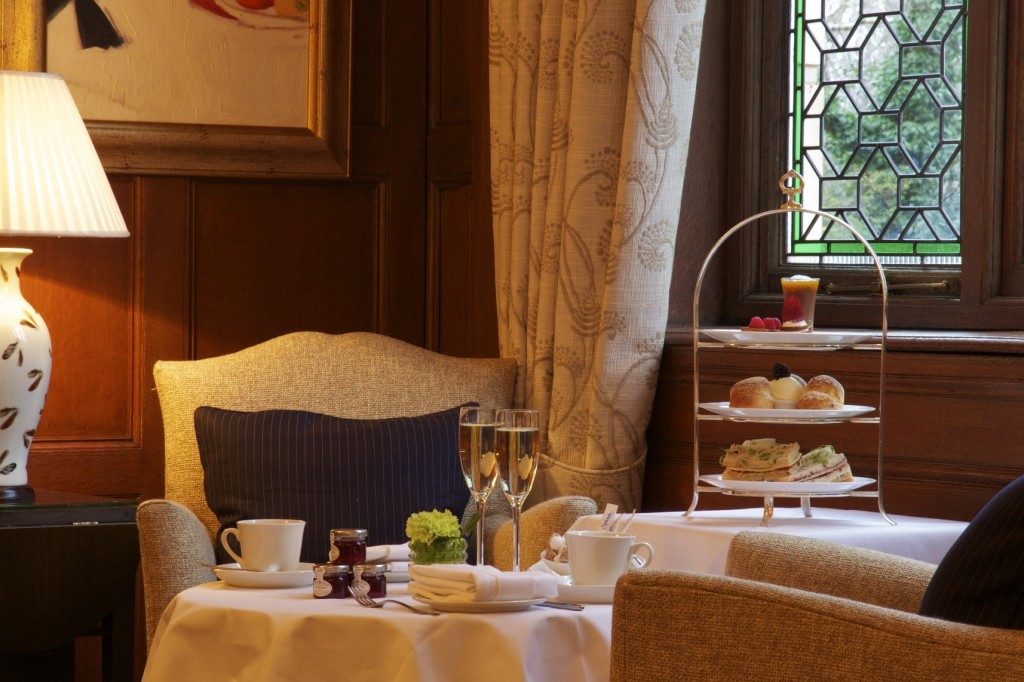 Standing on the corner of Pont Street and Sloane Street, the hotel remains ideally located for guests wishing to relax over afternoon tea in the panelled Drawing Room after a day shopping in fashionable Knightsbridge, or partaking of a cocktail before  an evening concert at The Cadogan Hall. The Cadogan is the perfect haven away from the hustle and bustle, harking back to old-world traditions and discreet service.
Formerly known as 'Langtry's' the smart restaurant, with its high ceiling, gilt framed chairs, chandeliers and original plasterwork, has recently partnered up with the 'Great Taste' awards to incorporate prize-winning ingredients into themed menus which will change each month, designed by renowned food critics. The Cadogan are the first to work with Great Taste in this way; a concept they hope will entice a new non-guest clientele – a natural, yet innovative pairing of the finest British produce and one of London's most historic venues. We were shown to a romantic table by the window, adorned with a red rose, but were surprised to find only six other diners – explained by the waiter as due to the uncharacteristically quiet summer in London. Great Taste products were prominently displayed in the corner of the room, even down to the branded oil bottles on our table.
We sampled the beer-inspired menu designed by food writer Charles Campion and beer writer Pete Brown, who have worked alongside Head Chef Oliver Lesnik to highlight the finest British ale. If like me, you find it difficult to envisage a seemingly hearty choice of pies, stews and chops being 'gastronomic', you might be surprised to hear that the food was elegantly presented and intensely flavoured, proving that ale really can be used in refined dishes.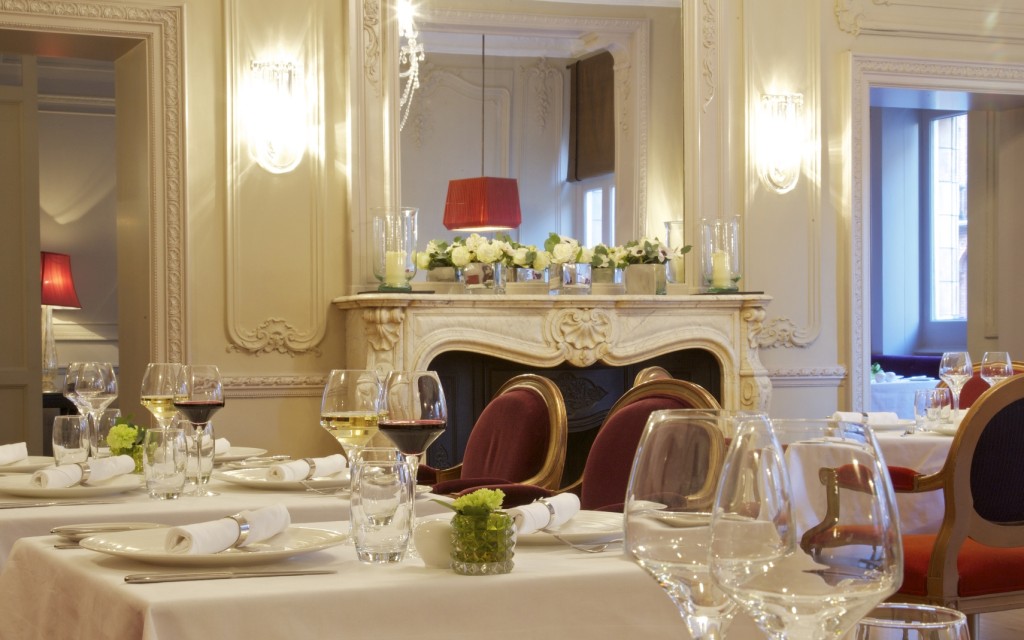 The menu description hardly did justice to my treacle cured salmon with a beer glaze or my cured Gloucester Old Spot double chop. The pork was succulent and cooked a touch pink, just as I prefer, served on a wooden board with a fried duck egg, matchstick potatoes, and accompanied by a small jug of the most comforting cider and granny smith cream. My chap went for the beer braised ham hock Scotch egg with watercress salad and Hollandaise sauce – the egg yielding its yolk rather sexily, the crumb crispy and golden and the ham deliciously piggy. He followed with beer braised Ox cheek with horseradish mash, buttered carrots and hispi cabbage. A knife and fork were hardly needed to delve into the slow-cooked unctuous meat; a spoon would easily have sufficed. And the generous serving of the glossy beer-rich gravy was as fine a way of serving Ox cheek as I've ever seen – if a little wintry for the time of year. The chocolate, prune and ale brownie with poached prune and vanilla ice cream was fit to be served before the most dedicated brownie lover; a rich, gooey delight with a tangy fruity note – the ale being unnoticeable save for the slightly spicy character. Thankfully we decided to share the brownie in order to leave room for the cheese – a selection taken from the World Cheese Awards, including a three times gold medal winning Gruyere and the deliciously creamy Caveman Blue, produced in the artisanal cheese region of Central Point, Oregon.
Other menu designers include Fay Maschler (Evening Standard), Xanthe Clay (Telegraph), Thomasina Miers (MasterChef winner), Lucas Hollweg (Sunday Times) and Nigel Barden (BBC Radio 2). Just £23 for two or £28 for three courses represents excellent value and hopefully signals a turning point in the restaurant's popularity, a huge step away from the once imposing dining room frequented by well-heeled locals.