The low-hanging clouds and steely grey sky are ominous signs as our bus traces the lush Costa Verde, leaving the bright lights of Rio de Janeiro behind for the cobblestoned streets of Paraty. On the upside, the four-hour drive takes us past picturesque bayside villages and soaring mountains blanketed in verdant rainforest, offering us a glimpse of things to come.
We'd heard nothing but good things about Paraty, a Portuguese colonial town founded in 1667; famed for its well-preserved historic centre housing Baroque churches, romantic restaurants and charming, whitewashed buildings with candy-coloured trim. The southernmost city in Rio de Janeiro state, Paraty is perched at the end of the ancient "Gold Trail," (a paved road built by African slaves to transport gold out of the Brazilian interior), overlooking the Bay of Ilha Grande and its stunning patchwork of dreamy tropical islands.
As it turns out, hoping and praying for a meteorological miracle isn't enough, with heavy rain greeting us on arrival. This is normal, we're assured; Paraty's position nestled between mountains and the ocean means it's no stranger to the odd downpour. As our whistle-stop tour gives us only two days in the region, we don't want to miss out on the must-do activity in Paraty: the island-hopping boat trip. That said, if we've no choice but to see out the storm holed up in our hotel, we've chosen the right place to hide away.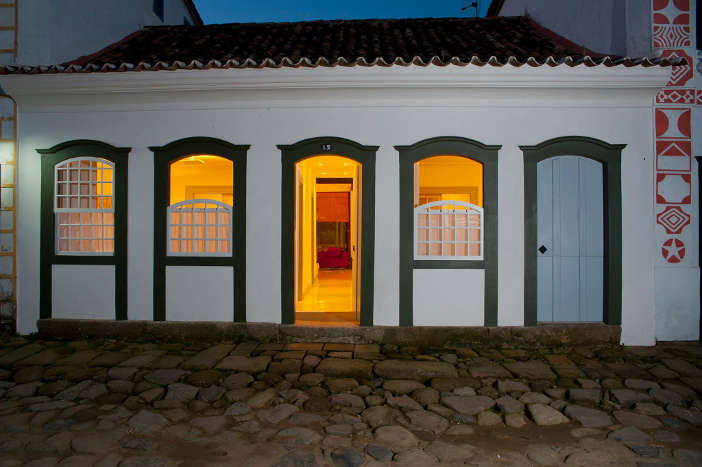 From the outside the Casa Colonial 12 looks like any other building in the historic centre, with its bright white, handsome 18th century facade. But as we step beyond its doors there's an easy elegance about this luxury guesthouse that instantly makes us feel at home. Situated in the heart of the old town and a few steps from the port, the stylish and immaculate Casa Colonial 12 is awash in beautiful bespoke pieces of art by local artist Marcio Franco. In the light-filled open plan dining and lounge, the iPod, glossy magazines, Nespresso machine and brand new Havianas (to wear while inside the house) are all thoughtful touches.
Pressing play on the iPod, we let the sounds of Sergio Mendes, Gilberto Gil and Tom Jobim serenade us as we explore the rest of the property. Stumbled upon by Englishman Simon Clift some 15 years ago, the house was found in a dilapidated state and subsequently restored over three years from 2008 to 2010, with many original features brought back to life by local artisans and craftsmen using ancient techniques.
Our spacious room is one of three but the only one located upstairs, and features a king-size bed and polished wooden floors. A bathroom with all the modern fittings is found at the far end of a walk-in, or rather, "walk-through" wardrobe, where we're invited to help ourselves to the contents of the minibar. Our only gripe however, is that the room's window overlooks the living area from above (mezzanine style), forcing us to keep the blinds permanently closed for privacy, and devoiding us of any natural light.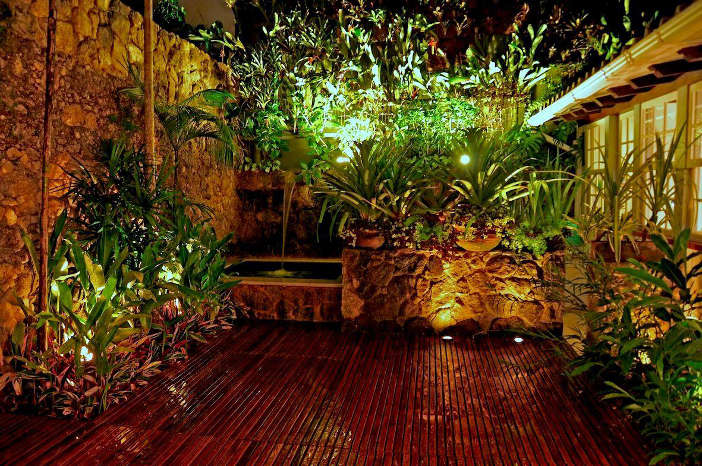 The next morning the rain hasn't eased, dashing our hopes of eating breakfast alfresco on the patio abloom with orchids, ferns and palms. But the café da manhã – a hearty homemade spread of scrambled eggs, ham, pão de queijo (delightful, squishy, cheesy bread rolls) fresh fruit and moist, fresh-out-of-the-oven banana bread goes a long way to lifting our spirits. After mulling sightseeing activities, we opt for a tour of the nearby rainforest, home to stunning waterfalls, swimming holes and a slew of cachaça (Brazilian sugar cane rum) distilleries. So with the promise of a solid afternoon of taste-testing, we set off – and not even the drizzle can keep us away!
We're meant to head back to Rio de Janeiro the following morning. But when day breaks, revealing a dazzling, cloud-free sky, we know what we must do. Wandering down to the port, we join scores of other tourists eager to get out on the water following the sun's first outing in days. Dozens of boats in a rainbow of colours gently bob up and down in the bay, their skippers hollering out a "good price" as they jostle for customers. All we have to do now is take our pick…Rio can wait.
Casa Colonial 12, Rue Samuel Costa 12, Centro Historico, Paraty, RJ, 23970-000, Brazil. Tel: +55 24 7814 3603. Website.