A deep assembly of intangible voices throttles my slumber, merging momentarily, with the memory of the hubbub of wedding guests including food wizard, Heston Blumenthal, who had crafted an enormous cake, until my eyelids flick, like spinning Jackpot carousels, wide open. A magnificent lump of well-worked crystal hazily glitters into view. I have been gripped sad by the ears by a radio alarm I do not recall setting, but my eyes are glad…
The wedding had been a 17-hour shift. As sommelier, I opened bottles for 400, somewhere closely-mown under a Queen of Puddings-like tent deep in Gloucestershire. My palms, gnarled by the foils of capsules, felt frozen – still in a claw. They had bled after becoming stained by the tannic ferment. Virtually no sleep followed; instead, a complicated journey to the airport, worsened by yet another train track patch-up on my local line.
In the warmly-lit bathroom, a small but handsome analogue clock, crafted by a now defunct firm, built into the steam-free plate mirror reads 7:03am. I look at my temporarily aged hands, and urgently lather them with the aromatic Asprey wash. I look into my eyes, a Stracciatella of fatigue, and watch as a flicker of optimism for the day ahead blurs some of the strain away. I look down at my lumpen feet, being claimed by gravity, yet calmed by the weave of the Turkish rug. I begin, mentally, to look respectable to take the tour of Prague's first five-star hotel, where I have awoken.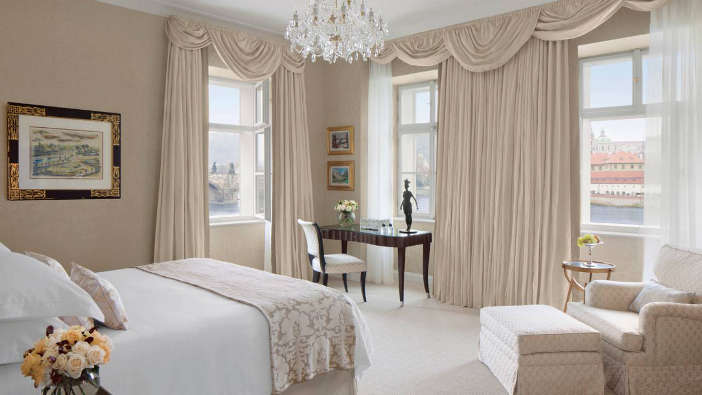 When it is time to clean the chandeliers including the one in my room, the director of housekeeping loses colour – says the oomphily-named PR captain-ess, Martina Vavrova – who is soon whisking me around the four buildings that comprise the site of the Four Seasons. These include the Neo-Renaissance House, commissioned by an ambitious fish merchant named Podhorský, replete with domed roofs and, inside, 'onion' plates; an older Neo-Classical House built as a factory and converted into apartments with graceful cornices; and the oldest Baroque House, with crimson tromp l'oeil, whose DNA dates from 1568. Walls here often measure over two feet thick. Uniting past with present, another building, by local firm, 'Dům a Město' leads me to take a lengthy pause. "It's like touching the river," says Vavrova, noticing my awe, of the view through the plate glass walls of the River Suite. The Vltava, by the Charles Bridge, near the disquieting Kafka museum, is a wide band of water.
"There were problems of course, even more than usual," wrote founder and chairman of Four Seasons Hotels and Resorts, Isadore 'Issy' Sharp in his autobiography, when considering opening in Prague. "One was that Ritz-Carlton also wanted this land. Another was buying the buildings, two owned by the city and the government and one by a family named Czechis. They had the biggest and most difficult to negotiate of the three sites…"
I learn, from the comfort of a pull-down seat I discovered in the lift, that it took a decade to buy the three buildings. "We drew up an architectural design for approval," Sharp wrote. "But local architectural groups were concerned, some genuinely so, about what we might do with this important historic location, though others simply wanted to be paid for their approval."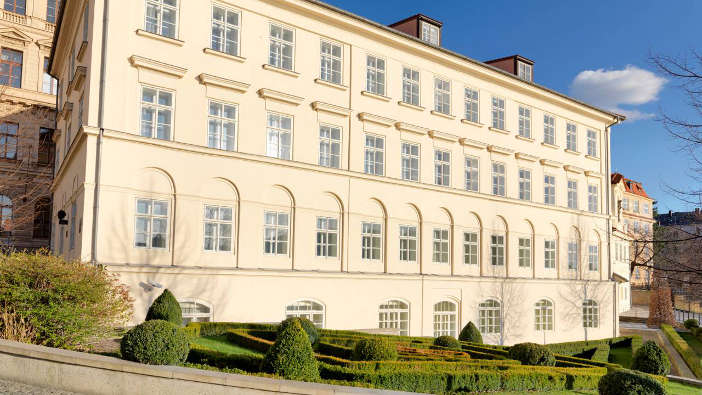 But, on account of the "dogged determination" of Tony, Sharp's youngest son, "to conclude a job that everyone said couldn't be done," the hotel opened in 2001, 12 years after the Velvet Revolution. But it would be anything but a cushy launch. Vavrova recalls, "In 2002, floods saw us close for eleven months – but we kept (redistributed) all of our employees."
In the lobby, vases are so tall that flowers appear almost to drown. Music, with bass somewhat drained, drifts like the tendrils of perfume, from bar cocoons, where beer cocktails seem a good idea in a city where beer can be cheaper than mineral water. An actual perfumer works in a vestibule below. Buoyed by coffee, buoyed by the prospect of beer, buoyed by the bright day, and buoyed by an instinct to explore this enchanting city, the hotel organism has begun to replenish the stock of smiles I so often so readily give to complete strangers on elongated sommelier jobs. Given to celebrities who have seen me, been served by me, more times in a month than I may have seen my friends, but who will rarely recall nor consider who I am – unless I may have done something wrong. "So long as you have food in your mouth, you have solved all questions for the time being," said Kafka, whose dark museum unravels on the opposite bank. And I walk on from the fulsome cocoon that is the Four Seasons, a sometimes ghost of gastronomy, towards the next sapid experience…
View Hotel Info, Rates & Availability
Where to Eat
Cotto Crudo at the Four Seasons boasts possibly the world's best grissini, followed by a menu of, as the name suggests, cold or cooked cured meats and fish. Try a beer cocktail aperitif on the terrace.
Dine 66 metres above the city at Oblaka ("clouds") at Žižkov. The polarising television tower evokes a rocket and gantry, and is ascended by sculptures of crawling babies. Try lightly-grilled king scallops with truffle purée and brown butter foam, and ask the sommelier to recommend a Czech white alongside.
Just tucked off the tourist trail, the recently-relocated Zdenek's Oyster Bar, Staré Město offers couth cooking, such as a Josper-baked iron pan of mussels, prawns and octopodes, despite startling S&M-themed menu art.
Muj Salek Kavy fits the zeitgeist of edgy but emerging Karlin, Baristas brew organic, fairly-traded coffees from beans sourced from Central and South America and Africa. Pancakes with dollops of sour cream make a great breakfast. The terrace is a decent spot to catch summer's fleeting rays.
How to Get There
Taking approximately 1 hour 30 minutes from Stansted with a GMT +1 time difference, EasyJet and Ryanair offers non-stop flights. A return transfer via excellent Prague Airport Transfers costs approximately £34.
For more information, visit the official Prague tourism website.