Having spent a considerable amount of time in Sydney, it never ceases to amaze me how taken I am with her on each visit. Each rencontre is as if we had never met, where I never fail to appreciate her dazzling charms. She is at her best on a glorious summer's day; boats pottering about the harbour, skirting its curves from Camp Cove to Rose Bay, meeting at Circular Quay where the iconic Harbour Bridge and Opera House dominate and command attention. It's a scene I am mesmerised by, even more so from the dizzy heights of the 34th floor of the Four Seasons Sydney. The hotel's uppermost floor, it is also our home for the next couple of days, where the Royal Suite offers sweeping vistas of Sydney harbour, the lower north shore and beyond.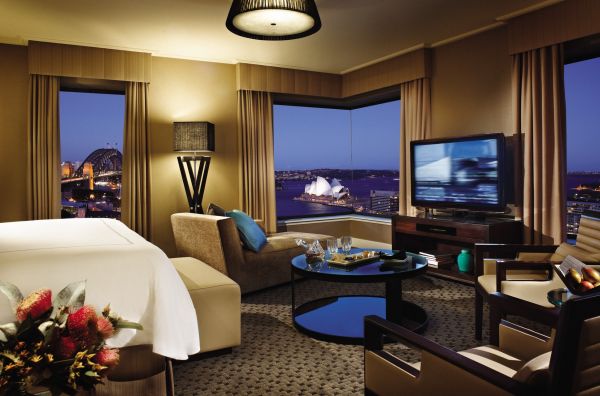 Monsieur and I checked in late on a Saturday afternoon, just in time to see bride after bride (three, or was it four?) glide across the lobby, resplendent in shimmering ivory and coiffed to perfection. An efficient check-in means we don't waste any time claiming a spot in the Executive Club, where aperitifs and canapés are served every evening until 8 o'clock. Situated on the 32nd floor, the best perch is adjacent to the well-stocked bar (or rather, the help-yourself-alcohol-cabinet-don't-mind-if-I-do), with views of the historic Rocks precinct and Walsh Bay. Cognac in hand, we settle into our armchairs, watching the sky fade into dusky pink and fiery orange, eventually giving way to city lights glimmering in the darkness.
With a reservation at Kables and an aperitif that was beginning to wear off, we drift downstairs for supper. Spanning a vast mezzanine level, the Four Seasons' restaurant overlooks the lobby so there was (unfortunately) no escaping that dining-in-a-big-hotel feel. But rather than rely on jaw-dropping views or even fancy décor, Kables allows the food – simple but quality Modern Australian fare – to speak for itself.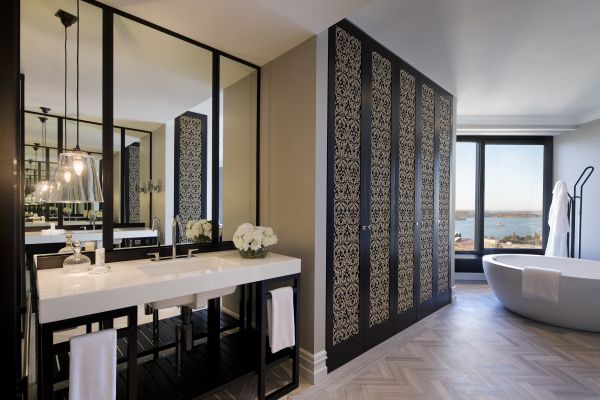 After careful deliberation and two flutes of Mumm champagne, we began our gourmet marathon with a dainty serving of Petrossian caviar, accompanied by neat rows of classic garnishes and a drop of Grey Goose. Our second entrée of seared scallops and Jerusalem artichoke purée was a melt-in-your-mouth delight, while a fruity 2005 Tyrrell's HVD Semillon unveiled the dish's subtle hints of vanilla. Such an introduction to Kables' cuisine prepared us for the pièce de résistance: two handsome Grade 9 Wagyu sirloin steaks in all their marbled glory, served with sides of sautéed mushrooms and garlic butter-infused mash; the intense aromas combining to elicit sighs of appreciation before we'd even reached for the knife and fork. Each succulent morsel was savoured, alongside the creamy truffle aioli that seemed to elevate the meal from good to outstanding. Excellent recommendations from the friendly waiting staff had us swirling and sipping a 2007 Peter Lehmann Eight Songs Shiraz, before a light rhubarb panna cotta provided an appropriate finale to our fine dining experience.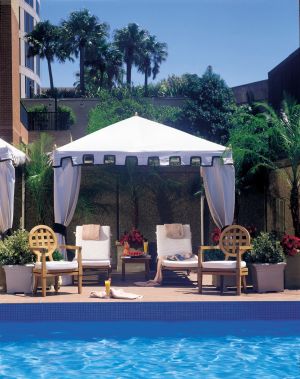 Nudging the tourist hotspots of the Rocks and Circular Quay, the hotel boasts one of the city's most prized locations in Sydney's CBD. Its guest rooms and suites are modern elegance personified with their clean lines, warm neutrals and dark mahogany finishings; not forgetting the requisite king-size beds, nor the luxurious marble bathrooms. In the Royal Suite, classic dove grey and bright white reign supreme from the spacious salon to the master bedroom, before double doors open to reveal an egg tub bordering a panoramic window. These windows, strategically placed throughout each room, ensure everyone shares a piece of that million dollar view. We admired the scene from our top floor suite on more than one occasion, and quickly learnt how difficult it was to drag ourselves away. But after two blissful days, even harder was leaving. A late check-out and a dip in the outdoor swimming pool (where we bumped into legendary actor John Cleese) went some way to easing the pain.
Four Seasons Sydney, 199 George Street, Sydney, Australia 2000. Tel: +61 (0) 2 9250 310. Website.