If I didn't know better, I could've sworn I'd wound up in a Brothers Grimm fairy tale. With its steep cobbled streets, towering city walls, gothic churches and houses painted in sorbet shades of lemon, peach and rose, Tallinn's Old Town hardly seems of this world, let alone this century. There are taverns where elk stew is ladled out by staff in medieval garb, snug subterranean coffee shops, and makeshift mulled wine stalls hewn out of ice. Perhaps in the summer it lapses into a jostling tourist trap, but near-deserted and snow-dusted in January, this place was nothing short of enchanting.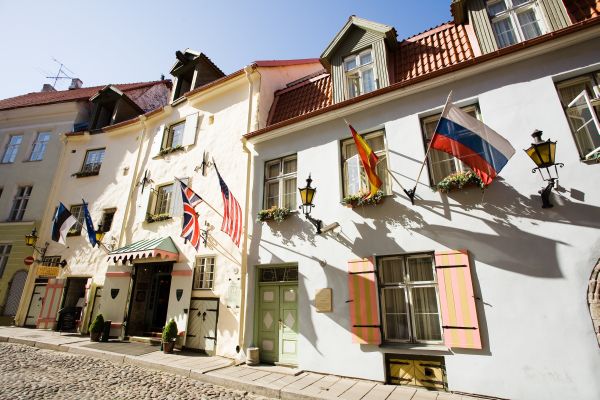 So, when it comes to hotels, the quirky boutique Hotel Schlössle fits right in. Its diminutive size and eclectic décor – treading just the right line between opulent and chintzy – makes it feel like an off-the-radar family guest house. But don't be fooled. This is one of the historic quarter's most luxurious offerings, a member of the Leading Hotels of the World group and named Estonia's Leading Hotel in 2011.
Picture this: you stumble off the sub-zero streets into a cavernous, exuberantly decorated room in which nearly every available surface is clad with vast Persian rugs, tapestries, oil paintings and quirky ornaments – think carved Buddhas and random pieces of armour. The heavy wood-beamed ceilings and antique furniture hint at the historical pedigree of the building: an adorably bashful porter mumbled to me that it dates back to the 13th century.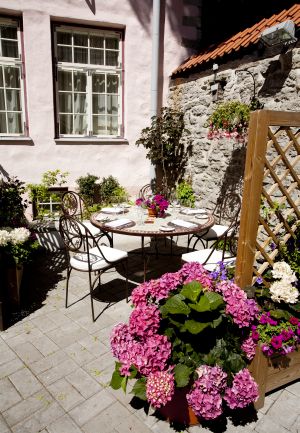 I sunk into one of several deep leather armchairs and was promptly brought tea and biscuits on a gleaming silver set to help me thaw out before heading up to my room on the second floor. On this note, one of the side-effects of being housed in such an historic building is that there's no lift. Fine for someone like me who needed to work off all the stews and pancakes I'd planned to scoff for 'insulation' purposes, but not ideal for the less mobile traveller.
In comparison to the cosily colourful lobby, the Schlössle's bedrooms are surprisingly neutral. Mine was airy and chic, with heavy taupe drapes and crisp white bed linen alongside the beautiful dark polished wood of the antique furniture. The 21st century was by no means kept at bay, though, thanks to the complimentary use of an iPad for the duration of my stay. No doubt everyone at home was thrilled to see regular smug updates about how much fun I was having in Tallinn while they were all back in the office and tackling the January blues…
With the Estonian History Museum and the Town Hall Square just at the other end of the street, Hotel Schlössle sets you very much in the heart of the Old Town. However, I must admit I was a pretty shoddy tourist, venturing only to the one aforementioned museum and spending the rest of my weekend in the cosiest watering holes I could find – the best of which, for the record, was Gloria's Wine Cellar, an atmospheric subterranean space built into the old city walls that's been offering a mind-boggling array of stellar vintages since 1937.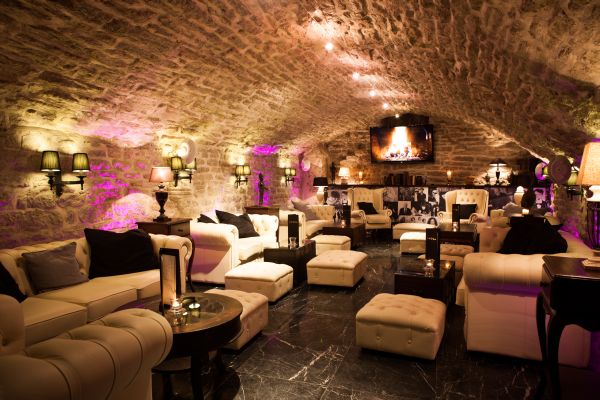 The Schlössle also has its own cavernous cellar bar, where you can sip cocktails beneath medieval candlelit stone arches, or dip into its dedicated Cigar Room to sample one of the house tobacco blends over a glass of Cognac. A free sauna and in-room spa and massage services further served to disrupt one's best sight-seeing intentions, as did the champagne they promptly and generously whisked up to our room when they worked out that it was my friend's birthday.
Beyond its yesteryear charms and unimpeachably polite staff, one final inspired touch served to cement this hotel's place in my heart: the complimentary bath-running concierge. After all, what could be more welcome than a steaming tub of Molton Brown bubbles awaiting you after trailing the snowy streets? Even if it's just back from 'sampling' vodkas at a nearby bar, when it's minus five outside I'm pretty sure that still counts as hard work…