Nick Hammond dons his linen suit, loafers and Panama hat to amble through the piazzas of fabled Florence, but finds it hard to tear himself away from a hillside paradise up above…
It's little wonder that swifts scream with apparent joy as they weave through blue skies surrounding the Gothic domes of Florence. I nearly did the same thing, and I'd only been on a two-hour flight from London's City Airport.
Exchanging a Stygian British morning for the sparkle of Florentine sunshine is certainly a restorative. Indeed, once I'd made my leisurely way to Il Salviatino Hotel – via a glass of beer in a city centre trattoria – I felt like an entirely new man. One perhaps draped in white linen and powder blue and looking cool and interesting, despite the considerable spring heat.
Il Salviatino is the sort of place where passing rock stars and movie idols spend their days lolling among the scented roses, rosemary and cypress. Like I did. The place is so mesmerising, sitting as it does atop a hillside and looking down over the aesthetic sprawl of this beautiful city, that frankly one keeps finding excuses not to leave.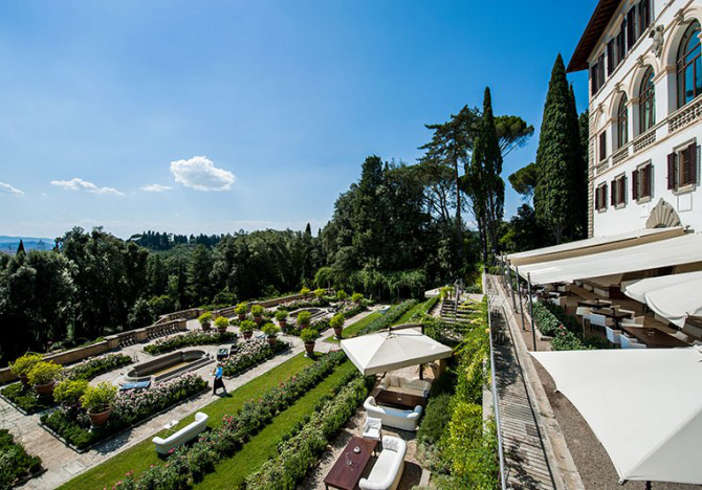 Planning a visit to the Duomo? Far too hot, let's take another dip in the pool instead. Time for lunch overlooking the Ponte Vecchio? Hmm. I'm still full after that Italian spread for breakfast. Let's take a nap on a chaise longue in the shade of the jasmine-scented pergola.
The hotel does its best to ease your exploration of this amazing Renaissance city by laying on a free hourly shuttle bus into town. But believe me, when you can sit in your bath and ponder the terracotta swell of the Duomo; when you can laze by the pool with a cool lemon soda watching lizards scuttle and listen to the soporific and soothing tones of turtle doves; when you can light an aromatic cigar in the artfully designed gardens and read an improving book – there's an awful lot of reasons to stick around.
And did I mention the food and wine? With the hotel's terrazza being the focal point of dining throughout the day during temperate weather – which, let's face it, is a lot of the time – an outdoor kitchen has been created adjacent to it and near to the sofas and armchairs which form the perfect place to enjoy a cocktail as the glowering sun slips beyond the horizon and waiters light scores of thick candles that gently illuminate the gardens.
The kitchen makes for great theatre as well as cuisine and seemingly everything is either homemade, homegrown or locally sourced. Thin, crispy, gnarly breadsticks, umpteen types of artisanal bread, great lumpy, tongue-tingling lemons, olives the size of eyeballs, pungent onions, sweet tomatoes slow cooked to unctuousness; nobody does cuisine quite like the Italians. If you're a gourmet, you won't feel let down at Il Salviatino.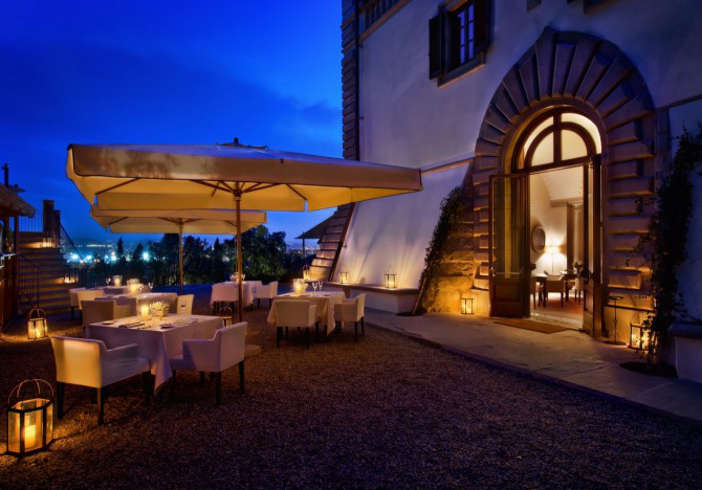 Of course, when in Tuscany, Chianti is the vino del giorno. And frankly, as the stars prickle through the velvet curtain overhead, you do find yourself wondering why on earth you'd ever consider drinking anything else. It's squid ink black and rich in truffly, humus, forest floor flavours. After a couple of slurps, you can feel it in your fingertips. Of course, there are plenty to choose from. I opted for the I Vironi Reserva from 2010, made closest to the hotel itself from 100% Sangiovese. It perfectly nailed the time, place and moment.
Eating is an intricate affair here – and of course the Italians have healthy appetites. Off we go with an hors d'oeuvres of Parisi egg (from chickens fed with goats milk, no less) cooked at 68 degrees, on potato foam and black truffle sauce. Sensational. Next followed a sort of lobster and aubergine mille feuille; a crepe-like, granular pasta with an incredibly deep, pungent cheese sauce called testaroli primi piatti; then amazing ravioli stuffed with amatriciana (ragout made from pig cheek and pecorino cheese) and roasted lamb with braised chicory. Finally I managed semi freddo with white chocolate, candied strawberry and green pistachio nut. I told you it was intricate.
Simply extraordinary dining, created with such delicacy and sureness of touch. An Italian Regional Edition La Escepcion cigar from 2011 finished the meal – still while sitting comfortably on the terrazza with an espresso – and punctuated an evening that will long linger in the memory. It was worthy of that fine meal too, an elegant, sweet, perfectly blended panatela.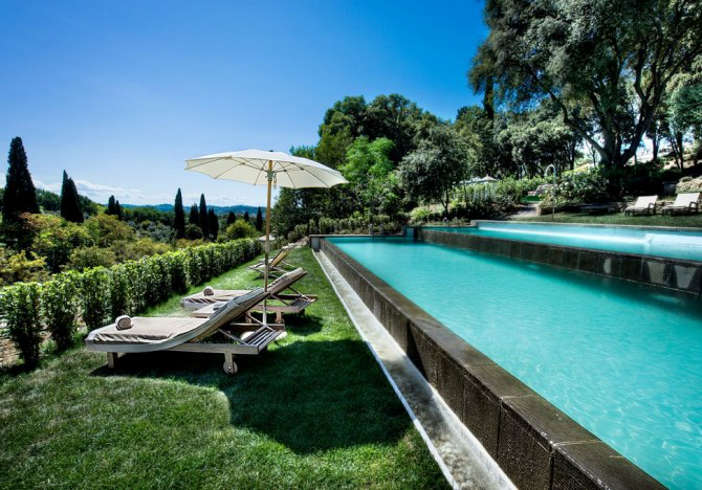 The hotel's little infinity pool, tucked away down the side of the hill, is also a more than adequate place to while away the hours, especially in the morning as the sun warms up and blackbirds hop, skip and rustle among the rhododendrons with the lizards. Giant wasps, back legs dangling like kinked copper wire, perform a daring raid on the thin rivulets of water that continually run into the overflow gutter, risking a drowning as they land in the path of the mini waterfall to sip from is cool waters.
A white-shirted waiter is in residence here among the wooden decks and parasoled bedchairs to bring you a drink, or a snack if you prefer. And the hotel's spa is nestled beyond the pool where full massage and a smorgasboard of treatments await you. Any more relaxed and I'd be dead. There is also an artfully arranged gym, which remained artfully arranged for the duration of my short stay, for who would be mad enough to go near it?
The library is sensational – largely unchanged since the villa was family owned, it's a tall-ceilinged, airy affair which doubles up as a dining space in winter. It's a delightfully timeless bubble of tranquillity, reassuringly redolent of old books. And so, with reluctance, I pack to leave this zen zone. I haven't filled my little Nespresso machine, nor switched on the TV, which cunningly doubles as a mirror in the master bedroom. But I have wined, dined, paddled and plodded, snoozed and languored, savoured and unwound.
And I've watched the screaming swifts dive around the Duomo. I know now why they're so glad to return.