When I recall hotels I've visited in the past, it's the ones that made an extra effort on the design front that I've particularly loved. The quirkier the better, but throw a bit of good ol' traditional comfort and décor into the mix and I'm all the happier.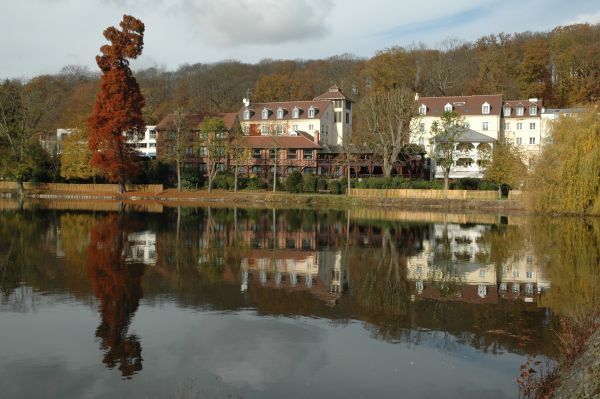 With that in mind, Les Etangs de Corot couldn't have failed to win me over with its ticking of the necessary boxes: art that made me stop, stare and photo capture for future inspiration (in this case, an intricate, fantastical collection of animal illustrations by New Yorker Walton Ford), a 2,500-strong wall of empty wine bottles from the family's Smith Haut-Lafitte chateau; external surroundings beautiful enough to drag me away from the comfort of my room to the cold wintry snow; food that offered a promise of something new, and delivered it, in aesthetics and taste; toiletries I wish I had enough room in my weekend holdall to steal; and a spa where the facilities were top class and uncrowded, and the treatments, healing and pampering. Though what did I expect from Alice and Jerome Tourbier, the family behind Bordeaux beauty, Les Sources de Caudalie, a hotel I experienced vicariously through another Arbuturian writer a few months back?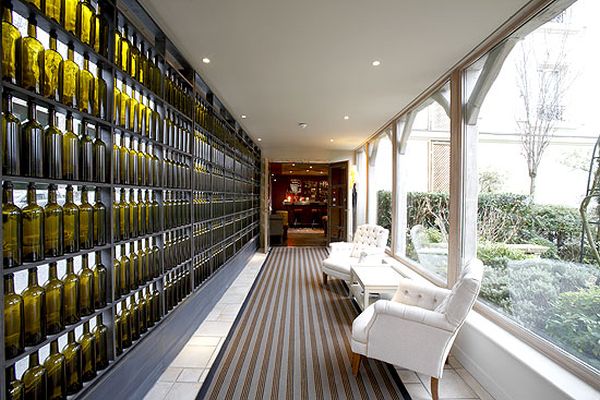 The journey there, a speedy Eurostar jaunt to Paris Gare du Nord, a brief Metro diversion to see the Eiffel Tower, a 20-minute train ride to Saint Lazare, then a three-minute taxi drive to the door was just long enough to fall into the effortless short weekend break category. Not too far to exhaust you in miles travelled, but far enough to feel like you've been away from home much longer; especially if you took our Eiffel Tower and croque monsieur lunch in a touristy cafe out of the equation.
Arriving at the Les Etangs de Corot, we made a beeline for our room, an eccentric junior suite designed by Parisian fashion house Paul & Joe. A pink cat face made out of beads; a second in knitted tapestry, fish wallpaper, Love Heart-coloured telephones, toddler-sized, borderline creepy doll ornaments, a wall of framed Paul & Joe ad campaigns were among the many things to look at in the Japanese-influenced room. Despite loving it myself, it took a little longer to win Adam round; the plate of macaroons helping to sway him. Not surprisingly; with its doll house air, it's definitely a girl's room, first and foremost. Although he did share my appreciation of the life-sized sheep statues taking up residence on our private terrace, and had grown quite attached to the sorbet hues and silk and velvet patchwork furnishings by the time it came to check out. Les Etang's 42 other rooms, each named after a famous local or friend of Jean Baptiste Camille Corot – the impressionist painter after whom the hotel takes its name – are also individual in design, but in a more homely, universally appealing sense, with sumptuous fabrics, Farrow & Ball decor, antique furniture and oversized mirrors in abundance.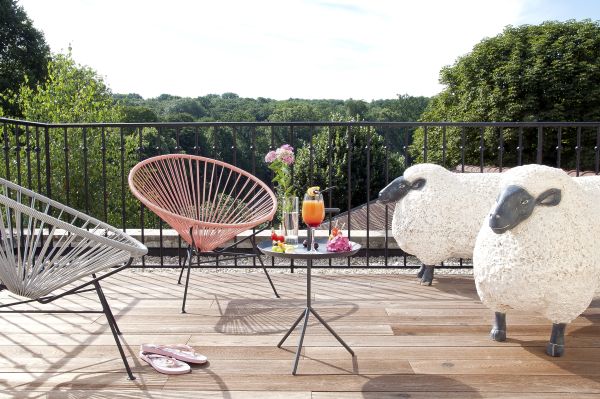 The frozen lake, ponds and surrounding chestnut, oak and birch-filled 'Fausses Reposes' forest, aided by an endless drip of runners and walkers, beckoned us outside for an afternoon stroll; a trail through the courtyard garden and dormant summer terrace restaurant, Les Paillots, giving us speedy access. Graced with slip-sliding ducks and moorhens and thick with freshly fallen snow, it was, just as our taxi driver had promised in his delicious Parisian lilt, 'beautiful and very romantic in zis weather'. It's easy to see why Corot, as well as other artists, writers, thinkers and musicians (Charles Baudelaire, Victor Hugo and Jacques Offenbach…to name a few) have been drawn to and inspired by the former wine-growing area since the 19th century. Just a short journey west of Paris central, the Ville-d'Avray hamlet feels a world away from congested city life and if I was a resident of the French capital, a place I would regularly visit to recharge my batteries and breathe in the country surroundings.
In warmer climes we'd have hopped on one of the complimentary hotel bikes and adventured for hours, but after a stroll of the perimeter, suitably awakened and chilled to the bone, we returned to the hotel, donned our robes, slippers (bravo team Corots for the comfiest hotel slippers I've ever worn – and I've tried a lot!) and headed down to the lower ground floor Caudalie Vinothérapie Spa. Once there, we hopped straight into the beckoning Jacuzzi hot tub, bubbling and steaming away in the partially open-air, sheltered by an upside down 'bamboo garden'; then to the hammam sauna, again one of the best examples I've steamed my pores in. An afternoon nap ensued, then down for aperitifs in the gentlemen's lounge of a bar, admiring the lamps fashioned out of jeroboams.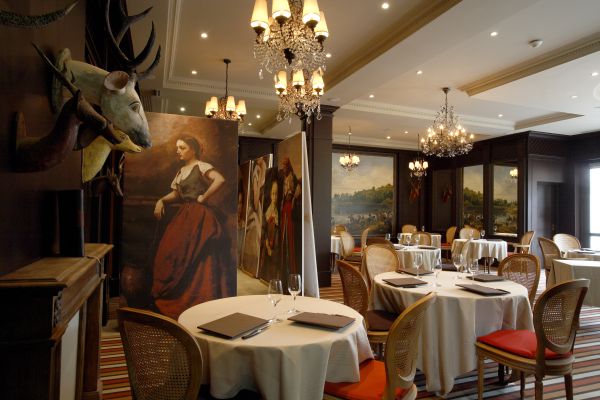 Dinner at the on-site gourmet Restaurant Le Corot – a warm, chestnut-hued room filled with giant reproductions of Corot's oil painted portraits and landscapes – kicked off with a reminder of why not giving in to the moreish wasabi coated nuts in the bar was a wise decision: two amuse-bouche, first a trio of bite-sized treats then a crab-filled ravioli in a beef broth. Starters followed: my black truffle pomme puree, risotto and 'dry old parmesan' combo just stealing the crown over Adam's beautiful scampi, grapefruit and root veg dish. Then the 'best lamb ever' arrived for him, an admittedly absolutely delicious looking assiette, and a wild turbot for me – also spot-on. A resounding yes for the cheese trolley meant the other offerings on the dessert menu didn't stand a chance – a decision we were resolute about before we'd properly read the menu, which is just as well, as oddly we were asked to place our order for all three courses at the same time. A great selection of fromage that made choosing a tricky task indeed, especially when all you really want to do is commit the ultimate greedy crime of asking for a slice of every one. The care taken over presenting the slithers on the plate with a dotting of nuts, dried bilberries, apricots and soft walnut bread, was the sweetest part of the whole evening's service.
Having a Caudalie Vinothérapie Spa on site means guests are spoilt with a bundle of top-class miniature beauty treats, in the rooms and spa, such as the scented candle and Vinexpert Night Infusion Cream we returned from dinner to find – for slathering on the face to counteract the dehydrating effects the wine imbibed in the downstairs restaurant would inevitably have on this face by morning, perhaps…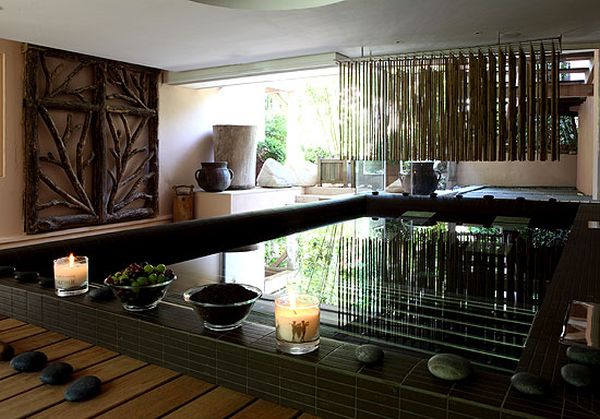 Breakfast in the hotel bistro Le Cafes des Artistes, a vaulted former cellar, introduced us to a buffet ranging from fresh fruit, breads, cheeses and smoked fish, to slabs of quiche and tarte tatin, supplemented with a choice of eggs, and a pot of wonderfully fragrant Mariage Freres Earl Grey Imperial tea.
A leisurely morning of digesting and packing followed, culminating in a final visit to the spa for a heavenly Divine Duo Caudalie massage in the VIP double room, allowing for treatment à deux. The candlelit 50 minutes sped by, leaving us sweet-smelling, soft-skinned, long-limbed and unperturbed by the Gare du Nord crowds and snow-delayed Eurostar we encountered on what would have otherwise been a nightmare journey from dreamy French hamlet back to reality…