Picnics at the beautiful Lethabo Estate are a must for anyone looking for a romantic getaway just a short distance from Pretoria or Johannesburg. Located on the banks of the Crocodile River in the Rhenosterspruit Conservancy, Lethabo offers spectacular views of the surrounding blue Magaliesberg foothills in the Cradle of Humankind, and although the area once saw fighting during the Boer War, today the 150 acre estate is peace and tranquility itself, offering a rejuvenating escape for visitors to South Africa and the nearby city residents. Very much a boutique experience, the accommodation ranges from thatched hideaways and quaint cottages to self-catering villas – think hammocks, Persian carpets and Jacuzzi spas.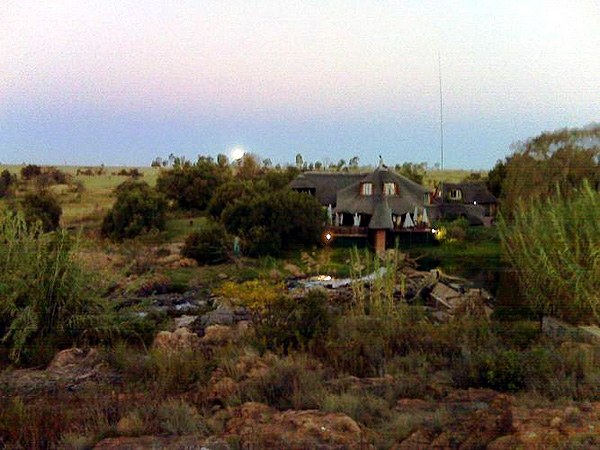 We managed to arrive at the appointed hour of 11am, despite having some difficulty in negotiating our ridiculously inappropriate hire car down the long and crater-filled approach. Not having ever experienced more than the troublesome English pot hole, I listened in amazement as my chap declared it "pretty good" for an African road. I was forced to concede that it wasn't nearly as bad as the bush roads I later had the misfortune to endure – pits so deep that I felt I would be sprung out of the vehicle like a catapult at any moment should I mistakenly loosen my grip.
I was instantly charmed on seeing the lobby with its traditional high-ceilings, antique furniture and ceiling fans that created both a nostalgic-sounding whir and a soothing breeze. We were soon greeted by the charming owner,  jodpur-clad Lise Essberger; her relaxed aura fully complimented her magnificent eye for interior design and, with her faithful dog at her side, she told us of her joy in purchasing the estate in 1994 in order to spend more time in the country with her horses. Hearing of her deep love of this domain made me feel extremely privileged in being able to enjoy it too.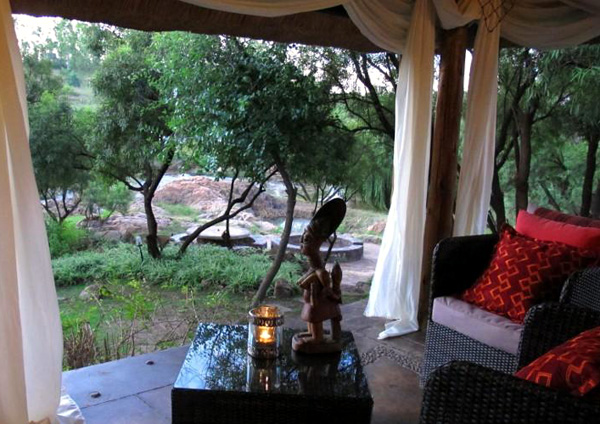 Ushering us through French doors that opened onto the riverside deck, we partook of refreshments under a parasol – the sun already making its presence felt. Being a weekday we were only one of two couples which added to the intimate atmosphere, but I doubt Lethabo would ever have the feeling of being overrun. Escorted through landscaped gardens, past weeping willows and rugged terrain alike, we arrived at a charming open-fronted thatched hideaway nestled in a secluded spot beside the glistening river. There was something Out of Africa meets Hansel and Gretel about it, housing a double bed laden with cushions and a table and chairs.
Although invited to make use of the swimming pool at the main lodge, as the hideaway was ours to enjoy until 5pm we decided to spend the day reclining on sun-loungers belonging to the riverside platform, reading and catching the rays in between attempting to make our way through the three generous gourmet picnic baskets provided. With a crammed hamper for each course – starter, main, and dessert, we were spoiled with the freshest organic ingredients: smoked salmon and capers, a hunk of bread, cheese selection, a whole roasted Peri Peri chicken cooked to succulent perfection, rare roast beef, an indulgent potato salad, chocolate mousse, baklava and seasonal fruit skewers which included wild strawberries from the estate. For those staying the night, there is also a restaurant serving up an eclectic mix of refined dining dishes.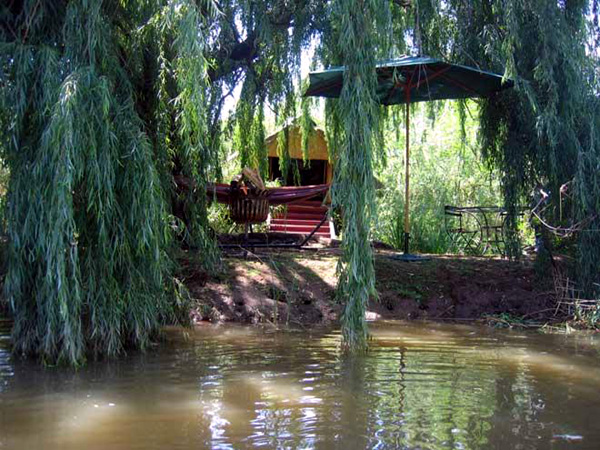 Despite having been assured that there were no crocodiles in this stretch of the river (though you may spot an otter if you're lucky), with such delicious food I wouldn't have been surprised if they had decided to make a special trip. I therefore dissuaded my chap from carrying out his idea of taking a cooling dip after lunch. Instead, he contented himself by reading Memoirs of a Game Ranger by Harry Wolhuter and climbing over rock pools to peer at tadpoles, as I munched on the last Peri Peri chicken drumstick and listened to the distinct call of the Cape turtle dove. To find such peace and wilderness a mere 40-minute drive from Johannesburg's northern suburbs is a delight and Lethabo is one place I will be rushing back to the next time I'm in the country.
Lethabo Estate, Lanseria, Gauteng, South Africa. For more information and bookings, visit the website.
The author flew to South Africa on British Airways Club World, London to Johannesburg from £2,600. For more information and bookings, visit the website.
[wzslider]