We  arrived at Lucknam one rainy afternoon, having traversed so many windy single-track roads we thought we were lost. Finally, we reached our destination, or so we were informed by the Thatcher-like voice of our satellite navigation. Lucknam Park is located just 6 miles from the beautiful city of Bath, nestled in the depths of the Wiltshire countryside and set in 500 acres of stunning parkland and landscaped gardens. The main Palladian-style property dates from 1720 and was called home by many families since the 17th century; Wallis, Methuen, Boode, Walmesley and Merry, before being purchased in 1994 by a shipping company who, after a sympathetic transformation costing £3.5 million, opened Lucknam as the luxury 42 bedroom hotel it is today.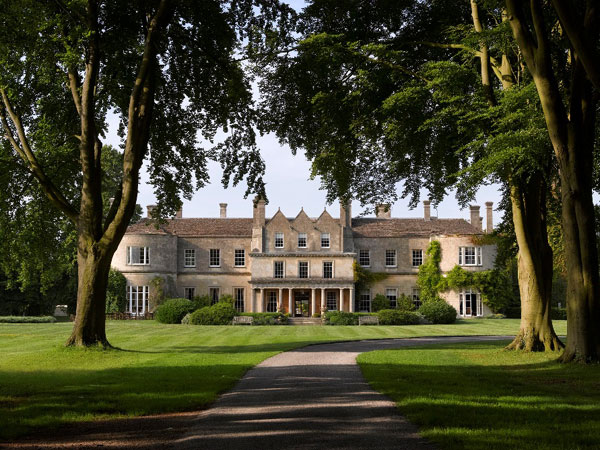 A single private hotel property, Lucknam is one of the finest country house hotels in England, succeeding in satisfying every desire; a renowned spa, restaurant, property and grounds, with as many or as little activity-based opportunities as you could possibly want. Perhaps too damn much. It annoys me how much I should have crammed into the trip and failed to. Lucknam is famed for having its very own equestrian centre with lessons for the beginner or hacks through the estate for the experienced rider. With 'Saddle and Spa' packages available and mid-week gourmet offers,  room only rates start from £330 for a standard double and include full use of the hotel spa facilities, bicycles, tennis courts, croquet, walking trails, trim trail and the five a side football pitch. With Wellington boots and umbrellas standing to attention at the door in anticipation of gloomy English weather, there really is no excuse, apart from wanting to curl up with your beloved with a bottle of bubbly in a ridiculously grand suite.
We found a chilled bottle of champagne and delectable handmade chocolates (the way to a woman's heart) awaiting us in the Orchid suite – one of Lucknam's most romantic and well-appointed rooms. Each room is individually furnished and decorated and we wasted no time in discovering the antique four poster bed. Orchid is positioned to the front of the property, overlooking the impressive mile long beech and lime-lined driveway planted in 1827, and where the RAF concealed Spitfires during the war. The Orchid suite has clearly become a special place for many couples over the years, or at least judging from the guest book crammed with messages of appreciation and recording countless honeymoons, anniversaries and intimate rendezvous. One anonymous woman inscribed simply 'Great Sex!' – to which my chap raised an eyebrow.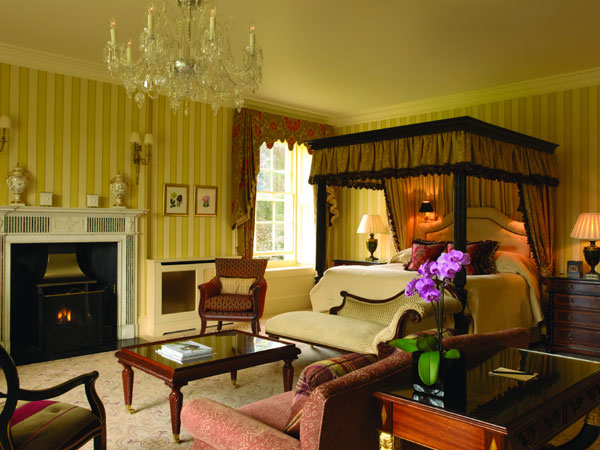 After a well-needed afternoon nap, I sashayed over to the luscious spa for my pedicure appointment, where I was presented with a form requiring me to state, among other personal health details, my music preference – traditional spa or Beethoven? Beethoven, naturally. Before I had handed the blessed form over, a complimentary shot glass of pineapple juice arrived. I felt cleansed already. A pleasant blonde gave me a guided tour of the award-winning spa, featuring a gym, indoor swimming pool, saltwater hydrotherapy pool, outdoor Jacuzzi and plunge pool, sauna and steam rooms, a relaxation area, hair salon and nine treatment rooms, each with heated beds. Just in case I happened to have missed lunch and afternoon tea in the process she pointed out The Brasserie adjoining the spa, offering informal all day dining, with an alfresco terrace overlooking the immaculate walled garden.
The only item missing in the treatment room were some magazines. Instead, my friendly pedicurist entertained me with a potted history of the man who invented the crystal nail file she was using, apparently famous for painting the finger nails of X-Factor contestants, and who'd also lent his name to the nail polish brand Lucknam favour, later given to me to take home. My tootsies scrubbed, buffed and polished, I shuffled, somewhat inelegantly attired in disposable flip flops across the pebbled courtyard, attempting to walk upstairs without breaking my neck, or more importantly, without smudging my Marilyn Monroe inspired red nail polish.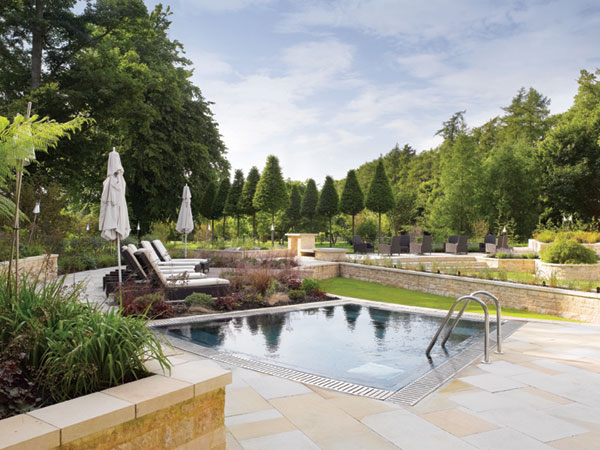 My chap and I enjoyed a glass of bubbly and delicious canapés in the exquisitely furnished Georgian lounge before being ushered to The Park restaurant, formerly used as a billiard room where evacuees once sheltered under the table during World War II air raids. These days the room has a cloud-painted ceiling and is a backdrop to high gastronomy. Since his appointment in 2004, Welsh one-Michelin star executive chef Hywell Jones has gained a reputation for creating classical dishes successfully combining traditional French techniques with modern gastronomic innovation and flavour pairings.
With the guidance of Hywel Jones, Lucknam is launching a Cookery School this autumn led by Hrishikesh Desai (winner of the prestigious Roux Scholarship in 2009 and 2010 winner of the National Chef of the Year Award). With classes entitled 'Michelin Star Cooking at Home' and 'Cooking For the Perfect Dinner Party', a maximum of 12 guests per class will experience working alongside high calibre chefs in a relaxing environment, whilst learning new skills and benefiting from expert attention. Courses cost £175 per person including refreshments and lunch, and will run daily from Monday to Friday from 9am to 4pm.
The candle-lit dining room is a romantic environment, formal yet relaxed, with softly spoken waiting staff who tread with immaculately polished shoes, as lightly as they whisperingly remind you of your choice, before carefully, almost proudly setting it before you. My starter of roast Scottish diver scallops, carrot puree, spiced pork croquette, raisin and caper vinaigrette was divine, the scallops perfectly cooked (as you'd expect) with the spicy pork croquette and carrot puree enhancing their natural sweetness. My darling ordered poached langoustines, potato mousse, Osetra caviar and gribiche dressing which was equally heavenly when I managed to get him to share some. This is the sort of food you savour with your eyes closed and a smile on your lips, a smile which showed no signs of fading with my main course of line caught Cornish seabass, cauliflower puree, crab bonbons, baby vegetables, red pepper and shellfish vinaigrette and the chap's roast best end and braised shoulder of Welsh lamb, tomato and ricotta risotto fritters, baby artichoke and fennel puree. If the Lucknam Cookery School teaches me to braise a lamb shoulder that succulently, I'll sign up now.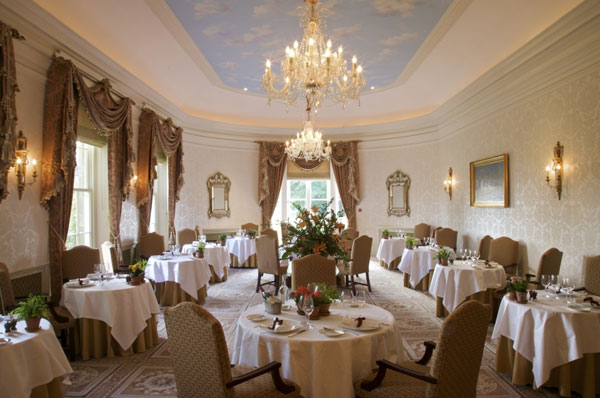 A palate-cleansing pre-dessert consisting of pannacotta served in an elegant glass and topped with strawberries in a watermelon reduction was superb. My love and I opted for a couple of tarts to finish – mine chocolate and his banana with salted caramel popcorn. The original plan had been for me to eat half before switching to banana, but somehow, perhaps due to the riveting conversation, I entirely forgot and had almost demolished the rich chocolate number before realising! We decided to take our coffee and petit fours in the wood-panelled library, where portraits of aristocratic women long deceased observed our game of backgammon before bed.
We enjoyed the sublime breakfast whilst luxuriating in our white towelling robes in our own sitting room. I always embarrass my chap by requesting the Daily Mail at reception on checking in and then proceed to read aloud, against his will, the gossip and nonsense over coffee the following morning. Reading a fascinating article on the detrimentally unhealthy ingredients contained in Frankfurters, I tucked into pancakes whilst my chap gorged on the full English. The accompanying warm pastries were as light as I remember them in Paris and quite justified our being late checking out and my having to apply my make-up in the car park. Whilst the porter was transferring our luggage to the old sports car, I purchased, from a rather kitsch gift cabinet in the lobby, a china mug reading 'I'D RATHER BE AT LUCKNAM' – not only as a memento of our enjoyable stay but a friendly reminder for my chap to bring me here more often.