When arriving at a five star resort, it is best to avoid doing so in a tuk-tuk. Also called 'autos', these green and yellow three-wheeled transporters can be seen everywhere across India. As my partner and I had only been staying 10 miles away the previous night, we hopped in a tuk-tuk and darted and dashed our way past slower moving taxis to the Marari Beach Resort, located mid-way up the west coast of Kerala, India's most south-western state.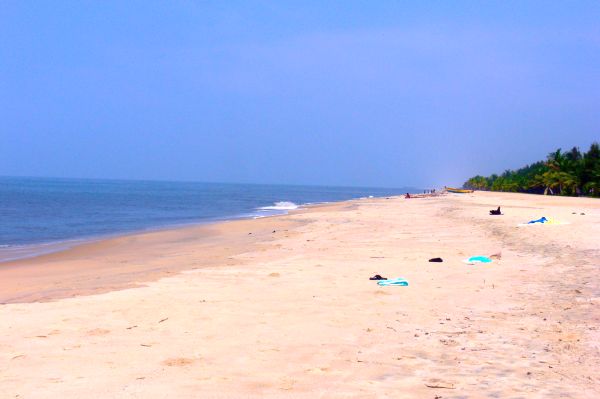 Upon arrival at the large, gated property, a guard looked at us in puzzlement, asked the driver repeatedly if we were sure we were at the right place and, reluctantly, opened the gates. The slightly confused stares continued as we rattled up to the entrance and finally exited the tuk-tuk to walk into the extended lobby. An arduous conversation followed – during which we were presented with the price list of the rooms – while I continued to explain that we did, in fact, already have a reservation. When finally it was cleared up, we were presented with coconuts, garlanded with pink flowers and welcomed heartily. But, it was a lesson all around – tuk-tuks do not an easy arrival make.
Marari Beach Resort is tucked away in a gated enclave that backs onto one of the most precious beaches in Kerala. Built in the spot of a former fishermen's village, the resort has been constructed with 62 individual cottages, some with private pools. It focuses on the 'eco' angle by avoiding any possible plastics (except for the ubiquitous bottled water one can't escape in India) and by using an organic garden that supplies much of the produce for the kitchens. Contrary to trends within most of India, recycling bins are dotted around the resort and signs about water usage are posted frequently, asking guests to save towels and mind water consumption. Solar panels are used to heat water, a bio-gas plant recycles kitchen waste into energy and a sewage treatment plant recycles waste water. It is a part of the CGH Earth chain which owns hotels of a similar nature around India.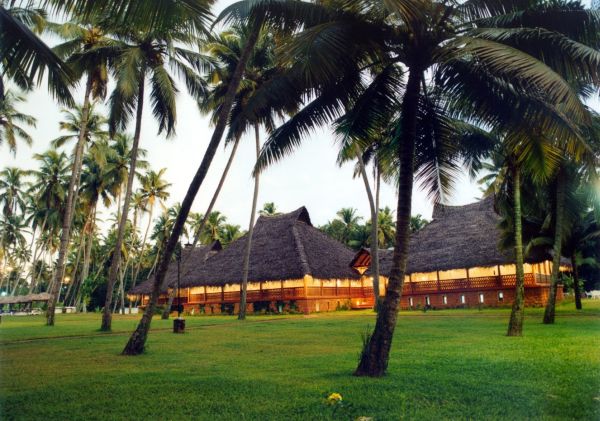 The grounds take on a rustic style – a special breed of goat is seen dotted around the complex, acting as efficient lawnmowers. Their milk is also used in products for the Ayurvedic centre – a spa that adheres to the study of ayurveda, a type of natural, medicinal treatment seen throughout Kerala. There are also friendly, doe-eyed cows that assist in lawn maintenance.
We were shown to cottage 19, a spacious suite with wicker furnished lounge, trim bed draped with bright red flowers and a teal-tiled outdoor bathroom – a style typically found in Kerala. While its chilly air conditioning was a comfort from the thick humidity outside, we didn't stay long; lunch and the pool beckoned.
The resort offers guests a choice of two dining options: the large Chakara restaurant, serving either a buffet or à la carte, and the smaller Beach Grill, serving the fresh catches of the day. We dined at the former, a spacious, thatched roof restaurant with big open air windows looking out towards the pool. Lunch was well prepared: a Keralan prawn salad was spicy and unique, gaining a peculiar yet intriguing flavour from a smoky tamarind; the fish and chips were fresh and crispy.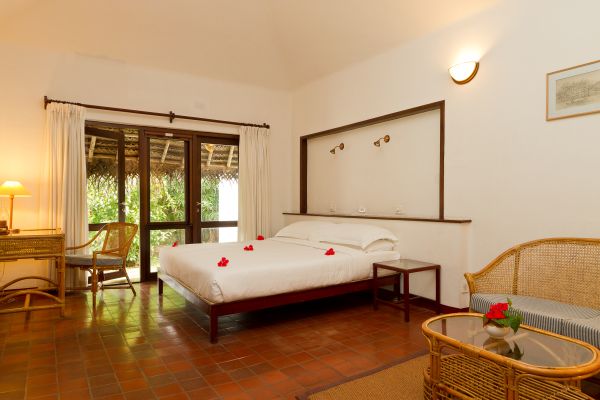 The afternoon passed in a haze, hours lingered by and in the glorious, refreshing pool were followed by a dip in the choppy, luxuriously warm sea. It was the perfect spot to watch the shimmering, tangerine sunset filter across the stretching white sand beach and we were joined by many other Marari Beach residents keen to take in the sight.
That evening, with the humid air still hanging thickly, we set the evening's relaxation into gear by enjoying a crisp beer on our veranda by the light of a candle in a big hurricane vase. We then padded across the dimly lit lawn to the Palm Bar – another thatched roof outpost open in the evenings for pre-dinner drinks. Our server, a lovely young man named Jino, chatted with us eagerly and I enjoyed a McDowell's Signature Rare Aged whisky (made by the Indian spirits group, United Spirits) on his recommendation.
The only disappointment of the rather perfect evening was the dinner. We opted to dine in Chakara again without realising the only choice that night was for a buffet. While the selection was good – ranging from salads, to soups, sambars, curries and desserts – nothing stood out as being that fantastic and it was feeling a bit past its best as we'd arrived late in the evening. It was all palatable but I would have expected much more from a resort of this calibre and I would definitely choose the Beach Grill if I were to stay again.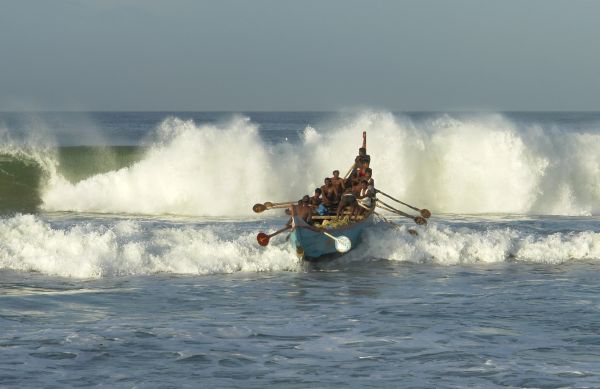 The next day we took advantage of our final hours at the beach, for we were to head further inland towards the backwaters after Marari and would miss the gloriously warm waters and perfect beach. Under an all-encompassing blue sky, I floated happily in the sea's undulating waves, glad to let my skin escape the humid air.
Marari Beach Resort was a welcome space to escape to, offering visitors a relaxed environment that really takes its eco-footprint seriously. With the large pool to lie by and the frontage leading onto the prettiest beach we came across in Kerala, it will appeal to couples and families alike. Just don't arrive in a tuk-tuk.