Located in Cuckfield, considered one of the prettiest Tudor villages in England, Ockenden is an Elizabethan manor dating from 1520, the beamed interior of which resonates with creaking floorboards and character. Just one hour from London, 40 minutes from Glyndebourne Opera and 30 minutes from Brighton, you would hardly guess from the surrounding nine acres of land that you were only a 20 minute drive to Gatwick – making Ockenden the perfect pre or post flight retreat. A member of Historic Sussex Hotels, Ockenden launched a state of the art spa earlier this year, built within the estate's original 19th century walled garden and now combining old world charm with luxury facilities, such as heated indoor and outdoor swimming pools and an Isopod floatation tank, all fed from the natural underground spring.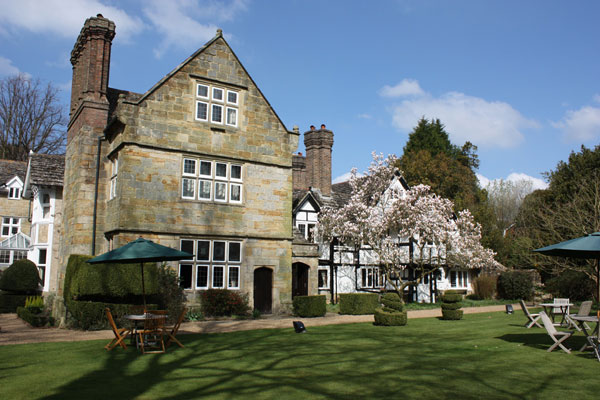 Before making our way to Ockenden, we visited the Bluebell Railway in nearby Sheffield Park; a preserved nine mile railway line with working steam trains operating throughout the year and managed by a dedicated team of volunteers. The Bluebell Railway has appeared in countless films and television dramas, including A Room with a View, Miss Potter and Downton Abbey, and is equally loved by railway enthusiasts and those wishing to experience the travel of a bygone era. Journeying on the famous green locomotive The Golden Arrow, Service 1 (Adult £13.50), took around 90 minutes, halting briefly at the beautifully restored 1920s Horsted Station and pausing at Kingscote for a 30 minute refreshment break. With the September sun shining, a queue for ice cream soon formed and put the passengers in a cheery mood – all of whom seemed fully immersed in the nostalgia of the experience.
It seemed a fitting way to precede our arrival at the historic 28 bedroom Ockenden Manor. We were informed that we needed to check in at the spa reception, our room being situated in the new building located some 100 yards away. It felt a little odd to check in at a spa reception and although we were shown to our room, we weren't offered any assistance with our luggage. When I asked for help the lady said she would have to ask a chap from the gym – how much luggage were they expecting?! But sadly she never did.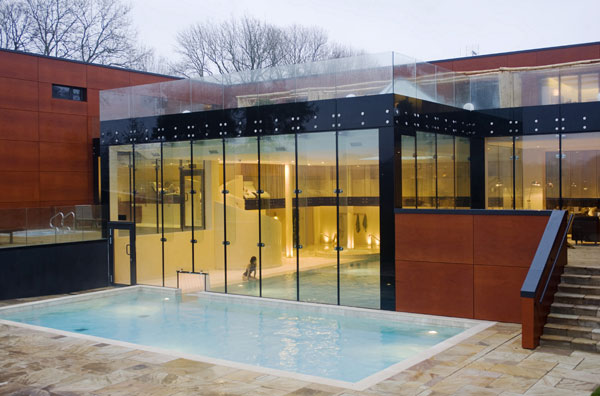 Our large spa suite, one of only six, consisted of an open plan bedroom and living area, decorated in soothing green hues, with its own private roof terrace offering magnificent views over West Sussex and the Downs. The bathroom had a stand-alone tub as big as Noah's Ark with pull-back shutters opening onto the bedroom and enabling bathers to watch the television at the same time – this feature was probably more costly to install than purchasing another television for the bathroom. They were even ingenious enough to install a speaker directly above the bath – a new way to enjoy the Antiques Roadshow. Whilst this would have been extremely enjoyable I'm sure, I decided to spend the remainder of the afternoon lazing on a sun lounger beside the outdoor pool and indulging in the 55 minute Electric Body signature massage – a rejuvenating and deeply relaxing treatment using Swedish and Thai massage techniques to aid the body's lymph system.
With my batteries fully recharged, I made use of the Noah's Ark tub before floating across to dinner. We were warmly greeted by the manager, Adam Smith, who presented us with both the à la carte and gastronomic seven course tasting menus to peruse over an aperitif and canapés in the charming oak panelled bar. The barman was understandably frantic, having to prepare Bloody Marys and also double up as the sommelier. Adam later returned to usher us to the new light and airy dining room, enhanced by a conservatory overlooking the particularly lush gardens, but not nearly as romantic as their former low lit, wood panelled predecessor, nor as theatrical a backdrop for Head Chef Stephen Crane's Michelin star cuisine. When any traditional hotel modernises as schizophrenically as this, there is bound to be a division between the guests embracing the changes and those mourning the loss of the old charms.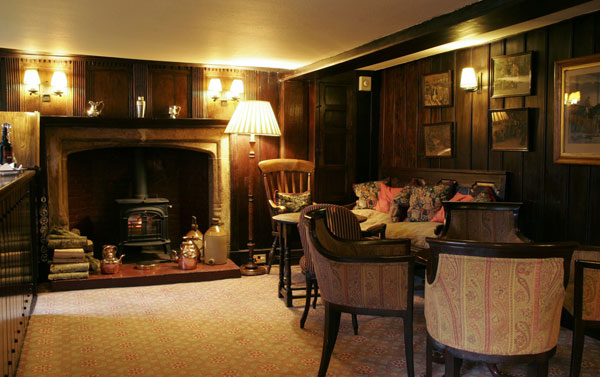 Stephen joined Ockenden in 2001, now one of only two restaurants in Sussex to boast a Michelin star, a title the hotel have held since 2004 under Crane's guidance. Crane's focus is Modern European and whose philosophy is sourcing the finest local ingredients wherever possible and highlighting the freshest seafood. I was immediately tempted by the assiette of pork; hock, galette and Char Su accompanied with a smoked apple puree and celeriac. I followed with superbly cooked line caught sea bass with baby artichokes, smoked asparagus and a tomato and tarragon velouté, and for dessert the hazelnut macaroon served with raspberries, cream and a rose tuile. M was swayed by the hand dived scallops with chicory, garlic and lemon, followed by the Romney Marsh lamb; a saddle, breast and croquette accompanied by falafel. For dessert it was no surprise to find her drawn to the light-hearted play on the classic Black Forest, comprising of the finest dark chocolate and served with a sharp cherry sorbet.
While the spa is a fantastic addition to the hotel, the service, although extremely friendly, is not as five star as the facilities; as illustrated by the insane £15 per tray charge for room service applying to all rooms in the new spa block. Not only that, the room service breakfast menu is strictly Continental if you insist on not walking across the car park for it. I imagine this succeeds in deterring most guests staying in the deluxe spa rooms (starting at £315 per night) from taking breakfast in their room, but with the dining room finishing breakfast at 9.30am, you'll have to starve if you want a lie-in. These policies may suit guests making use of the spa from 7am but it certainly won't suit those hoping for a slower-paced break. Ockenden now offers everything you could possibly want in terms of facilities and fine dining, but they need to consider their guests more in order to reach their full potential and become a 'destination' rather than a hotel in a convenient location.