It's easy to see why, when Daniel Cleaver (Hugh Grant) took Bridget Jones (Renée Zellweger) on a "full-blown mini-break holiday weekend" to Stoke Park Country Club, Spa & Hotel, she considered their relationship promoted from "just shagging" to "true love". Here I was staying in the Penn Suite, complete with the four poster in which they romped – with my mum. Fortunately Hugh Grant has never been my cup-of-tea, and with the weather under-parr, I didn't need much persuading to spend the entire afternoon indoors, lounging in the sumptuous sitting room, drinking Champagne, watching films and soaking in the gigantically proportioned marble tub like a film star – all without the necessity of a body-double for close-ups.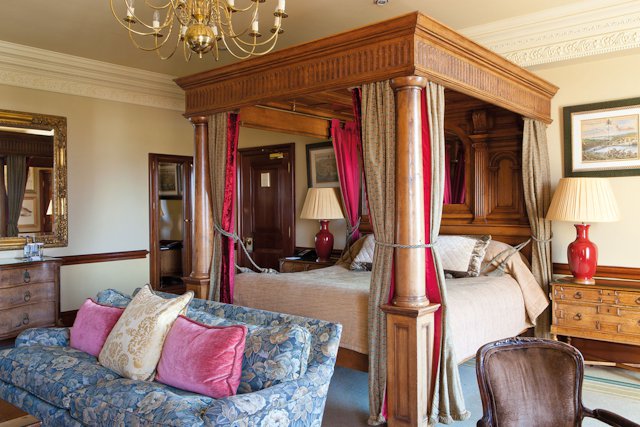 Stoke Park can boast a long line-up of silver screen moments thanks to the estate's proximity to Pinewood Studios (just 4 miles away). The golf course was chosen as the location of the legendary golf match between James Bond and Goldfinger, and prior to following in Connery's footsteps as Bond, Daniel Craig starred as Mr X in Layer Cake (2004) – making rather a convincing job of bleeding to death after being shot on the front steps of the white Mansion.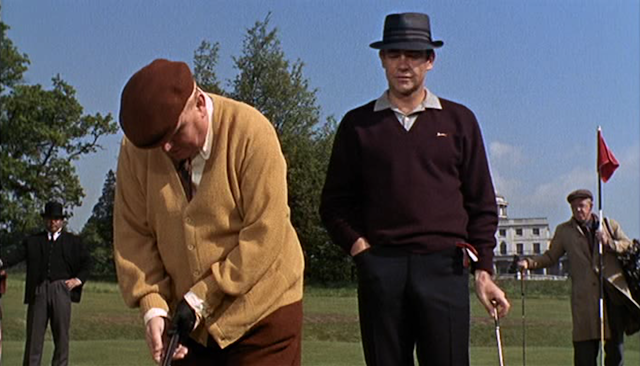 It's well-acknowledged that the only way to arrive at Stoke Park, via the epicly long and meandering driveway, is in an open-top (preferably red) sports car – causing enough golf players to look up from their tiny white balls and ask 'Who the devil is that?' The first glimpse of the striking Grade I Palladian mansion makes it oh-so-easy to forget the estate's Slough postcode. Set amidst 350 acres of spectacular parkland, the property was designed by James Wyatt, the most celebrated architect of his day having been commissioned by John Penn, (grandson of William, the founder of Pennsylvania). Completed in 1795, Stoke Park remains one of the most exceptional examples of Georgian architecture in Britain.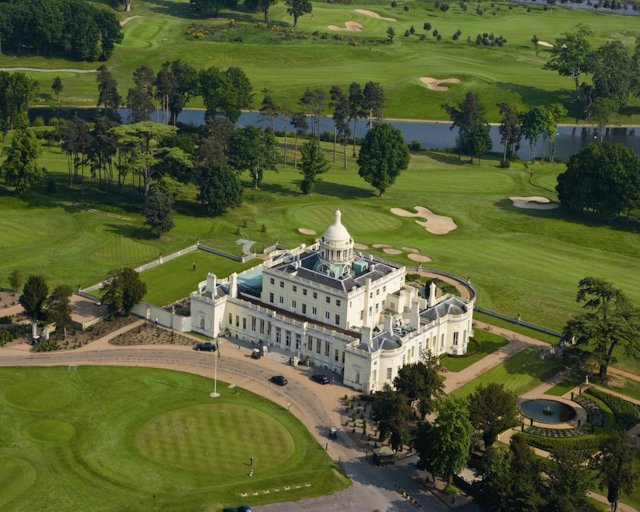 The first Country Club in the UK, opened in 1908, becoming a member of Stoke Park is perhaps even more prestigious today due to the mind-boggling array of facilities; a state-of-the-art spa, 27-hole championship golf course (which shares its rank with just five other golf venues in the UK) and 13 tennis courts, six of which are Wimbledon-standard grass courts and host the annual Boodles Tennis Championships (the tennis courts were also featured in the film Wimbledon in 2004). Awarded Five AA Red Stars this year and the coveted AA Inspector's Choice, Stoke Park joins just 49 hotels in the UK such as Claridge's, The Dorchester, The Ritz and Gleneagles.
But Stoke Park doesn't have to be sporty or blokey, it can be whatever you want it to be. I decided to take a leaf out of Bridget Jones's very own diary and put my feet up, make use of the spa and enjoy a delightfully decadent dinner in the fine dining restaurant, Humphrys, under the command of Head Chef Chris Wheeler. Put it like this – it wasn't the time or place to be counting units or calories! This hotel is all about spoiling yourself or indulging in whatever you fancy. Bridget's romances come and go (even Mr Darcy himself), but Stoke Park remains her favourite pick-me-up. Don't be surprised if you see her here with James Bond one day…