The Compleat Angler hotel takes its name from Isaak Walton's famous angling book of the same name, also known as The Contemplative Man's Recreation (1653) and most certainly not one I intend to read. Walton is rumoured to have spent many happy summers fishing in the vicinity. Prominently situated on the banks of both the Thames and Marlow Weir in Buckinghamshire, the original 6 bedroom inn dating from 1640 belonged to a brewery, but over the next few hundred years began to establish itself as a haunt of the rich and famous, including Nancy Mitford and Noel Coward – who seems to have popped up everywhere.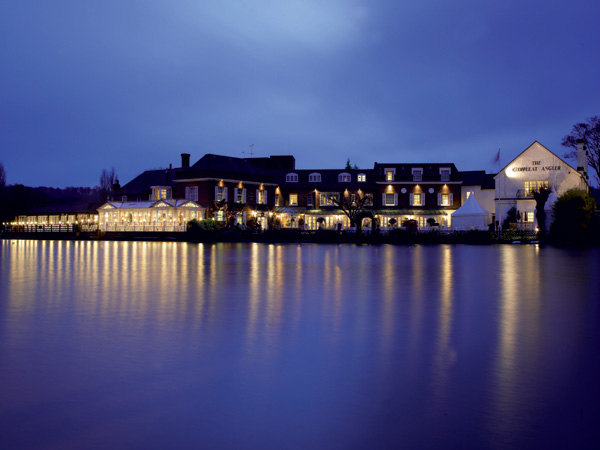 The four star hotel now belongs to the Macdonald Hotels group and as such is one of their most prized with 64 well-appointed bedrooms, many with balconies and river views, and four deluxe rooms with four posters. With the picturesque Marlow Church a mere paddle away or stroll across the bridge, the hotel naturally aims itself at the wedding reception market, a little difficult to imagine on the day we visited, having just endured the wettest year since records began (isn't it always?) and finding the river flooded with a garden chair bobbing about where it shouldn't have been. A boat trip looked unlikely.
The three AA Rosette awarded Aubergine has rejuvenated the hotel since opening in 2008 and rivals any award-winning cuisine in the area such as The Vanilla Pod, The Hand and Flowers (the only 2 Michelin star pub in the world) and restaurant Adam Simmonds belonging to Danesfield House Hotel. Pre-dinner drinks were served in the original wood-panelled 400-year-old bar, with Aubergine diners being given canapés and a different (slightly battered) drinks menu. On the waitress offering to take my jacket I replied that it would be extremely embarrassing both for myself and the diners if she did, due to my attire being a tuxedo-style dress.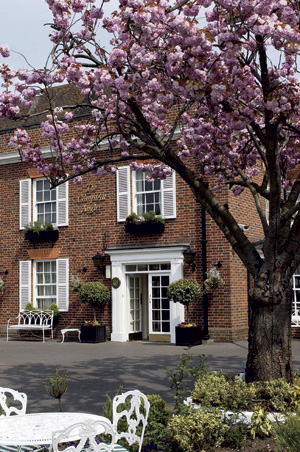 Sister to the renowned Aubergine in London (the kitchen Gordon Ramsay commanded before striking out on his own) the restaurant remains highly influenced by classical French cuisine and is the fine dining alternative to the hotel's own Bowaters restaurant, offering breathtaking river views and exquisitely prepared fare at a reasonably priced £55 for the five course tasting menu and £44.00 for two courses from the a la carte menu. Whilst the service might be a little lackadaisical at times, it's easy to forgive some minor oversights in favour of enjoying wonderful food in such a beautiful part of the world.
My delicate Cornish crab, avocado mousse, Avruga caviar, hay-baked kohlrabi, sea purslane and saffron jelly starter was a perfect balance of flavours, the saltiness of the caviar harmonising well with the sweet crab and saffron jelly – not one of those ghastly square rubber bullets so many chefs enjoy imposing on diners – but a vibrant and tangy gel. M unsurprisingly opted for the Scottish langoustines, micro apples, braised pork cheek, and Granny Smith apple, which I was fortunate enough to taste. For a main I simply couldn't resist the aged fillet of beef, ox cheek, truffle and foie gras cromesquis, spinach purée and Madeira jus, which was soft, iron rich and decadent, as was M's roast loin of venison with cocoa nib, dark chocolate ganache, parsnip, red cabbage and venison jus – the fruity notes of the Marlborough Rose Sauvignon complimenting both and providing light relief from the sheer exuberance of flavours.
The Welsh lady on the adjoining table appeared to have a remarkably healthy appetite – helping herself to not one but three bread rolls, and I wondered if river air held the same benefits as sea air. Her husband meanwhile swung by our table on his return from the Gents and struck up conversation with us which would have been extremely irritating had it not been thoroughly amusing at the same time. Declaring themselves experts in the catering industry, having run a fish and chip shop for over twenty years, they proceeded to share their opinions of dozens of highly acclaimed restaurants – their assessments being brutal but, in most cases, fair. No doubt Executive Head Chef Miles Nixon would have been overjoyed to hear them singing The Aubergine's praises over and above that of his Michelin-starred competitors.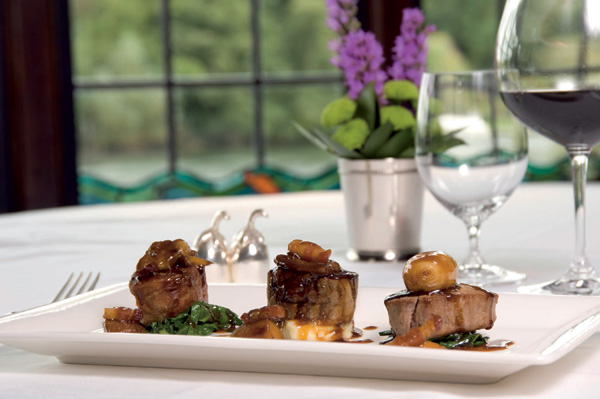 Thankfully the arrival of the dessert menu interrupted any further conversation and my eye fell on the passion fruit soufflé with white chocolate ice cream – a dessert I experienced at Le Gavroche some years ago and made my death-row choice should the worst happen – originally presented to me with a dramatically uniform five inch rise and crowned with a generous dollop of ice cream, carefully inserted by the maitre d' into the centre, so as not to destroy the majestic effect. My memory of those precious mouthfuls of exotic fluff, dusted with icing sugar, is so perfect that I swung between sheer joy and a trembling hesitancy to order it. In truth I had already made up my mind that it would bear no comparison – but I was wrong. The height, zing and sweetness of the white chocolate is how I hope desserts will be if I get to heaven and makes it unimaginable to stay at The Compleat Angler and not make an event of dining at Aubergine.