Seated a deux along the pretty paved harbourside of the terracotta-coloured UNESCO world heritage city of Porto, an inky Ramos Pinto Duas Quintas 2009 from the Duoro valley glugged into my wine glass. Not quite dark yet, we were outside, in coats, but content thus to stare at the twinkling lights growing brighter under a dusky early evening sky and the magnificent views out across the water to Vila Nova de Gaia. Next to us sat a couple who'd escaped the last night of dining on their river boat cruise to enjoy a taste of the 'local life' before heading back home to Aberdeen the next day. On spying our recently poured wine we got chatting about it. "You're probably too young to remember it," the lady began (she had just asked us if we were students here which these days is more of a compliment than I care to admit) "but we were so excited. As part of our cruise we got to visit the mansion that belongs to Mateus Rosé. Those iconic bottles that dominated our tabletops in the 1970s."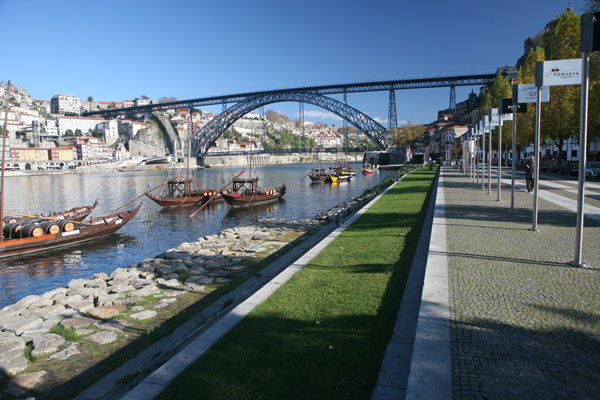 This was a magic moment. It launched us into quite some conversation. But not because Mateus Rosé is the genie in the bottle that it perhaps once used to be. It was magic because these days Portuguese wine is so much more than that. Our gazes moved back towards the view. And our eyes picked out the various Port houses whose larger than life logos are etched onto this side of the river's horizon: Offley, Taylor's, Cockburns (curiously the K was missing from this sign) and the omnipresent black-cloaked Sandeman. These port houses form a well-lodged part not only in this city's history, but also in our own British culture too. It was the Portuguese after all, perhaps our oldest of allies, who kept us in wine when we were fighting the French – they introduced a fortified wine that wouldn't spoil on the long trip over to Blighty. The result was an industry that has contributed to Europe's larger drinking habits to date.
Alongside these painted names that remind us of the industry that dominates this northern pocket of Portugal also sits a hotel. A looming vision of luxury – and one that you can't help but notice; least not for the floodlit swimming pool – curiously formed in the shape of a decanter. This is The Yeatman. A luxury wine hotel, unrivalled in its collection of USPs and facilities but one that in transparent promotion with Fladgate – its owners seek to 'define a destination'. Better translated, this means easy access to over 25,000 bottles of Portuguese produced wine and port. And a theme that runs hotel-wide from the interior decoration and use of vinous paraphernalia that dominates the corridors. Being here you acquire an interesting and subtle education whilst staying in the lap of luxury.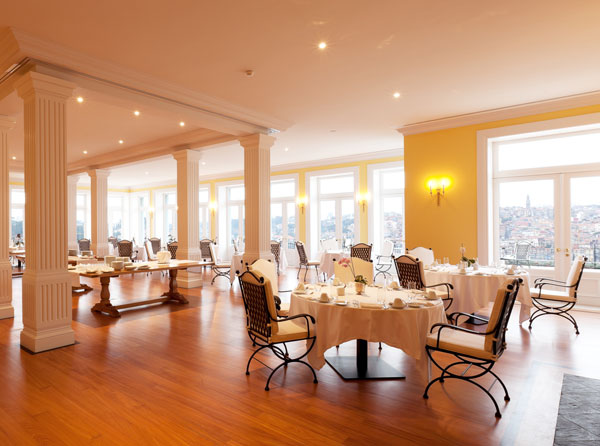 Chicken 'carioca style' soon arrived in front of us on our harbourside table, a vast step up from the cuisine 'triperios' – a name that means 'tripe eaters' – that the residents of Port were made famous for thanks to this term that King Henry coined during the 15th Century after a battle with Ceuta in Spain. These days the cuisine here often tops the other end of the scale – as proved the night before when we dined at the Yeatman's restaurant, a place prized with having won a Michelin star only a year after opening, thanks to previously awarded chef Ricardo Costa. And Michelin star doesn't also have to mean expensive. The express menu – a three course meal with a choice of two starters, two mains and a pudding is served for a healthy €38.
We enjoyed a selection of amuse bouches that included a glass of sparkling alvarinho – fresh and vibrant with green apple and melon on the palate. The dining room is a colourful mint green highlighted with deep red and blue; the food simple but elegant. Veal carpaccio, ceviche, sea urchin mousse and a foie gras bon bon was followed for me by a foie gras and tuna terrine with citronella yoghurt and fava beans and then skrei of salmon with corn, and quails egg. The wine, a big fat and creamy 'no makeup' Bical and a Burgundian style Duoro valley red, was matched by sommelier Elizabeth, trained personally by The Yeatman's Wine Director Beatriz Machado, who in her own impressive accolades taught all things wine at UC Davis in California before returning to her native Portugal.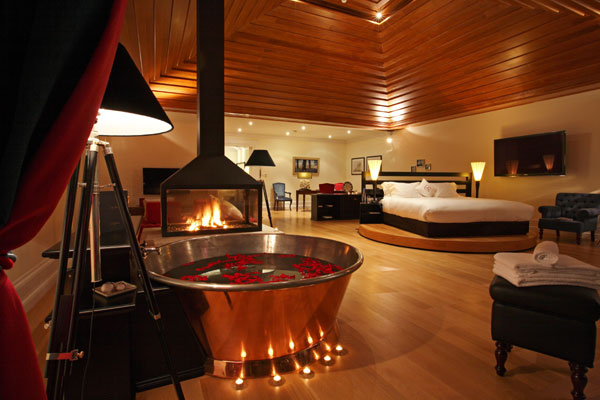 The list of awards that this place has won is as long as your arm in a carnival mirror. And it's no secret as to who they're trying to impress either – with all the latest editions of Decanter Magazine, Condé Nast Traveller and food and travel magazines littered throughout every room and adorning every coffee table. The bedrooms themselves are often something special too; whilst the standard and executive guest rooms are fully functional, each one has its own unique decoration thanks to a wine producer sponsor. You'll likely find the shelves home to special decanters, pretty wine cases, pictures and photos from the producer's particular region and more. The suites are something else – with oodles of space and some whose beds are encased in giant barrels. Of course the Bacchus Suite (the mighty King of wine) is the most sought-after, boasting a revolving bed, in-room silver bath tub for more relaxed romantic moments, and uninterrupted stunning views of the city below from its own private terrace. You can see why it has attracted the rich and the famous – including heads of state and pop princesses.
Another part of this remarkably spacious hotel (you might be forgiven for thinking you were on a cruise liner) is the spa. The indoor pool (best enjoyed at night) provides a mirror effect of 'that view', whilst the Roman Bath, trepidarium, hammam, sauna and shower experience are found downstairs – an area you'll reach only by walking through an enormous barrel to get there. Treatments and the treatment rooms also echo the vinous feel. Twisted vines wrap around the more modern architecture under which you'll likely enjoy appropriately named things such as 'crushed cabernet scrub', 'merlot wrap', 'pulp friction' massages and manicures and pedicures that incorporate the use of fresh grapes. I had a honey and wine wrap which was sublime. The antioxidant ingredients in the products used whipped my skin into a thirsty frenzy and I came out smelling good and looking radiant too. Even I was surprised at its apparent immediate effect. Goodness knows those who actually pick the grapes need taking care of similarly. A must for every vinophile.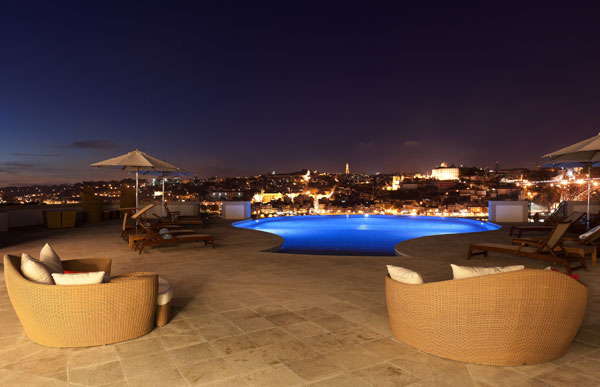 The hard work of the grape pickers was reflected once again in our enjoyment of the wine list at the bar the next afternoon and later that evening. We said goodbye to the waterfront and hopped in a cab back up to the hotel; live lounge music was resonating throughout Dick's bar and we sat down to a well-played game of chess. To accompany our strategic thinking we ordered two glasses of Muscat. Like amber nectar they provided more than enough distraction from any reasonable game plan, meaning that it was soon forgotten and we instead bid our fellow late night owls goodnight and retired back to our beds, satisfied and replete with gastronomic tales.