It's hardly surprising that the hotel once known as Twatley Manor decided to have a name makeover in favour of the more elegant Whatley Manor – now considered one of the most sophisticated hotels in the UK. Nestling in 12 stunning acres of the Southern Cotswolds, Whatley has a two-Michelin star restaurant, The Dining Room, and a highly acclaimed spa. With the original building dating from the 18th century, it was extended during the reign of several owners and adapted to become a hunting lodge popular with the aristocracy in the 1920s.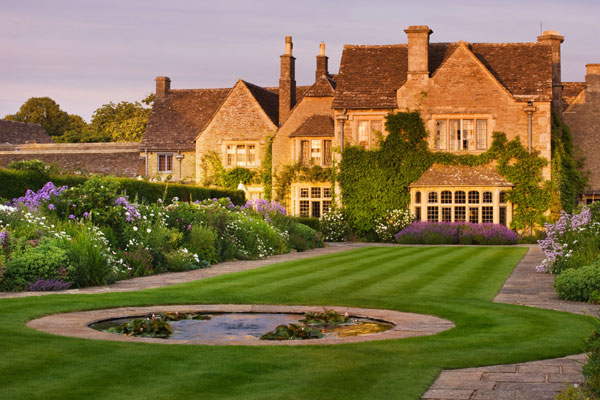 Today the hotel manages to retain enough old-world charm without compromising on modern luxuries, a combination that makes the property stand out from other country house hotels. Behind the traditional Cotswold stone, Whatley offers a few surprises, including the hotel's second restaurant Le Mazot, installed on the purchase of the hotel by a Swiss company. The distinct odour of gruyere cheese permeates the ground floor corridors, lending the atmosphere a distinctly European feel, and although I largely associate fondue with the flare-wearing hippies of my parents' generation, I can't think of anything more comforting during the winter months than their Swiss Cheese Fondue evenings – priced at a reasonable £25 per head including traditional fondue, a dessert and a glass of wine.
Arriving one bitterly cold Sunday morning, the moat-like gates at the end of the long driveway opened as if by magic, before several members of the friendly front of house team emerged to greet us, including Swiss General Manager Peter Egli, who goes some way in making the hotel feel family-run. Despite our early arrival, our room was ready and we were ushered through an impressive wood-panelled lounge, newly decked with a magnificent Christmas tree hung with temptingly edible gingerbread.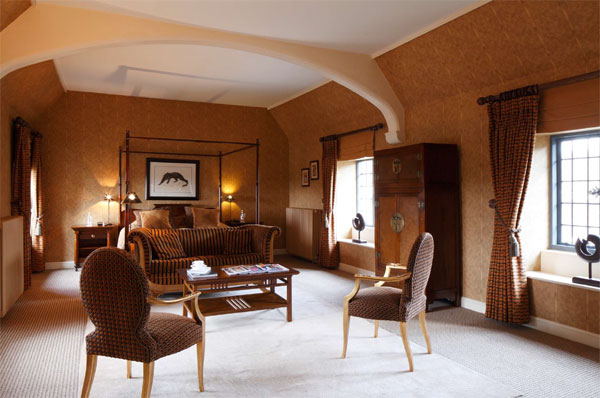 With just 15 bedrooms and 8 suites, each uniquely designed and furnished, our deluxe room, one of only three situated in the main building, overlooked the charming series of courtyard gardens and was styled in a smart African-meets-Asian theme with a stark four poster bed and highly polished wood-panelled bathroom. I checked my watch and was delighted to find there was still time to phone for a rare roast beef sandwich before dashing off for my La Prairie facial. Aquarias is a La Prairie Art of Beauty centre using their world renowned skincare products – including the notable Skin Caviar. It's amazing how many activities it's possible to pack in, whilst remaining thoroughly relaxed and pampered like a cat, and any plans we had of exploring the local town of Malmesbury were happily postponed to the following day.
With my face duly Caviar-ed, my chap, who always knows how to sweep a girl off her feet, led me to the private cinema to watch my all-time favourite film A Room with a View.  Housed in what appeared to be a former stable block, and transformed by Poltrona Frau with the help of suede walls and forty red leather armchairs, the oh-so-sexy cinema is available for guests to hire at £40 including freshly made popcorn and waiter service at the touch of a button. You have the option of choosing one of the DVDs provided or bringing your own and have the added novelty of dimming the lights as low as you like. Which begs the question – what makes a great country house hotel experience? For some it might be the spa or the Michelin restaurant and slick service, for others it might be going to sleep in a bed made with the finest Egyptian cotton sheets and awakening to a generous room service breakfast wheeled in on a trolley, but for me it doesn't get much better than living out the fantasy of watching my favourite film in my own private cinema with my beloved holding my hand.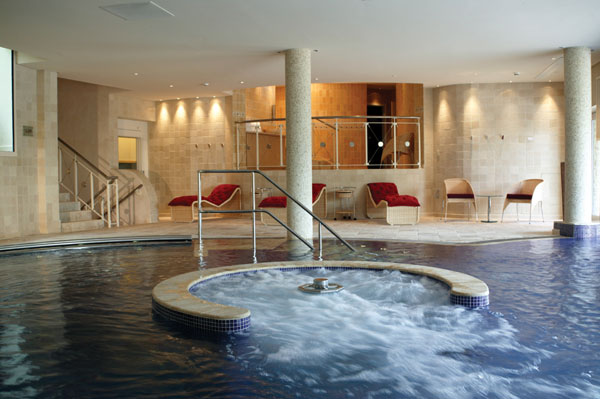 We toddled off to the bar for pre-dinner drinks and canapés and, more importantly, to peruse the menu, after all these decisions need careful consideration. My expectations were extremely high considering Bristolian Head Chef Martin Burge's exceptional pedigree.  Having first worked at the Royal Crescent Hotel in Bath, he moved to London to gain experience at some of the finest and most demanding kitchens in the city including Marco Pierre White's Mirabelle, Pied à Terre, and John Burton-Race at The Landmark. Appointed Whatley's Head Chef in 2003, Burge has put The Dining Room on the map and was awarded a second Michelin star in 2010.
While the décor was not shouting for attention, my starter of loin of local hare made an excellent first impression; sublimely tender and teamed with a smoked shallot purée, confit red cabbage and poached raisins, managed to be both comforting and surprisingly delicate. Due to homemade sausage appearing on both veal and venison dishes, my chap was steered away from ordering both but was delighted with the deliciously caramelized hand-dived scallops, warm smoked salmon, pickled cockles and walnut cream.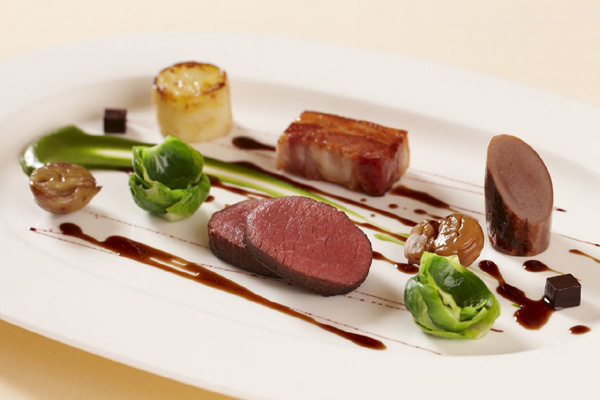 For main I opted for the steamed fillets of sea bass served with an oyster and lime cannelloni, compressed cucumber and a champagne sauce. As you would expect from a kitchen of this calibre, the sea bass was perfectly cooked, yet being something of an oyster purist I almost cried on discovering that my favourite seafood delicacy had been turned into a grey and somewhat bland custard encased in beautifully fine pasta – a classic example of a chef being gratuitously technical. Throughout the entire meal I experienced pangs of envy on seeing my chap's choices, not least the venison with bitter chocolate and reduced Shiraz jus.
Dessert was a definite highlight with the Middle Eastern inspired fig and pistachio soufflé and my chap's apple and maple syrup cheesecake served with caramelized pecans and poached apple unquestionably some of the best dishes of the night. While the menu is guilty of repetition and peacockery, all ingredients are expertly sourced and prepared and make The Dining Room an experience you'll want to repeat. As usual we were the last diners in the restaurant.